10 Best Real Estate Websites for February 2020
An engaging, intuitive, and well-designed website is a key part of building an impactful online presence. But with millions of real estate websites out there, standing out from the crowd can be a challenge.
At Agent Image, we design real estate websites that work hand in hand with your marketing goals. Our expert designers work with you from conceptualization to launch to create a site that's not just attractive, but best represents you and your company.
Here are some of the standout websites we've designed in the last month:
Shawn Elliot
North Shore, Long Island
Specializing in the North Shore Gold Coast of Long Island, Shawn Elliot truly is the gold standard when it comes to providing top-level real estate services in the area.
Featuring fluid animations and a stylish layout, ShawnElliot.com offers a polished user experience highlighting the best luxury properties in North Shore, Long Island as well as The Hamptons, Miami, Palm Beach, Bel Air, Malibu, and Beverly Hills.
What we love about this website: The crisp photos, sleek pewter-and-black palette, and dynamic layout all combine to create a sophisticated, modern look.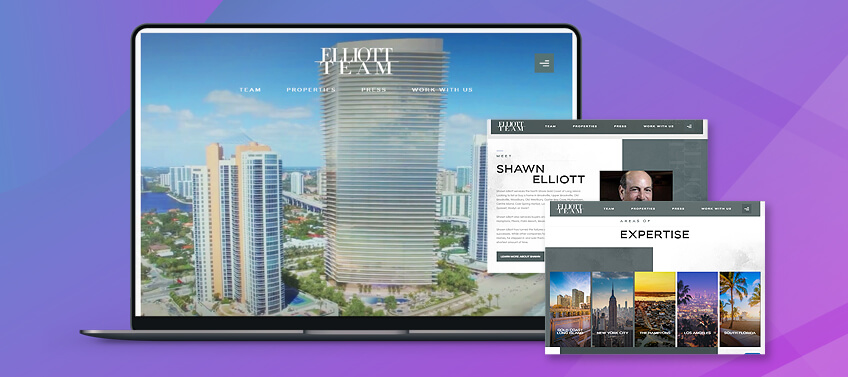 "Shawn Elliott handles luxury listings that start at as high as $100M, and also appears on TV regularly. His vision is to make his site look super high end but with a clean, minimalist look. He has listings in key cities like Los Angeles, Miami, New York City and The Hamptons, so we had to make sure the site reflects that sophisticated "vibe," says Cherry Jerusalem, Art Director for the Shawn Elliott website.
Sharlene Chang
Beverly Hills, California
You need a strong online presence to stand out in a competitive high-end market such as Beverly Hills. An established real estate brand is key to success, and Sharlene Chang's website gets the job done.
SharleneChang.com sets the stage nicely for Beverly Hills home buyers and sellers with gorgeous images, smooth mouseover effects, and a nice flow that invites you to explore other sections.
What we love about this website: SharleneChang.com does a superb job of integrating branding with design through its strategic logo placement, subtle parallax effects, and eye-catching color palette.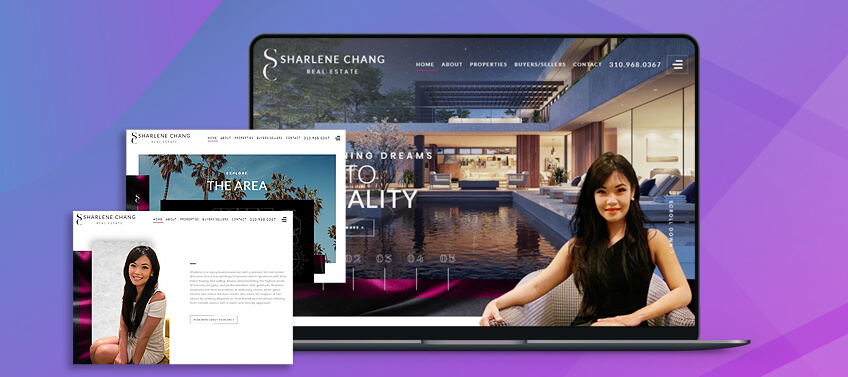 "Sharlene's website project was an absolute dream. She had a particular aesthetic she wanted to capture in her brand, but she gave us plenty of creative freedom to explore different ideas for her logo and her website design. We leaned into a sophisticated style that appealed to a younger, modern audience. We started off with a monochromatic color palette that felt crisp, clean and timeless, but at the last minute, decided that we needed something extra to bring out Sharlene's taste and personality. The rich fuchsia color accent was our 'aha' moment. These subtle textures, colors and animation effects allowed us to bring the whole identity together," says Rachel De Mesa, Art Director for sharlenechang.com.
Mike & Maria Patakas
Palm Springs, California
Mike & Maria Patakas' expertise in the communities of Greater Palm Springs is placed front and center at MikeAndMariaHomes.com.
Navigating the site is a breeze thanks to smooth animations, strategically placed site elements, and a no-frills layout that makes it easy to access whatever you need.
What we love about this website: The site's video header and dazzling images of Coachella Valley desert communities pop brilliantly thanks to the classic gold-and-black color combination.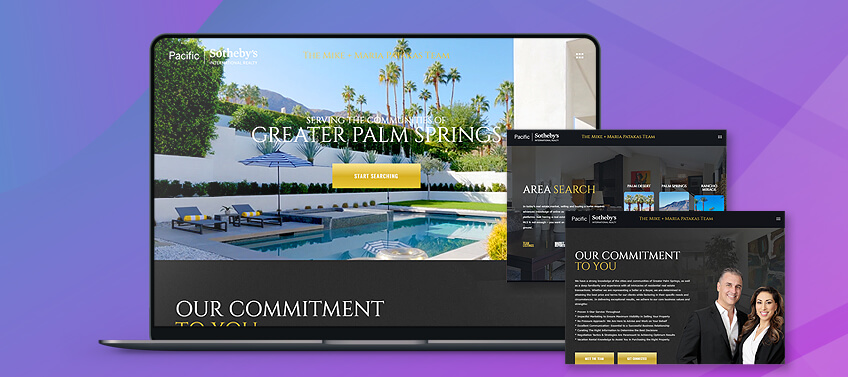 "We didn't want to use a standard real estate website as our starting point. Mike and Maria wanted something that truly looked unique without having to resort to anything too elaborate or ostentatious," says Nio Infante, Art Director of mikeandmariahomes.com.
The Chen Agency
Port Imperial, Weehawken, New Jersey
The Chen Agency Realtors welcomes visitors to picturesque Port Imperial with captivating aerial shots of the Hudson River lined with some of the most luxurious waterfront properties on the market.
Their website shines the spotlight on the best available listings while offering in-depth info on highlighted neighborhoods.
What we love about this website: LivingAtPortImperial.com's side-sliding interactive map offers a fantastic overview of Port Imperial, displaying information on dining hotspots, recreational destinations, hotels, apartments and condos, and more.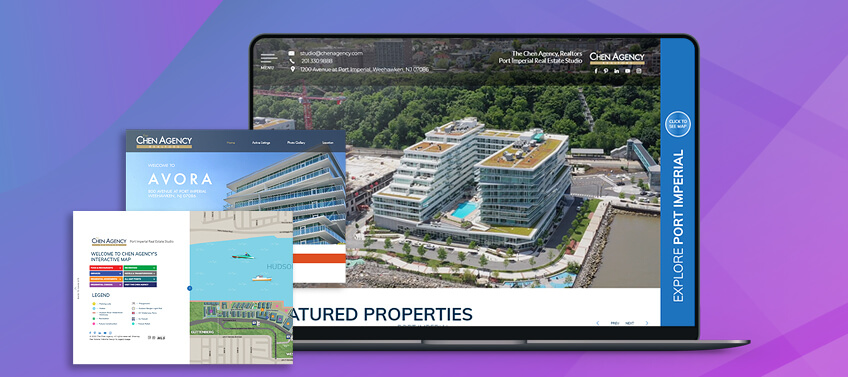 "Working on The Chen Agency's website was definitely a team effort. Working with Lea Orsini, Director of Social Media and Marketing at The Chen Agency was quite the challenge. She knows their business and her vision was to create a site that was not only interactive and visually pleasing, but also professional and detailed. The team and I were able to bring a lot of their ideas to fruition. The goal was to create a site that would enhance the existing site at chenagency.com and implement an interactive map showcasing the area and their services in a fun interactive way. We were able to show an intimate knowledge of the marketplace combined with a mind for buying, selling or renting," says Rolman Gillespie, Art Director of LivingAtPortImperial.com.
Echelberger Group
Orange County, California
The Echeberger Group's stunning website creates a powerful impact right off the bat with a full-screen montage showcasing the laidback Orange County lifestyle: sun-kissed beaches, lush landscapes, and unforgettable activities and destinations.
The site's clean lines, streamlined layout, and effortless functionality easily translate into a seamless user experience.
What we love about this website: The website's minimalist style and the use of a black-and-white color scheme work flawlessly together to highlight contrasting vibrant images.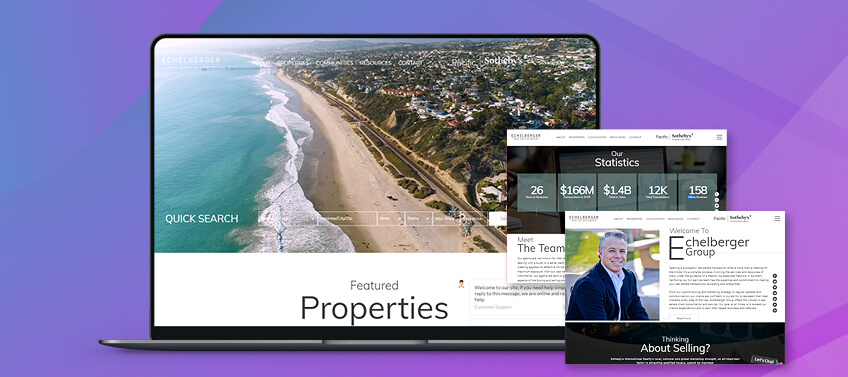 "The Echelberger Real Estate Group is the premier real estate brokerage in San Clemente and the surrounding cities. It was our goal to give new visitors as well as their current clientele a taste of the grandest vision of themselves, manifested by finding themselves a home in the San Clemente area," says Tahir Leonard, Art Director for Echelberger.com.
Chesapeake Bay Real Estate
Chesapeake Bay, Maryland
Specializing in the majority of the Eastern Shore counties of Maryland, Chesapeake Bay Real Estate provides an array of professional brokerage services of the highest standard.
Their website serves as the perfect introduction for anyone seeking a luxurious lifestyle along the majestic shores of Chesapeake Bay.
What we love about this website: The warm sunset hues of the main page capture a relaxed and laid-back vibe, while captivating property images add a touch of vibrancy to the website as a whole.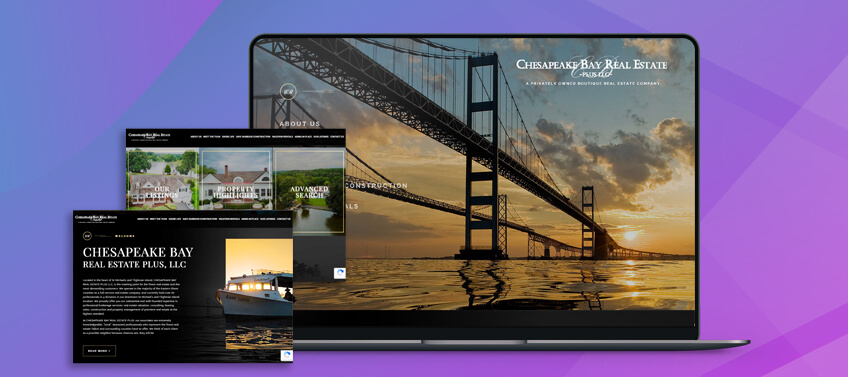 "Before designing this site, the Chesapeake Bay Real Estate Plus LLC team had an old and outdated site, but also had a veritable goldmine of photos with a lot of character. For the new site, we wanted to create something classy and professional using a black-and-gold color scheme. Beautifully shot images of their property listings added vibrant color, and worked exceptionally well with a darker backdrop. An elegant introductory video helps set everything up perfectly. The site is built around lovely photos that perfectly illustrate the unique character of each of the areas they specialize in. Photos for each section were used to draw the user's eyes in, while another beautiful photo in the background of their "contact us" form wraps up the entire site nicely," says John Corpuz, Art Director for Chesapeake Bay Real Estate's website.
The Martines Home Team
Las Vegas, Nevada
The Martines Home Team's passionate real estate brokers are known for marketing the best properties throughout the Las Vegas Valley.
Their website, YourVegasBrokers.com, does a terrific job of attracting clients with its stylish, modern design and smooth site navigation.
What we love about this website: Using denim blue as a main design element is a really smart choice. It effectively gives the site an elegant and regal look.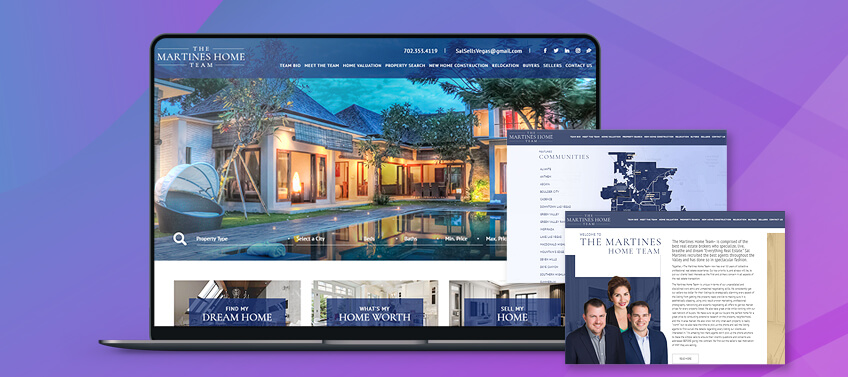 "The Martines Home Team wanted an appealing site to capture the attention of a broad market. Whether they are in the market for high-end properties or budget-friendly homes, clients say they absolutely love the site and think that it looks great. They even gave our company, Agent Image, excellent reviews, saying that our services are top-notch. Our products are second to none," says Lara Kate Ferrer, Art Director for The Martines Home Team website.
Scott Miller
Orange County, California
Scott J. Miller and his team pride themselves in their personalized approach. Their website is equipped with relevant information and powerful tools designed to make the home buying and selling experience smooth and hassle-free.
What we love about this website: The main page makes visitors feel right at home in sunny Orange County with its vibrant images of stunning coastal views and luxurious interiors.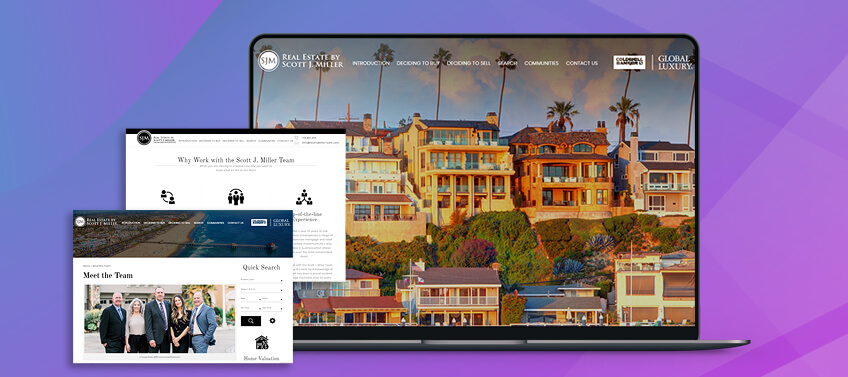 "We designed this site with Scott's narrative in mind. We wanted to introduce Scott Miller and his team by using a clean and professional layout with a lot of whites and grays adding breathing space. It was laid out in such a way for us to be able to talk about what his team can do, split into bite-sized pieces for each fold. After the slideshow, we jumped into "Why work with the Scott J. Miller Team," then added a property showcase to highlight some of the results. We moved on to providing information on Home Valuation, Search Tools, and Community Searches. We also provide links to the tools available on the site," says John Corpuz, Art Director for Scott Miller's website.
Jennifer Keenan
Hampton Roads, Virginia
Jennifer Keenan is the most trusted name in the Hampton Roads real estate market, and it shows on her website.
JenniferKeenan.com is equipped with everything you need, including a helpful quick search tool, extensive resources, and detailed listings on the best homes on the market.
What we love about this website: Snappy animations and crisp hover effects complement the site's colorful images and stylish layout, giving it a lively look and feel.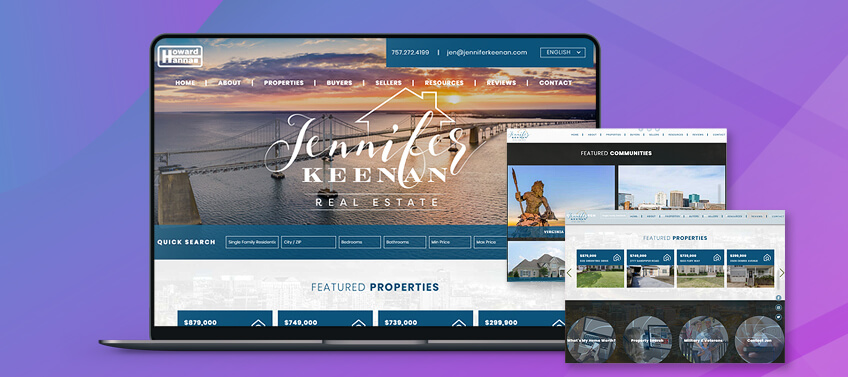 "As for Jennifer Keenan, they wanted an elegant and simple design that speaks of their expertise and experience," says Lara Kate Ferrer, Art Director for jenniferkeenan.com.
The McClone Brothers
Los Angeles, California
Tim and Todd McClone of The McClone Brothers Real Estate Group are unparalleled when it comes to providing efficient, first-class real estate service in the communities of Los Angeles and Orange County.
Their website showcases the best of the Southern California lifestyle, with gorgeous photography, spotlights on featured communities, and in-depth blog articles highlighting the best activities and places to visit in town.
What we love about this website: The clean minimalist style and clever arrangement of elements gives the site a professional look and a nice flow.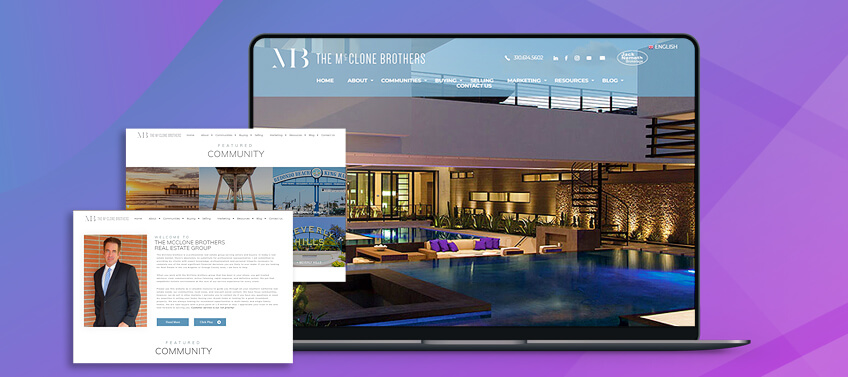 "The client's main focus was to target 3 different areas: Long Beach, South Bay and Beverly Hills. The goal of his team is to be a main resource for investors in these areas as the current economy shifts," says Tahir Leonard, Art Director for TheMcCloneBrothers.com.
Let's Recap!
While some aspects stood out above the rest, all websites included in this month's list achieve the perfect balance between style, content, and functionality.
Here's a quick list of each site's highlights:
ShawnElliott.com – Stylish layout and sophisticated, modern look.

SharleneChang.com – Perfect marriage between branding and design.

MikeAndMariaHomes.com – Vibrant images brought to life by the color scheme.

LivingAtPortImperial.com – Captivating aerial shots of the most luxurious waterfront properties.

Echelberger.com – Excellent use of a clean, minimalist style.

YourVegasBrokers.com – Eye-catching design anchored by a gorgeous color palette.

CBREPlus.com – Relaxing, laid-back look and feel.

RealEstateByScottMiller.com – Warm and inviting feel showcasing the area's lifestyle.

JenniferKeenan.com – Lively design featuring a stylish layout and snappy animations.

TheMcCloneBrothers.com – Sleek and modern look executed through the use of a minimalist style.
Having an attractive and easy-to-use website can do wonders for any real estate professional's online presence. The exceptional websites above are all conceptualized and created from the ground up and with each client's goals in mind, allowing their business to attract the right clients.
Get a website that can take you to the next level! Contact Agent Image for a free consultation or give us a call at 800.979.5799.
Did you enjoy reading this article?
Sign up for more updates with our Agent Intelligence Newsletter!
We are committed to protecting your privacy.
Real Estate Websites for Agents
Learn which package works best for you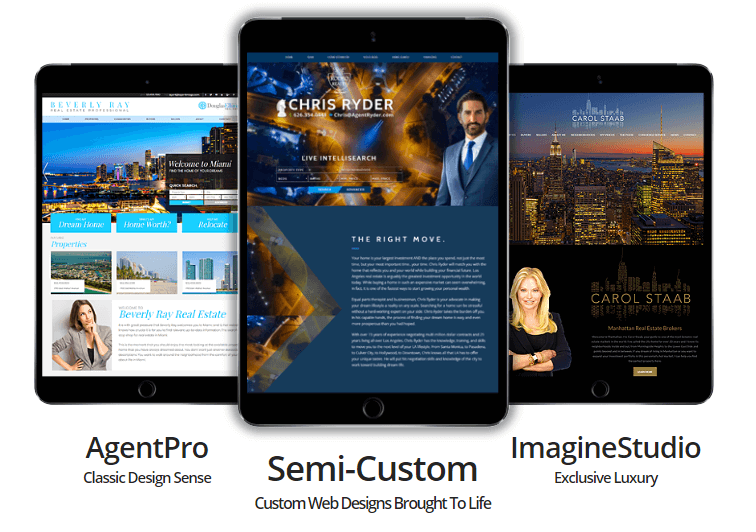 Learn More