10 Best Real Estate Websites for January 2021
After the unprecedented surprises and challenges of 2020, the real estate industry jumped into 2021 looking to capture the best opportunities that the new normal has to offer.
For many Realtors and brokerages, the beginning of a brand new year was the perfect time to launch (or relaunch) their professional websites. After all, last year proved that real estate can thrive amidst a pandemic, thanks to the growing digital business landscape.
Riding the strong wave of inspiration brought about by the arrival of 2021, Agent Image rolled out a fresh set of professional real estate websites designed to engage the ever-growing digital market for real estate around the world.
Here are the 10 best websites we launched in January 2021:
David Kurz
Miami, Florida
David Kurz is a man of many talents. A top-producing luxury Realtor serving Southeast Florida's most coveted waterfront communities, he's also a prolific entrepreneur, coach, resource speaker, and host of his very own online real estate show.
All these impressive roles are equally highlighted on David's professional website, where viewers can get quick access to his book, podcast, and online show. The website puts Kurz's professional credentials on full display, inspiring confidence in his multifaceted expertise.
This website is best for: Establishing the client's merits, accomplishments, and unique products and services.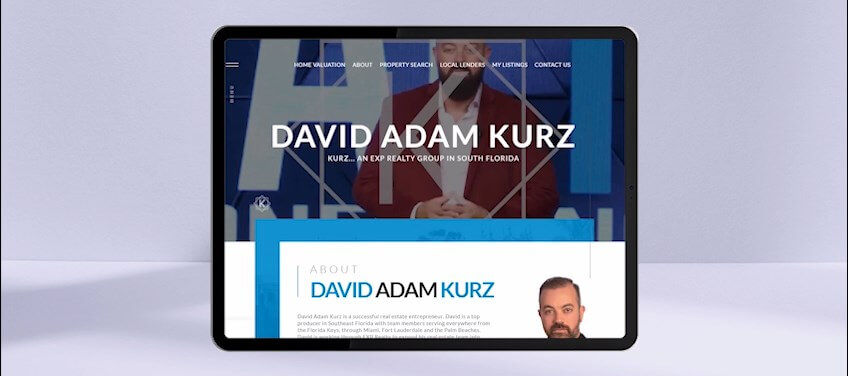 Ben Kruger
Los Angeles, California
Simple yet sophisticated. Los Angeles luxury Realtor Ben Kruger takes the minimalist approach in presenting one of America's most desirable real estate markets. Luxury living in LA needs no introduction, after all.
Anchored by vibrant, edge-to-edge property photos and video, Ben's visually driven website is tailor-made for the modern internet user. By letting images do the talking, BenKrugerLA.com entices the viewer to explore the site further and discover more about LA's finest luxury homes.
This website is best for: Making a strong first impression with captivating visuals.
Rhonda Scott
Los Angeles, California
Leading with a brief yet compelling invitation to "Find Your Next Home," RhondaScott.com goes straight to the point, establishing the agent's intent to lead LA real estate clients toward their goals.
Using dedicated sections on the home page, the website also clearly spells out why you should work with Rhonda and her associates and what they can do for you.
This website is best for: Emphasizing the agent's USPs and signature services.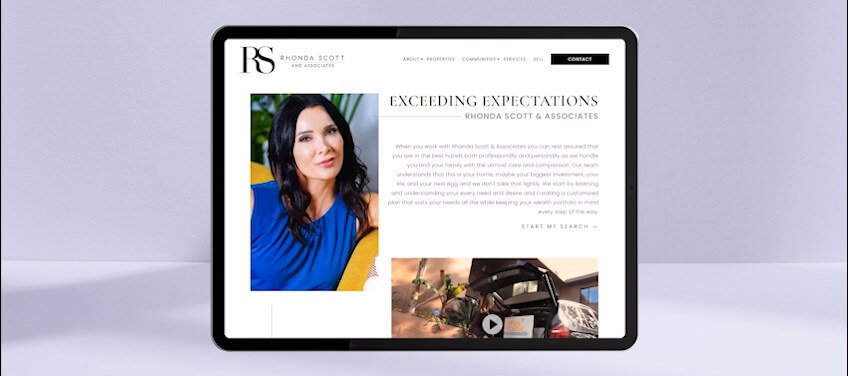 Jayjay Don
Miami and Fort Lauderdale, Miami
Miami Realtor Jayjay Don chose teal for his website's primary color scheme. It's an exceptional choice; it not only evokes desire for the oceanfront lifestyle of his South Florida location, but also encourages excellent brand recall.
Visiting this website makes you instantly think about the best things about seaside living. And Jayjay Don will be the first name you think of as soon as you decide to take the leap.
This website is best for: Connecting your brand with the market that you represent.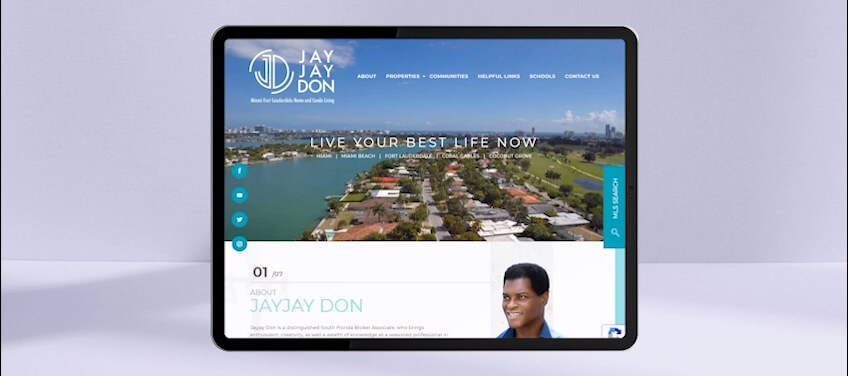 Meredith Colburn
Bloomfield, Michigan
Meredith Colburn figuratively stamps her mark on Michigan real estate by placing her logo front and center over a dramatic aerial shot of a sparkling Bloomfield cityscape.
Coupled with the logos of her affiliated brokerages, Hall & Hunter and Christie's, this home page design makes outstanding use of iconography to establish the agent's brand. Simple design choices like these are subtle, but they go a long way in brand-building.
This website is best for: Establishing brand recall, both in name as well as in symbols and icons.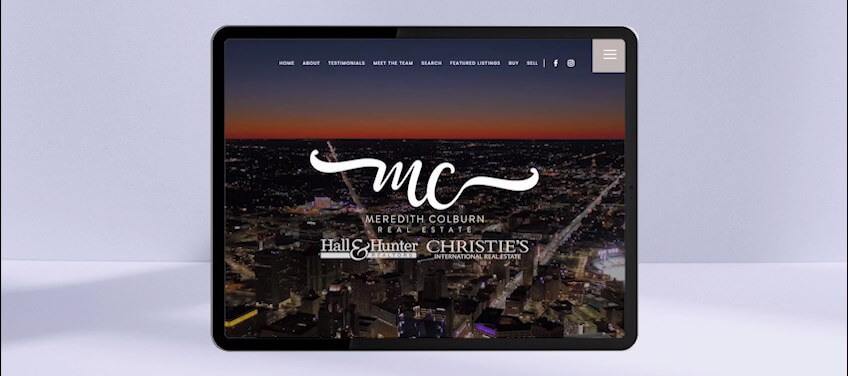 Black Crown Inc.
Orange County, California
Black Crown Inc. is an Orange County business that handles real estate transactions, property management, and legal services. A neat and well-organized website is a must for a portfolio as diverse as this.
The company went with a sleek, sharp design that exudes professionalism, confidence, and just the right air of luxury. The website also highlights the company's mobile app, providing visitors with an additional way to connect.
This website is best for: Summing up a versatile range of services in a clean and stunning package.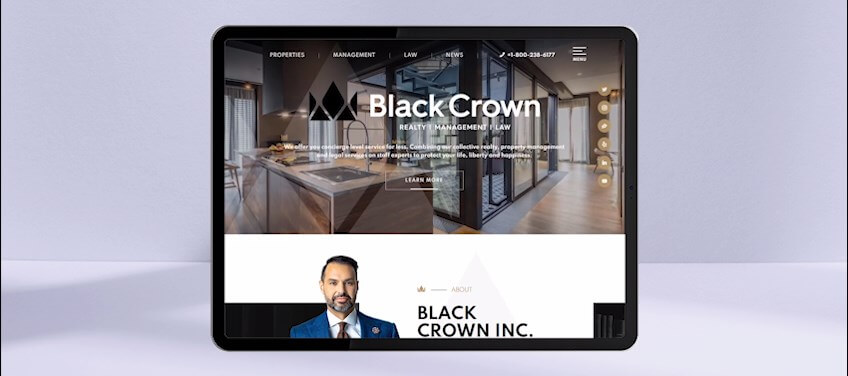 Willem De Ridder
San Diego, California
As soon as you hop onto his website, San Diego Realtor Willem De Ridder makes a bold claim: He is "committed to your success." And he follows through right away with a straightforward website design that connects you directly to his featured properties, services, and real estate tools and resources.
On WillemSellsSD.com, there's no beating around the bush. The design encourages action with its clear calls to action, intuitive navigation, and visually satisfying presentation.
This website is best for: Inviting viewers to instantly take action on their real estate goals.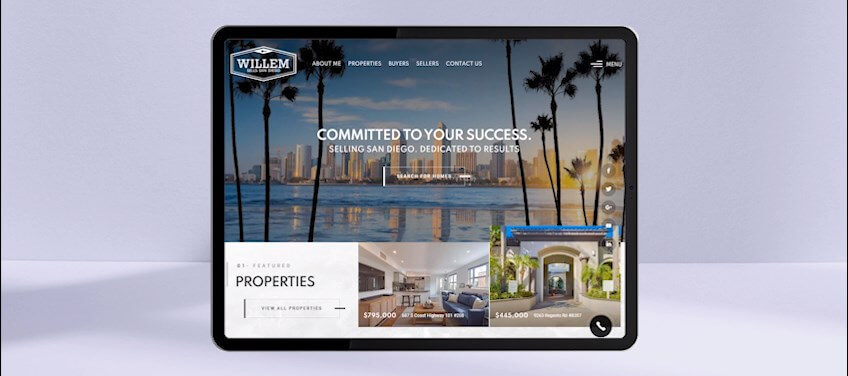 The Waterfront Team
Miami, Florida
By calling themselves The Waterfront Team, this Miami luxury real estate firm makes a confident claim as the area's go-to brokerage for South Florida's finest ocean-facing properties. With a gorgeous professional website, they back up this claim in style.
This website design stands out because of its selection of preset search categories. With dedicated listing pages for communities, property types (waterfront homes, non-waterfront properties, rentals, land, and more), and recent sales, website viewers are guaranteed a convenient and enjoyable search experience on this platform.
This website is best for: Gaining your target market's trust with curated content.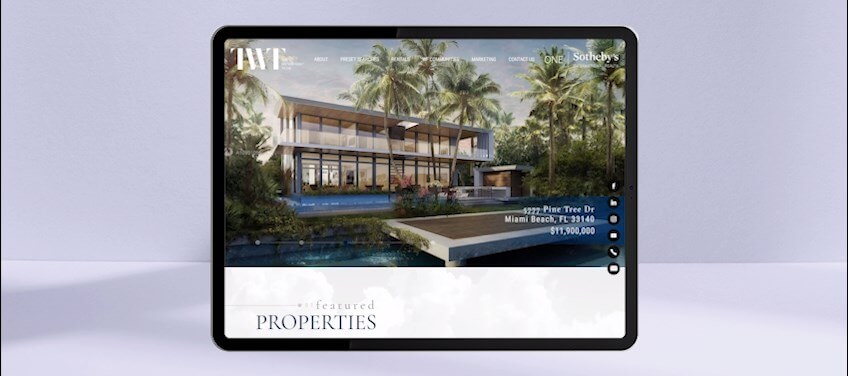 Casey Markovic
Los Angeles, California
Two things instantly stand out as soon as you see CaseyMarkovic.com.
First, Casey Markovic = "Exclusive representation." That's outstanding, direct brand-building right there.
Second, this website's magazine-like look is absolutely gorgeous. Using Agent Image's AgentPro Legacy theme, Casey presents seamless, pagewide images that capture the genuine allure of the lavish LA lifestyle. They are simply a delight to look at.
This website is best for: Seamlessly attaching your unique selling point to your name or brand.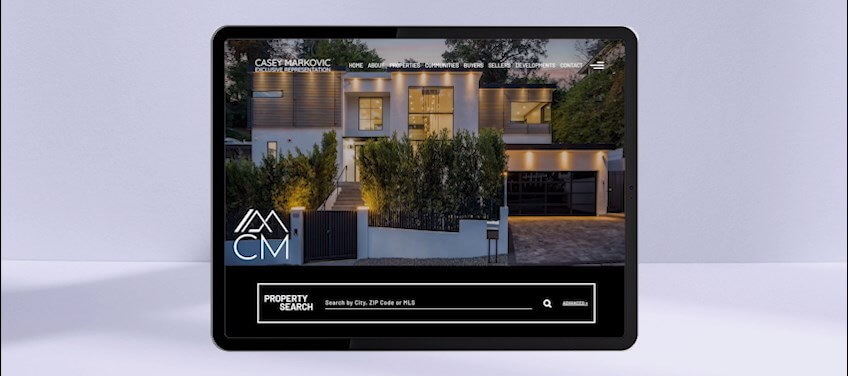 Chris Gorman
Wake County, North Carolina
GormanResidential.com represents North Carolina real estate with a sense of timeless elegance, courtesy of serif typefaces, gold accents, and a classically designed company logo.
But this website is by no means old-fashioned. In fact, it emphasizes a modern, function-oriented design with rich features, such as an interactive map, online real estate resources (home valuation tool, mortgage calculator), and an up-to-date local community guide.
This website is best for: Combining classic design elements with essential modern functionality.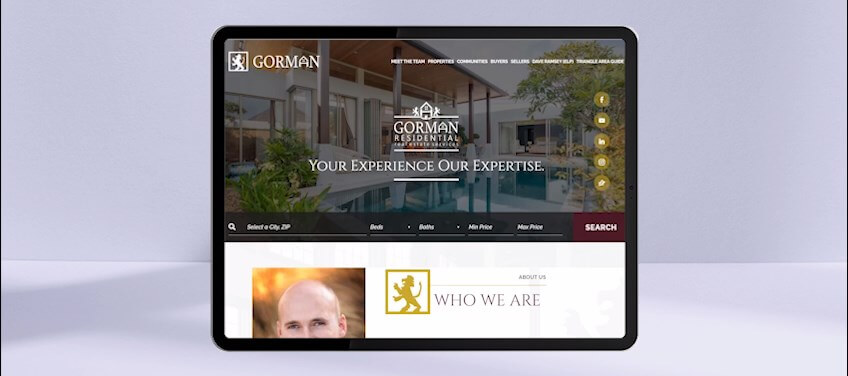 What we love about January 2021's best websites
Agent Image's selection of best real estate websites from January 2021 is a showcase of different areas of expertise and unique approaches to brand-building. Let's recap how each of these top designs make their distinctive marks on the dynamic online business landscape:
DavidAdamKurz.com – Clearly establishes Kurz's credibility as an industry expert and leading voice.

BenKrugerLA.com – Appeals to today's internet user with minimalist, visually driven content.

RhondaScott.com – With an elegant theme and substantial content, this website represents the agent as well as her luxurious Los Angeles market in style.

JayjayDon.com – The fitting choice of the main color theme suits the agent's brand and market perfectly.

MeredithColburn.com – Deliberate logo positioning helps Meredith make an instant and lasting impression on viewers.

BlackCrownInc.com – Sophisticated, confident design befitting a prolific, multifaceted company.

WillemSellsSD.com – Straightforward design leads visitors directly to the real estate services that they need.

TheWaterfrontTeam.com – Lives up to its name with lavish visuals and functional design intended for the user's convenience.

CaseyMarkovic.com – Sleek, stylish design that fits right into the modern online design aesthetic.

GormanResidential.com – Timeless luxury design elements blend seamlessly with user-centric functionality.
Give your real estate business a boost in 2021 with an outstanding professional website
Want to make your mark in the increasingly competitive online business landscape? An attractive and engaging professional website will elevate your online presence and open up a wide range of digital marketing opportunities.
If you're searching for the right partners to create the perfect website to represent your brand, look no further than Agent Image. With more than 21 years of experience in this industry, we're no strangers to designing award-winning websites for top-performing professionals around the world.
Consult with our design and marketing experts here, or call 800.979.5799.
Did you enjoy reading this article?
Sign up for more updates with our Agent Intelligence Newsletter!
We are committed to protecting your privacy.
Real Estate Websites for Agents
Learn which package works best for you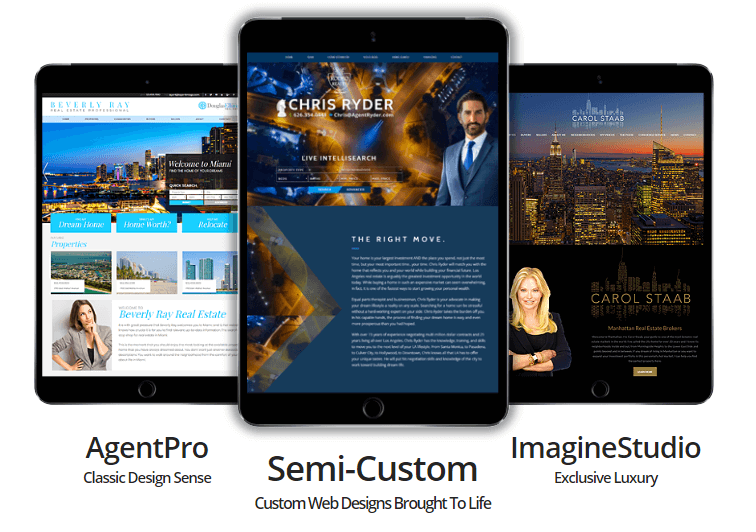 Learn More