The Year in Review: Agent Image's Best Real Estate Websites of 2020
2020 was a year quite unlike any other. While the COVID-19 pandemic threatened to stop every facet of modern living in its tracks, the real estate industry flexed its ability to innovate and power through in the face of a global crisis.
It's all thanks to the constant evolution of the digital business landscape that the real estate industry displayed resilience last year. With face-to-face interactions and transactions limited by physical and social distancing measures, real estate professionals and their clients took their transactions online.
The events of 2020 emphasized the importance of having an impactful online presence. That's why Agent Image embraced the challenge of ensuring that our clients were visible and relevant, especially during a time of great uncertainty.
Here are the 30 most influential real estate websites that we created and launched in 2020: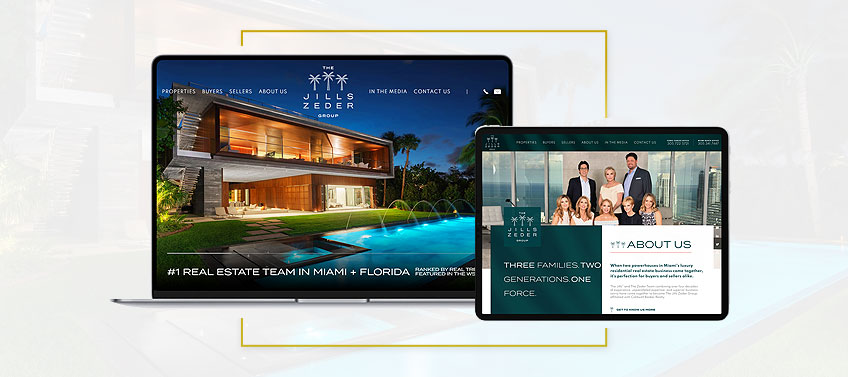 Capturing the authentic warmth and vibrance of Southern Florida's luxurious oceanfront lifestyle, JillsZeder.com offers essential local real estate information in a visually captivating package. On this platform, homebuyers are just one click away from exclusive luxury home listings, the latest open house schedules, and the most desirable featured properties in the area.
Little wonder that this website has racked up more than its fair share of accolades from REALTrends.com, including #6 Best Overall in 2020, #4 in Best Design, and #3 in Best Mobile Design.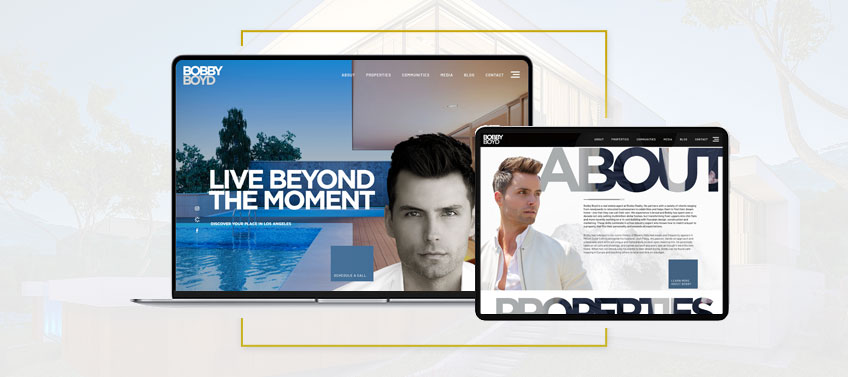 Luxury Realtor Bobby Boyd has a larger than life personality befitting the larger than life Los Angeles real estate market. With vibrant images, bold typefaces, and powerful and deliberate copy, his website is a sincere invitation to live large in the City of Angels.
When it comes to making an impression, few can compare to BobbyBoyd.com. The 2020 Vega Digital Awards apparently agree, hailing this website as one of the winners of its Centauri Award.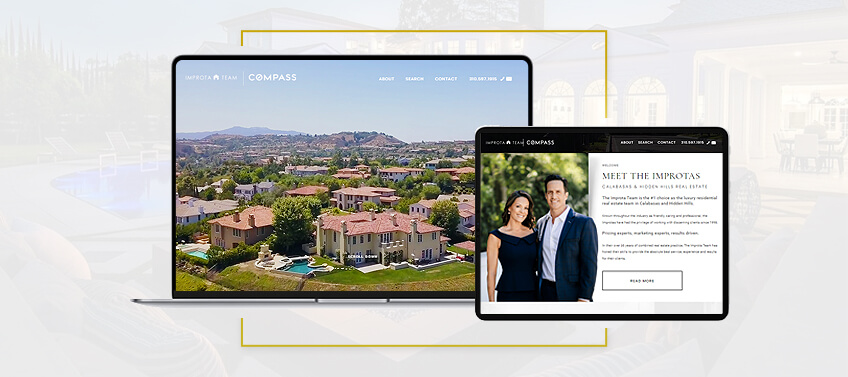 The first thing you'll see on Improta.com as it loads is a mesmerizing, screen-wide video wall of the sunny and tranquil Los Angeles County lifestyle. It's enough to take your breath away in an instant. Expect no less from Missy and Jason Improta, the go-to Realtors when it comes to the ultra-luxury real estate opportunities in Calabasas and Hidden Hills. This website was a delight to put together for a real estate power couple that's passionate and sincere as they are professional.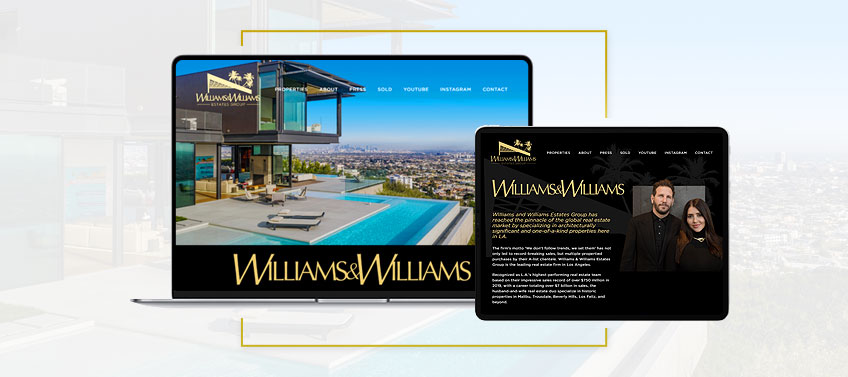 Williams & Williams Estates Group is one of the most accomplished real estate firms serving the Greater Los Angeles market. And they have the numbers to back it up, as TheWilliamsEstates.com proves. With the company's impressive, multi-million-dollar track record displayed right at the outset, this website does an excellent job of establishing the firm's credibility and experience. No fluff, just facts. A simple, yet elegant solution.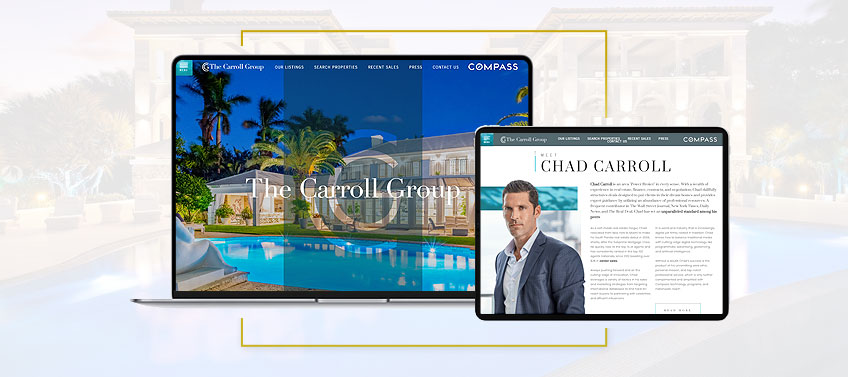 The Carroll Group makes good use of their real estate website to leave a positive, lasting impression. Thanks to the large, definitive logo emblazoned across the main screen, viewers will instantly associate the firm's name with the stunning luxury properties that they see behind the overlay. Elsewhere on the site, gorgeous images of breathtaking villas and beachfront condo high-rises treat visitors to a glimpse of what the sunny South Florida lifestyle has to offer.
TheChadCarrollGroup.com appears at #6 in REALTrends.com's 2020 Best Design rankings.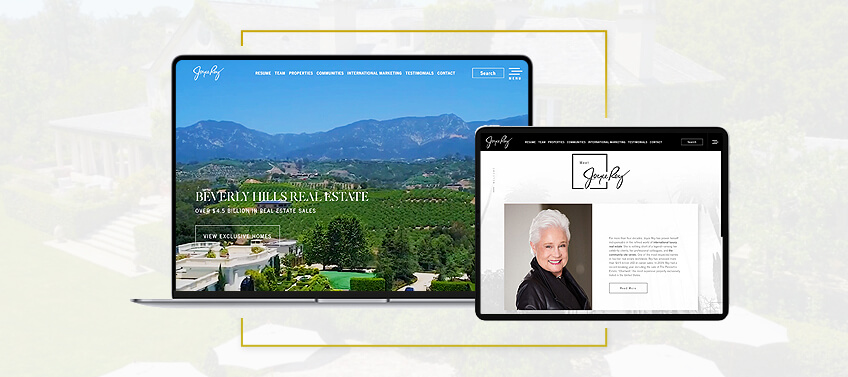 Agent Image takes pride in being Joyce Rey's web design team of choice. A legend in the international luxury real estate business, Joyce has an unshakable brand built and strengthened through more than four decades in the industry.
Her reputation already precedes her, so our job wasn't to build her brand from the ground up. Rather, the goal was to make sure that her presence doesn't miss a beat in the increasingly competitive digital landscape. The solution? A straightforward and easy-to-navigate luxury real estate website, optimized for maximum SEO performance.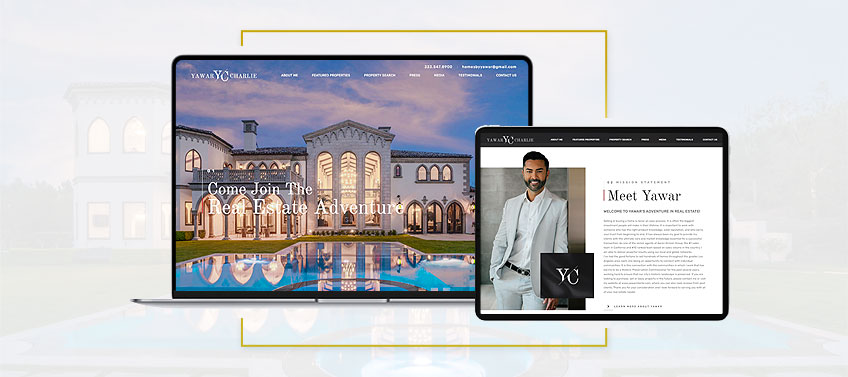 For luxury LA Realtor Yawar Charlie, buying or selling a house is more than just a transaction—it's a full-fledged adventure! YawarCharlie.com exudes this sense of endless excitement and wonder in the Greater LA housing scene using captivating property images combined with seamless navigation. His expertise as a TV personality shines through in his website's visually-driven user experience, which effortlessly guides every visitor through his featured listings, communities, and of course, his rich selection of video resources.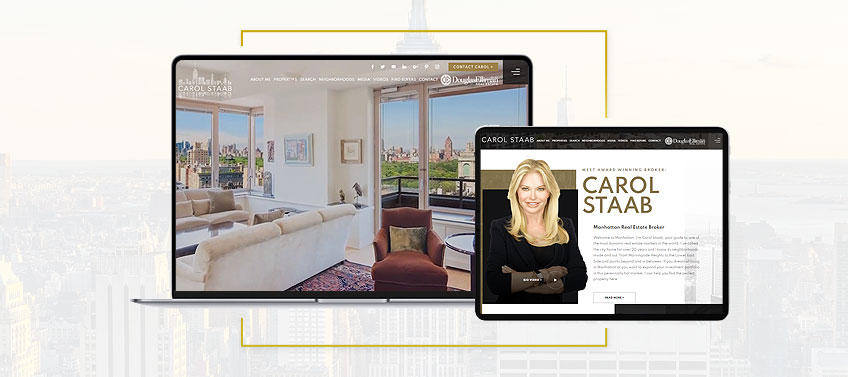 As a seasoned professional specializing in Manhattan luxury real estate, Carol Staab knows a thing or two about the hustle and bustle of New York's most prestigious borough. You'll see this right away on her agent website, which opens with a series of videos showcasing the award-winning luxury broker in action.
Just like the dynamic intro, the rest of the website flows smoothly and seamlessly. It first leads you to the top listings that you want to see, video resources that provide deeper insights into the ever-dynamic Manhattan housing market, and so much more.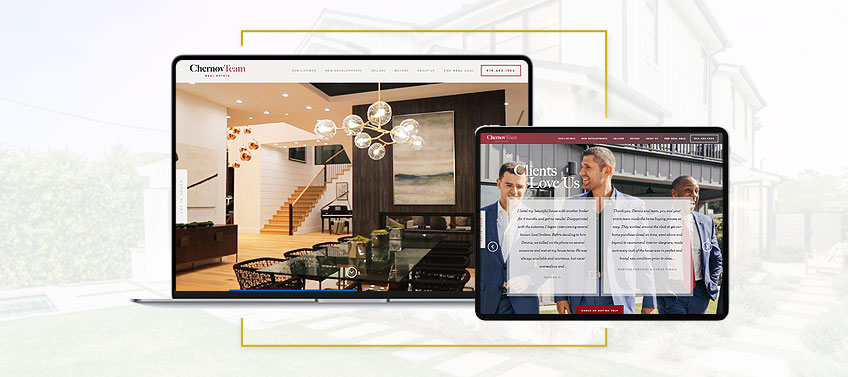 If you've ever wondered what it's like to live in Studio City, CA, visit ChernovTeam.com and you'll get an idea in an instant. San Fernando Valley's premier real estate firm does a fine job of using their professional website to showcase snippets of the lavish local lifestyle, as seen through the lush interiors and stately exteriors of sprawling luxury homes.
But that's not all. Scroll further down the homepage and you'll see the numbers that attest to this team's unwavering standard of excellence—proof that there's plenty of substance to go along with the flash.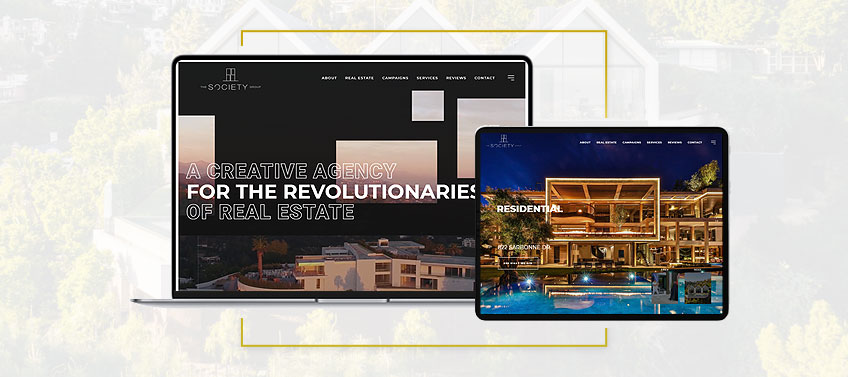 If there ever was a real estate company that's a perfect fit for the influencer generation, The Society Group would be it. As PR experts and creatives, they make high-value real estate deals happen using "the power of storytelling."
With an approach as unique as this company's, there is no surprise that their website stands out, as well. Designed to "read" like a virtual magazine, SocietyGroupPR.com leads visitors to informative case studies that break down how this company crafts compelling narratives, Hollywood-worthy "real estate trailers," and engaging events to move transactions forward.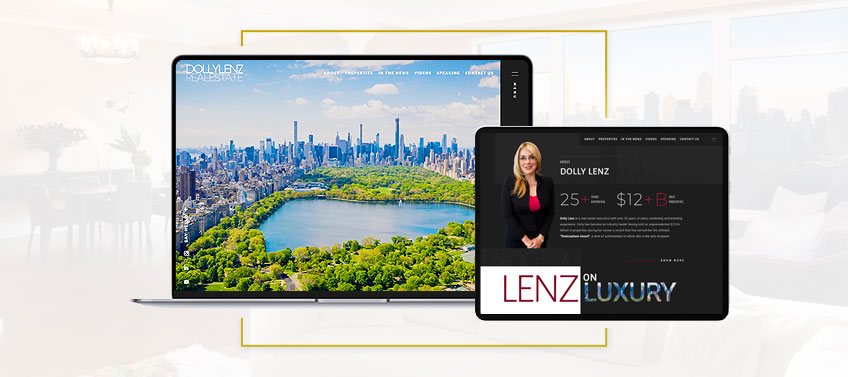 Winner of the 2020 Vega Digital Awards' Arcturus award, DollyLenz.com is a sleek, professional real estate website that is a perfect match for its target audience. Designed for the discriminating tastes of the New York luxury real estate customer, this website is a gateway to the latest and most exclusive properties in the Big Apple—from Manhattan's jaw-dropping penthouse suites to the Hamptons' majestic oceanfront estates.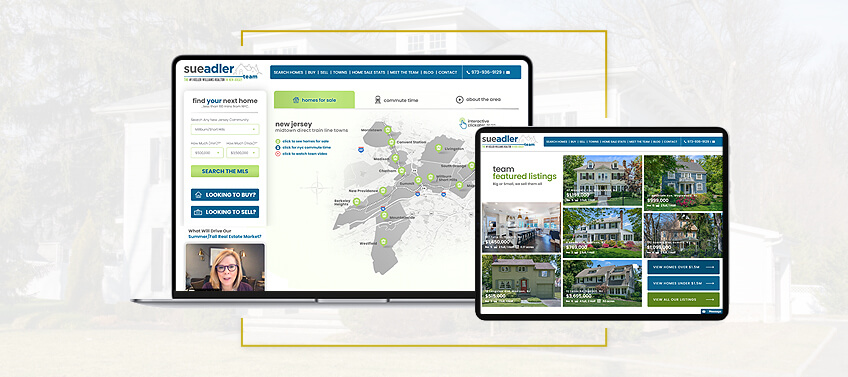 The Sue Adler Team's real estate website features one of the most recognizable and distinctive designs we've ever put together. This one is definitely deserving of the Centauri Award from the 2020 Vega Digital Awards.
On SueAdler.com, it's clear that function is truly just as important as form. By providing interactive maps illustrating available homes for sale, as well as local commute guides, this New Jersey real estate company asserts its claim as Midtown's local experts.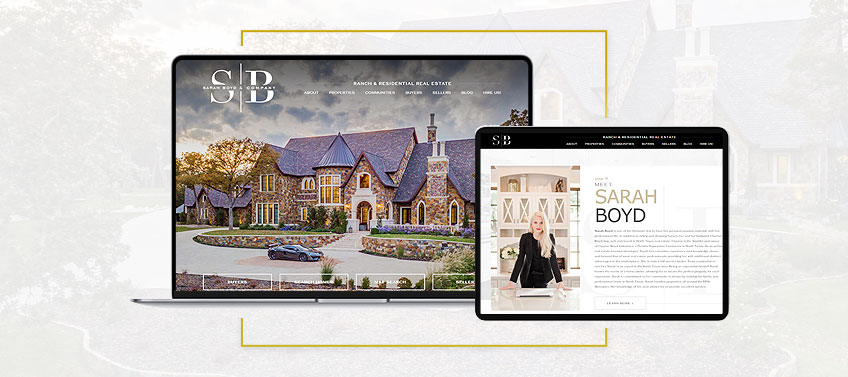 SarahBoydRealty.com infuses elegance into the North Texas horse property market. Setting the gold standard for this unique market. This stylish and modern website can keep up with the best luxury home portals out there.
Using the effective, classic black-and-white color scheme dashed with gold accents, this real estate team represents Cooke County's finest luxury houses and sprawling parcels of land with an air of sophistication. As a complete package of form and function, this website is as satisfying to navigate as it is visually appealing.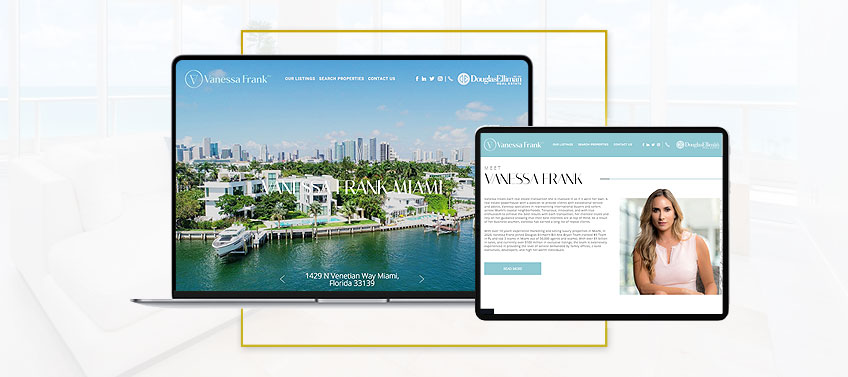 VanessaFrankMiami.com uses cool hues of blue as a recurring visual theme on her spectacular real estate website. Not only does this design choice instantly catch your attention, it also immerses you in the soothing lifestyle that Vanessa's opulent waterfront market can offer. When it comes to sparking and cultivating interest in potential leads, subtle design touches like these certainly go a long way.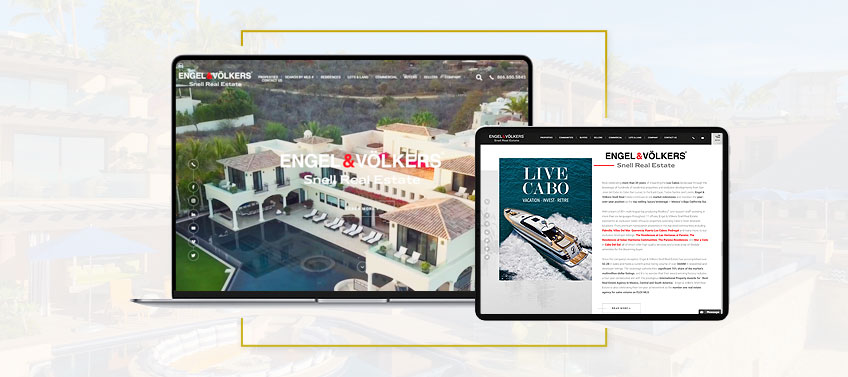 Specializing in the breathtaking resort communities of Los Cabos in Mexico, Engel & Völkers Snell Real Estate's purpose is to bring paradise closer to luxury homebuyers from all across the world. The company does this in spectacular fashion with SnellRealEstate.com. Not only does this website serve as an engaging platform to explore and examine the finest ocean-facing villas in the Baja California Peninsula, it also serves as the primary point of contact that interested clients can use to reach Snell Real Estate's team of 80+ multi-lingual and top-producing Realtors.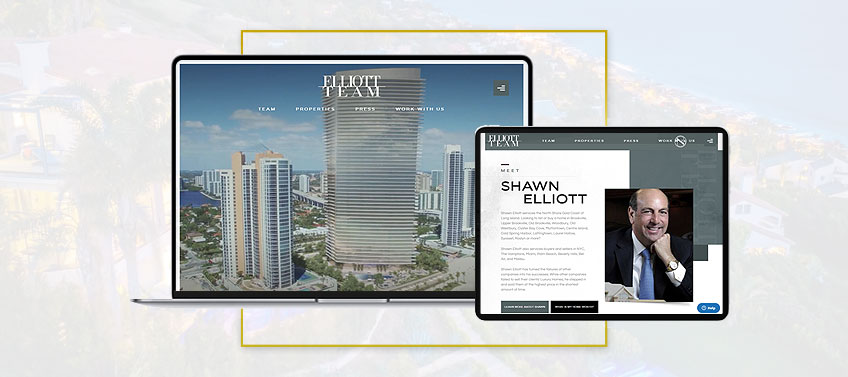 From the sparkling beaches of Malibu to Long Island's Gold Coast, the lavish oceanfront lifestyle becomes just a mouse click or screen tap away, courtesy of Shawn Elliott and his team. Through ShawnElliot.com, this reputable luxury real estate firm presents featured listings, curated area-based search pages, and other relevant resources in a sleek and contemporary layout combined with intuitive navigation. As a complete package, this website is one of Agent Image's most referenced designs.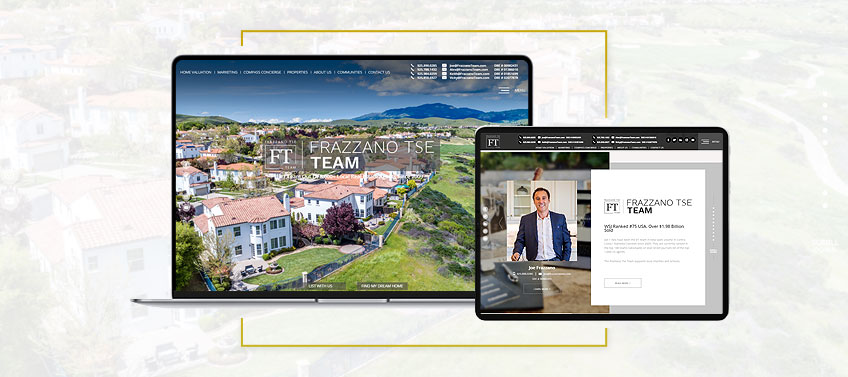 Even before you begin exploring FrazzanoTeam.com, visitors are given the choice to sign up for the firm's market reports and updates. That's instant lead generation for the California real estate company, while also a clear demonstration of their commitment to providing clients with essential and up-to-date information. In a service-oriented industry like real estate, this is an excellent way to start productive relationships.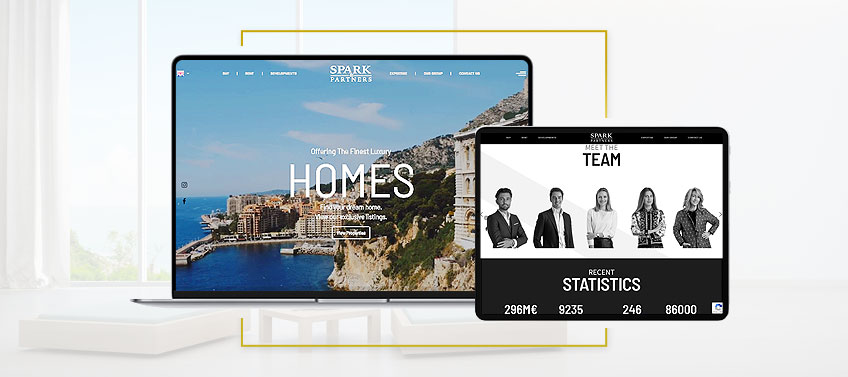 Monte Carlo and the entire French Riviera offer some of the most breathtaking coastal locations the world has to offer. So when Spark & Partners approached us to build a website for their international luxury real estate business, we were more than thrilled to take on the challenge. The result is easily one of the most inspired creations of the Agent Image design team to date—a virtual showcase befitting the finest oceanfront villas and luxury estates facing the Mediterranean Sea. It even earned a Vega Digital Canopus Award.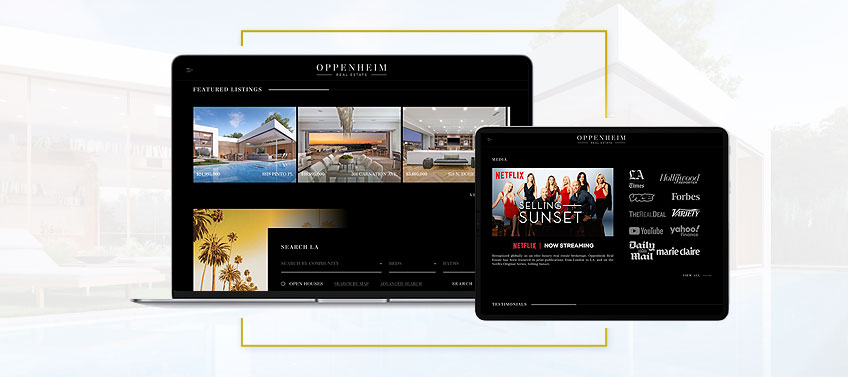 Last year, Jason Oppenheim's OGroup.com was featured on our list of the 2019's best. In 2020, it was Brett Oppenheim's turn to shine with his personal agent website. No doubt, the Oppenheim name is practically synonymous with LA luxury real estate by now.
Decked in a serious and professional black theme, OppenheimRealEstate.com exudes an air of confidence and class befitting Brett's high-net-worth clientele. Visitors drawn to the site from the Oppenheims' hit Netflix series, Selling Sunset, are treated to the same level of style and sophistication that they expect from the top-performing Oppenheim brand.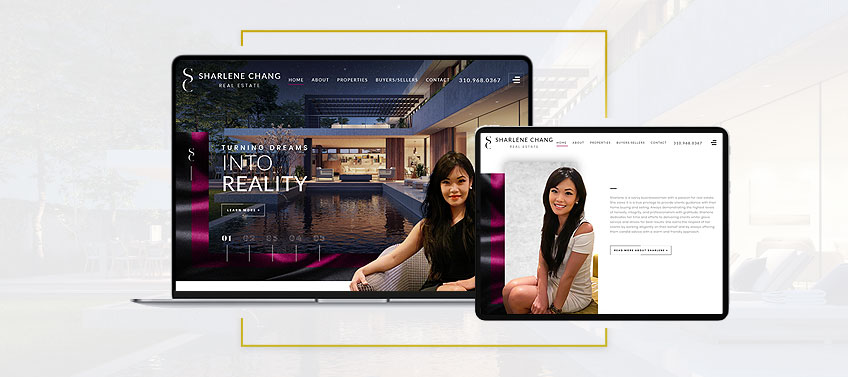 Right from the very start, Beverly Hills Realtor Sharlene Chang makes it clear that her goal is to turn your luxury real estate dreams into reality. This bold proclamation flows throughout her Vega Digital Canopus Award-winning website.
Flaunting eye-catching images of her top listings, smooth and dynamic animation effects, and straightforward calls to action, SharleneChang.com has all you need to get started—whether you're ready to search for your dream home or simply looking to consult with a local expert.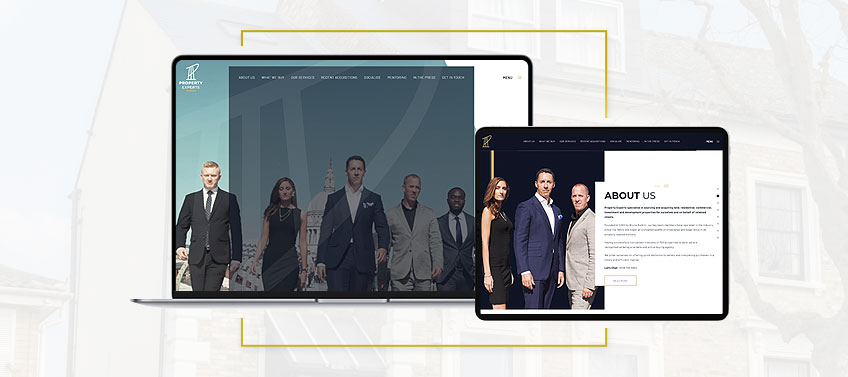 The UK-based real estate firm known simply as Property Experts deals with a wide variety of real estate types, from residential to commercial and investment properties. For a multifaceted company like this, it's essential to have a website that can present all these divergent options and opportunities without overwhelming the viewer.
With the sleek, organized, and professional-looking, Agent Image enabled this company to do exactly that. Not only that, we won a Vega Digital Centauri Award for it, too.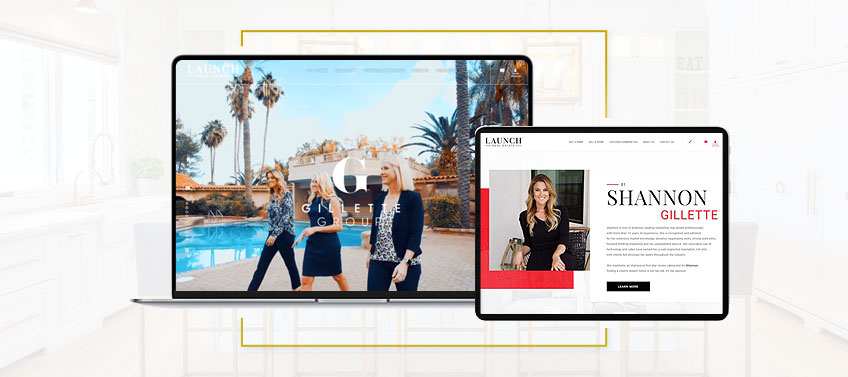 Shannon Gillette shines the spotlight on the hidden gems of Arizona's luxury real estate market—but not in popular cities like Phoenix or Scottsdale. Instead, her areas of expertise are some of the state's best-kept secrets, such as Queen's Creek, Mesa, and more.
Selling a less-popular area may seem like a tall order, but GilletteGroupAZ.com makes it look easy with compelling video content. By elevating the visibility of their featured communities, this website made it to 9th place in REALTrends.com's 2020 Best Video website rankings.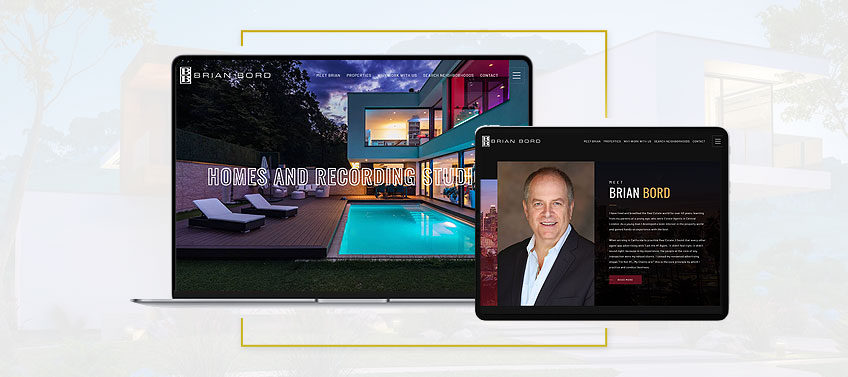 Brian Bord sells not just luxury LA properties, but dream houses equipped with their very own recording studios. To stamp his distinct brand in the ever-competitive Los Angeles real estate market, he needs a website that directly communicates to his niche market.
LAHomes4U.com fits this bill to a T. Featuring clear messaging throughout the site and webpages dedicated to recording studio-equipped properties, Brian makes sure that every visitor knows exactly what they're getting when they browse his online portal.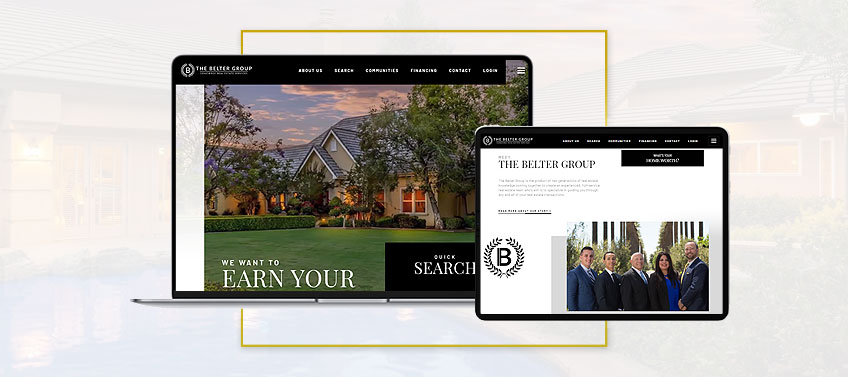 The Belter Group is a real estate endeavor that already cuts across two generations. With a gorgeous professional website up and running, this looks set to move toward the next generation, as well.
Classy and concise, TheBelterGroup.com establishes the firm's credibility with the firm's impressive facts and figures, while also exuding a welcome air of approachability with its range of real estate tools and resources.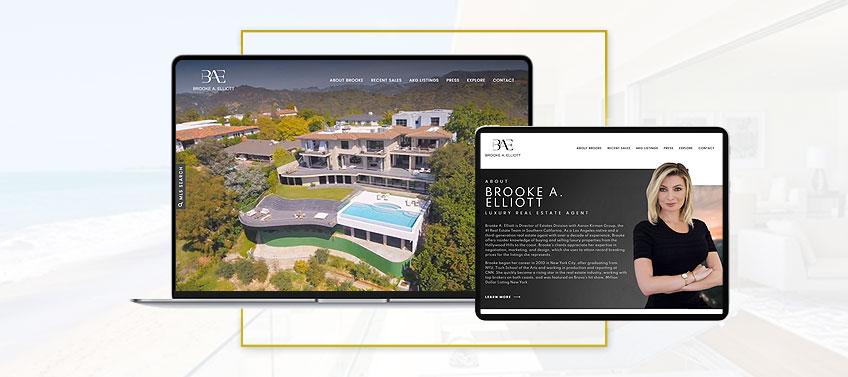 Be prepared to get swept away by the elegance in this website's simplicity. BrookeAElliott.com opens with an absolutely stunning video montage of gorgeous Southern California luxury homes and the irresistible resort lifestyle that comes with the territory. Just as you catch your breath, an invitation to sign up for Brooke's informative newsletter shows up. Right there is where your journey toward the luxury lifestyle you've always dreamed of begins.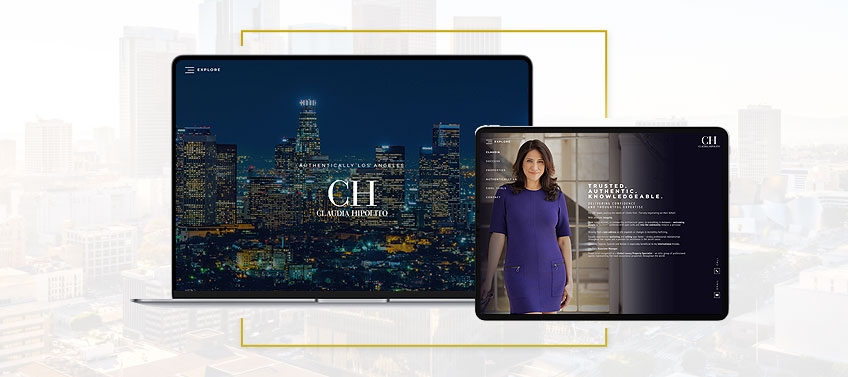 Winner of the Arcturus Award at the 2020 Vega Digital Awards, ClaudiaHipolito.com features a unique user experience that is a genuine joy to use. Instead of the typical downward scrolling navigation, this website flips through pages from side to side, much like a glossy fashion or lifestyle magazine.
With this distinctive website experience, Claudia already makes a strong case for her remarkable brand of service. It's hard to go wrong working with someone with this keen sense of style and innovation.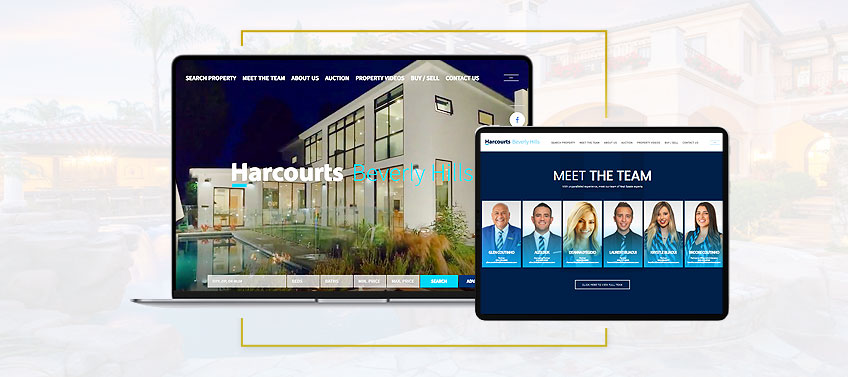 Beverly Hills is a luxury housing market that needs no introduction. Meanwhile the Harcourts real estate brand has a legacy of excellence that dates all the way back to the late 1800s—and half a world away in New Zealand.
With the help of Agent Image's design experts, Harcourts Beverly Hills is making its presence felt in California's famed City of the Stars, making an immediate impact with a professional website that is both a visual treat and a multi-purpose real estate resource.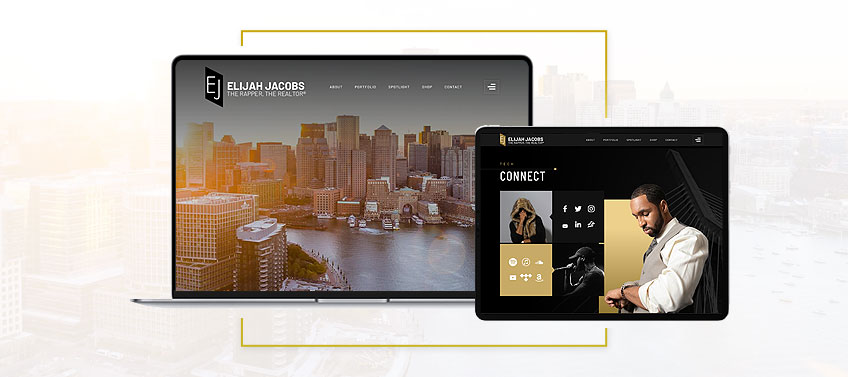 Elijah "E Jake" Jacobs is not just a Realtor; he's a rapper, too. He brings a unique swagger everywhere he goes, including his professional website.
A place "where ambition meets vision," ElijahJacobs.com serves a dual purpose. On one hand, it's an elegant online portal featuring the finest homes for sale in Abington, MA, while on the other, it's a launchpad for E Jake's music projects and events.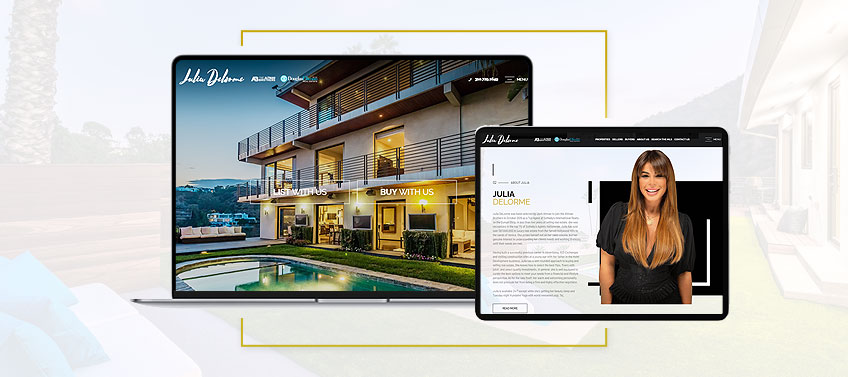 Browsing JuliaDeLorme.com is an outstanding way to get to know the Greater Los Angeles area and its remarkable luxury real estate opportunities. This website's warm and vibrant theme draws you in, inviting you to explore and learn more about Julia's exclusive listings.
The website also establishes Julia's credibility as a Realtor, displaying convincing numbers and key performance indicators, as well as highlighting notable affiliations with the likes of The Altman Brothers and the Douglas Elliman brand.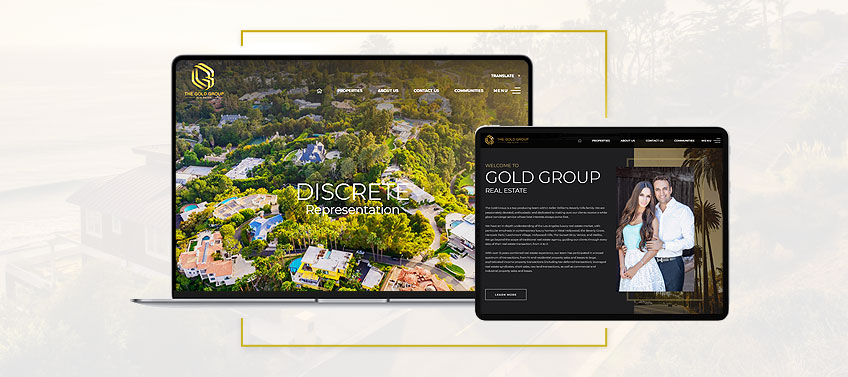 The Gold Group, comprising Beverly Hills-based real estate power couple Vlad and Natalia Gold, knows a thing or two about starting off with a strong first impression. They certainly put this knowledge to good use on GoldRealtors.com. Using gorgeous, postcard-like imagery, this luxury real estate website entices viewers to discover and explore Southern California's most sought-after exclusive communities, palm tree-lined streets, and breathtaking beachfront locales.
Make an impact with your very own real estate agent website
While 2020 may have surprised us all with its unprecedented challenges, 2021 is all about embracing new opportunities. Do you have the online presence to capitalize on them yet?
Whether you're trying to bounce back from trying times or looking to build on an encouraging year of adaptation and resilience, Agent Image has your back for any of your professional website needs. As experts in web design and digital marketing, we keep our eyes open for the latest trends and innovations that enable our clients to stay relevant and make an impact in their respective markets.
If you're ready to take your real estate business to greater heights in 2021, get in touch with us today at 800.979.5799. Schedule a free consultation with our specialists to discuss your ideal online strategy.
Did you enjoy reading this article?
Sign up for more updates with our Agent Intelligence Newsletter!
We are committed to protecting your privacy.
Real Estate Websites for Agents
Learn which package works best for you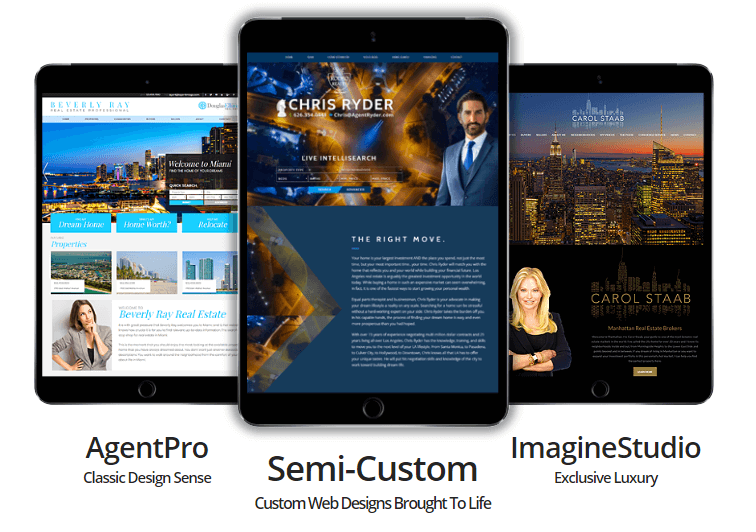 Learn More