10 Best Real Estate Websites for January 2022
Time flies when you're doing great work! And as we welcome a new month and a new year, it's once again time to review the top websites Agent Image worked on.
We start the year strong with a new crop of sites that demonstrate our team's mastery of user interface, user experience, and visual design. Take a look at how we're helping agents get ahead of the competition one website at a time:
Veronika Khomyn
Los Angeles, California
You can't help but be entranced by Veronika Khomyn's website thanks to the immersive and full-sized photos that greet you upon loading it. The chic black-and-gray palette exudes style and class, as do design touches like the subtle marble-like background. The website is sprinkled with clever little features, too — try hovering your browser on a call-to-action button and Veronika's brand logo will be emblazoned on it. Navigation is made easy by the clear and clean layout; featured properties are arranged as a slideshow, while the highlighted communities are stacked like postcards. Each section is also numbered so you know exactly where you are on the site at any given time.
What makes this website stand out: As a testament to Veronika's top-notch service, there's a concierge section that provides a step-by-step process for real estate transactions, whether you're a buyer or a seller.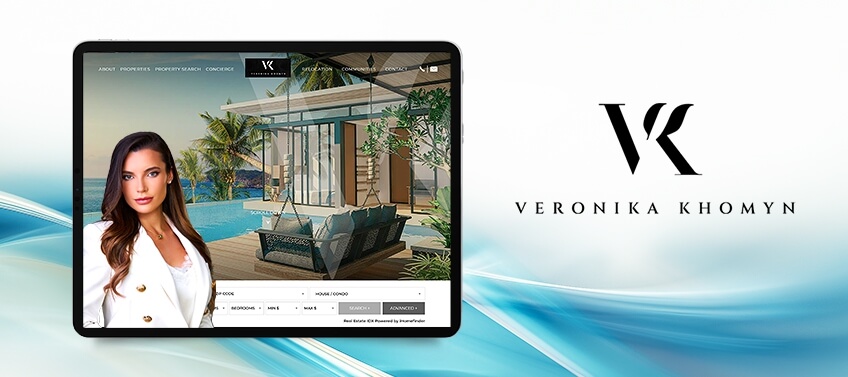 Andreas Elsenhans
Beverly Hills, California
Andreas Elsenhans' website captivates visitors instantly with its dynamic and cinematic shots of luxurious homes. In a span of just a few seconds, it's immediately clear that the agent is an expert in high-end homes and has access to very exclusive listings. Andreas personally believes that simplicity is the height of sophistication, which is why we chose a minimalist but thoughtful layout for his site. Generous white space, gray tones, and black-and-white photos integrated into the background come together to create a subtle but tasteful harmony.
What makes this website stand out: Pictures say a thousand words, but videos tell the whole story. That's why both current and sold listings are showcased with the same dynamic videos used in the website's header section.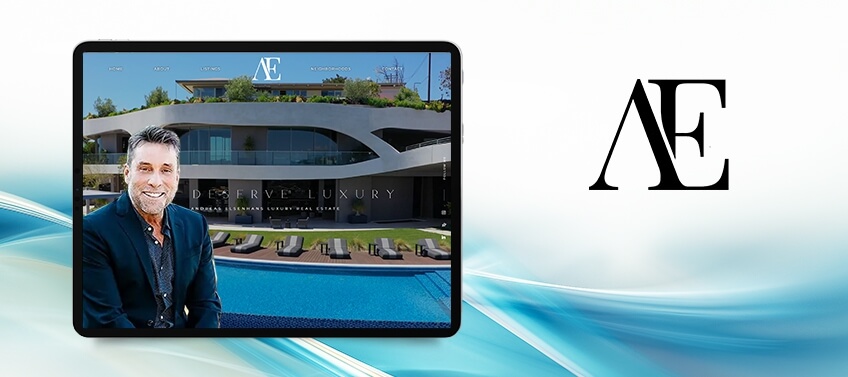 Native Real Estate
Temecula, California
With a tagline like "The luxury you deserve," it's clear that Native Real Estate is all about the finer things in life. We captured this ethos by using a sleek design, subtle animations, and touches of gold throughout the site. While the website is visually appealing, we also made sure it was easy to navigate. Highlighted communities are neatly laid out in card-like fashion, while the featured properties are rendered in a stylish carousel. Since real estate success is all about reputation, we made sure to spotlight Native Real Estate's media coverage just below the fold to establish the brokerage's stature.
What makes this website stand out: Different people have different real estate needs. That's why Native Real Estate's website has dedicated portals for buyers and sellers, as well as a handy property valuation tool.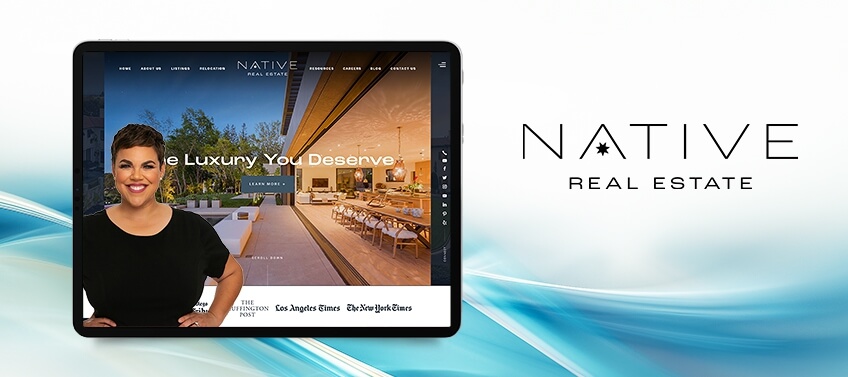 Amin Vali
Orange County, California
Amin Vali's website impresses from the get-go thanks to a video animation of his stylish logo. This gives way to a full-screen introductory video narrated by and featuring Amin, which also showcases the impressive properties in his portfolio. The sophisticated gold-and-black palette creates an exclusive and elevated vibe that befits the luxury homes on offer. Finding your ideal house is easy too, as you can filter featured communities by county. What's more, each locale has an interactive map that shows the available properties there.
What makes this website stand out: Amin caters to both local and international clients. That's why his website has a language selection feature that enables users to choose between English and Persian.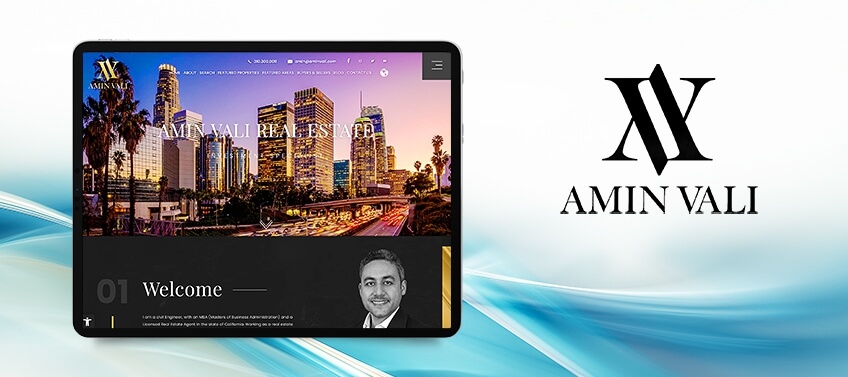 The Daniels Group
La Jolla, California
Palms trees swaying in the wind. Warm ocean water lapping the shore. Immaculate fairways fronting the sea. These are just some of the views that welcome visitors to The Daniels Group's website, serving as a preview of the leisurely lifestyle La Jolla offers. For this project, we chose an uncluttered theme with plenty of white space — an allusion to the wide-open sky and breezy atmosphere in this picturesque community. The website has a strong focus on the various neighborhoods that comprise the city, and clicking on each one provides an in-depth look into the sights, sounds, and social scene of a place.
What makes this website stand out: There's a lot to explore in each of La Jolla's neighborhoods. That's why we created an interactive map that lets you filter features according to the following categories: dining, shopping, outdoor activities, nightlife, beauty, and schools.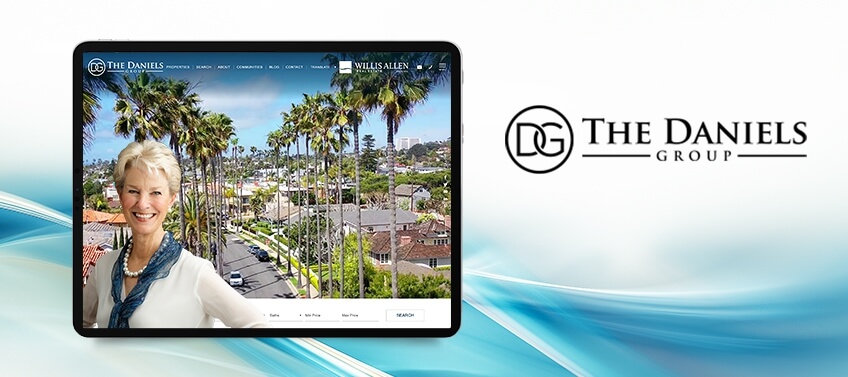 Alesia Barnes
Honolulu, Hawaii
Alesia Barnes' website has one simple goal: to make you immediately fall in love with the island paradise of Hawaii. And with its immersive and user-friendly design, it's hard not to. You are immediately captivated by the banner video, which showcases the many leisure activities that await aspiring luxury home owners. The minimalist layout paired with both bold and soft accent colors is inspired by the laidback lifestyle that only The Aloha State can provide.
What makes this website stand out: This website offers several ways to start your property search. Whether you use the quick search feature, the featured communities section, or the interactive map, your dream home is only a few scrolls and clicks away.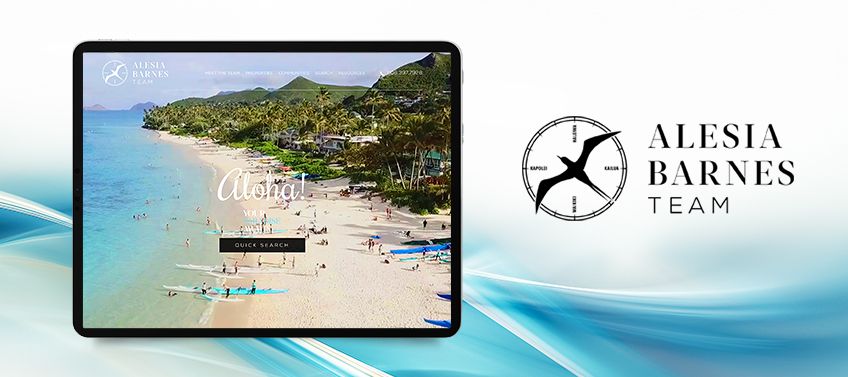 Elizabeth Zahra
Palm Beach, Florida
Realtor Elizabeth Zahra understands that real estate isn't just about selling homes — it's about selling a lifestyle. That's why her website opens with sweeping views of Palm Beach, Florida, along with snippets of herself enjoying local attractions. Scroll down and you'll see a collection of wonderful featured communities to choose from, each one catering to a different kind of buyer. We also created a dedicated space for Elizabeth's proprietary app, downloading which allows people to get free access to all local listings right on their smart device.
What makes this website stand out: In keeping with the lifestyle theme, Elizabeth's website features a digital magazine that offers valuable insights not just on Florida's property market but also about the local scene as well.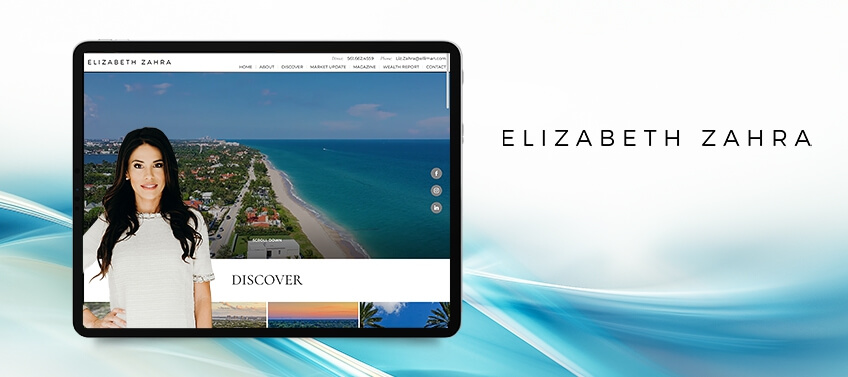 The Bernardi Group
Boulder, Colorado
Colorado is breathtaking no matter the season, so we made sure to put its beauty front and center with The Bernardi Group's website. From stunning autumn landscapes to serene winter trails, the brokerage's landing page takes you on a visual journey through this amazing land. Of course, usability is just as important — above the fold are portals for buyers and sellers, and beneath them is the property search feature. Owner Karen Bernardi even has a series of videos that offer invaluable tips to visitors.
What makes this website stand out: Want to explore the various communities in Colorado? The Bernardi Group has an interactive map that lets you do so easily. Just pick a locale, read its overview, and browse the various properties available there.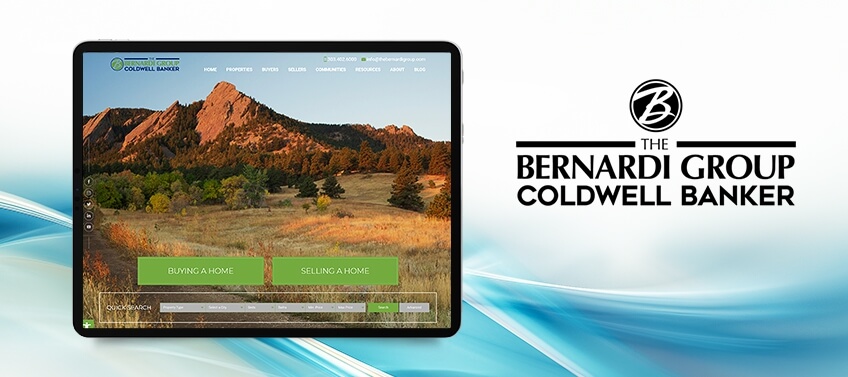 Path Home Team
Denver, Colorado
Style and substance come together on Path Home Team's website. Visitors are greeted by oversized photos of properties that demonstrate the brokerage's elite listings. At the same time, the property search feature is located above the fold to make it easier for you to find your dream home. Even better, there's an interactive map that lists down all the homes for sale in a given community. There's a section that highlights the company's many impressive achievements, too, including $80 million worth of sales in 2021 alone.
What makes this website stand out: Path Home Team's website is your one-stop shop for informative content. That's why the company regularly uploads videos tackling different aspects of the property market, thus giving you the inside scoop.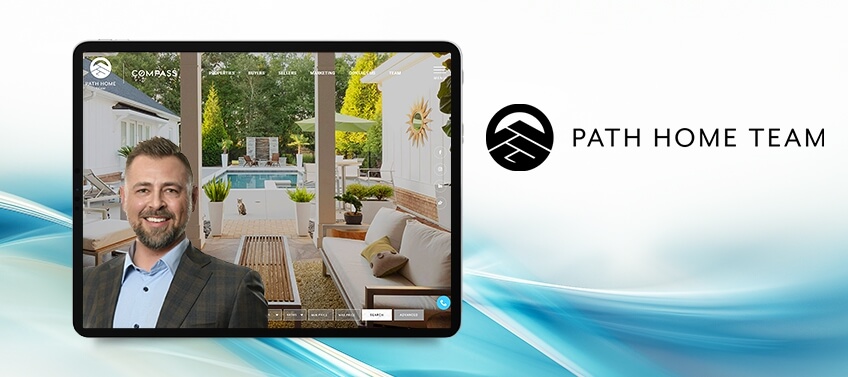 Danielle Reese Group
New York City
As a leading agent of Christie's International Real Estate, Danielle Reese wanted her website to embody luxury and class. To help her achieve this, we opted for a classic black-and-white theme, with muted designs incorporated into the background to create texture. Users can easily access various communities within New York thanks to the Featured Counties section, while portals for buyers and sellers provide a step-by-step guide to visitors. A section on the brokerage's media coverage further highlights its mastery of the local property market.
What makes this website stand out: Real estate is all about reputation and word of mouth. To emphasize Danielle's impeccable reputation, we created a video that touts her 2021 5-Star Agent Award.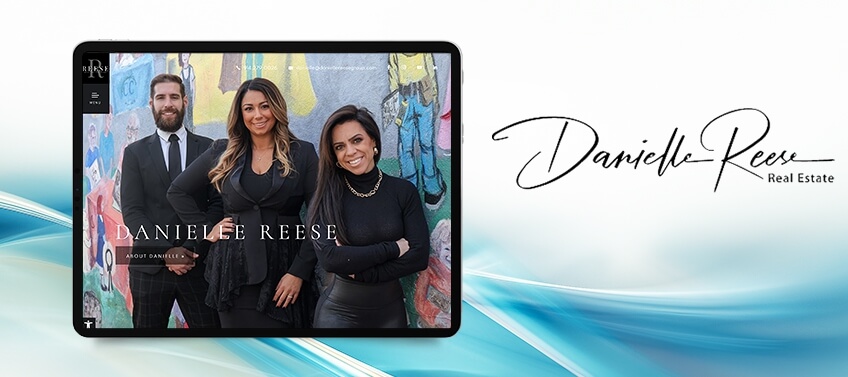 Highlights of January 2022's best websites
The projects cited above are proof that our passion for web design and development remains as strong as ever in 2022. Here's a quick recap of what makes this month's selection stand out:
Veronika Khomyn — The step-by-step instructions for buyers and sellers take the guesswork out of real estate transactions.

Andreas Elsenhans — Video tours of available and recently sold properties demonstrate the caliber of this agent's listings.

Native Real Estate — Tools such as the home value estimator provide tremendous value even to casual browsers.

Amin Vali — The agent expands his service to international clients through a language selection feature.

The Daniels Group — An interactive map lets you filter local sights and attractions according to various categories.

Alesia Barnes — Multiple ways to search for listings make finding the ideal property easier than ever.

Elizabeth Zahra — The addition of a digital magazine gives people keen insight into Palm Beach's real estate market and lifestyle.

The Bernardi Group — Clicking on the interactive map shows all the available listings in a given area.

Path Home Team — Informative videos keep people abreast of the market trends they absolutely need to know.

Danielle Reese Group — A video touting Danielle's 5-Star Agent Award reminds site visitors why she is one of The Big Apple's most trusted realtors.
Now that a new year is upon us, it's worth asking: is it finally time to give your website a revamp? If your current one is starting to show its age, allow Agent Image to bring it into the future.
Whether you want a theme-based site or a bespoke masterpiece, our team of web designers and developers can make it happen. Just take a look at the award-winning work we've done for elite clients like Joyce Rey and The Jills Zeder Group for proof of our design prowess.
To schedule a FREE and no-obligation consultation, just call 800.979.5799 or fill out our signup form.
Did you enjoy reading this article?
Sign up for more updates with our Agent Intelligence Newsletter!
We are committed to protecting your privacy.
Real Estate Websites for Agents
Learn which package works best for you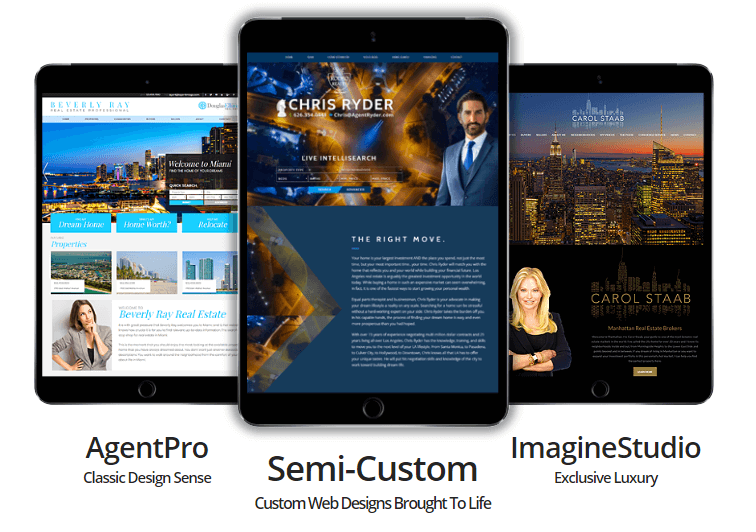 Learn More