10 Best Real Estate Websites for November 2020
The most successful real estate agents meet clients where they are. And in this increasingly digital-first world, your future clients are likely to be online.
That's why having a modern website has never been more vital. Done well, it serves as both your 24/7 online ambassador and a proven lead generation machine.
At Agent Image, we are experts who create informative, intuitive, and attractive websites. We're excited to share with you our best work from the previous month, including award-winning designs for esteemed clients.
Here are the 10 best websites we launched in November 2020:
The Jills Zeder Group
Miami, Florida
For this much-lauded brokerage, only an award-winning website would suffice. JillsZeder.com opens with a full-screen slideshow of high-end homes that are dramatically shot to emphasize their impressive architecture, amenities, and views. It establishes from the get-go the ultra-exclusive properties that only The Jills Zeder Group has access to.
Finding your dream home is a breeze, too, thanks to the intuitive featured listings section and the comprehensive property search feature. Want to search for real estate by community or property type? The site makes it easy to do so, too.
Real estate transactions are all about trust, and this site does an excellent job of highlighting the brokerage's family-centric values and its heritage of excellence. Meanwhile, glowing testimonials, sales achievements, and media coverage lend credibility to the firm.
What makes this website special: It features an interactive map that shows available properties in real-time, along with corresponding neighborhood profiles. This is just one of the thoughtful design touches that led Real Trends to name JillsZeder.com as #6 Best Overall, #4 Best Design, and #3 Best Mobile in its 2020 Website Rankings.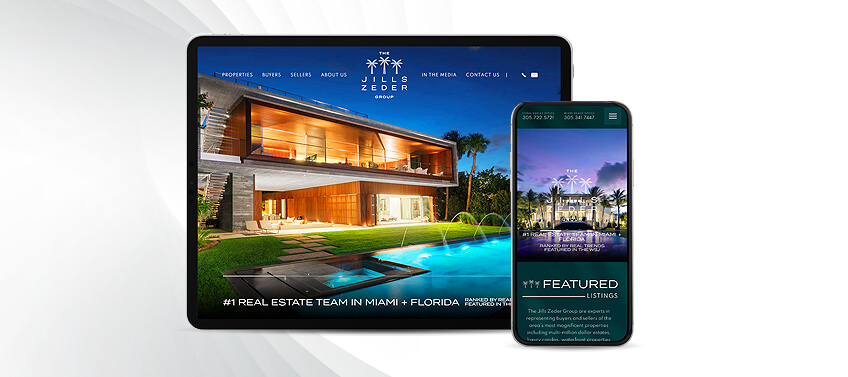 Verawood Realty
Miami, Florida
VerawoodRealty.com's refreshingly minimalist website is a nod to the breezy and laid-back lifestyle of Florida. The blue-and-white palette is also a reference to the pristine beaches and clear skies that property buyers can enjoy in The Sunshine State.
This spare but stylish design extends to the site's featured listings, which are presented in a carousel format. Florida's picture-perfect communities, meanwhile, are featured like a wall of postcards.
The brokerage's branding is subtly incorporated throughout the site via a floating header bar. Dedicated tabs for buyers, renters, sellers, and agents also make for easy navigation.
What makes this website special: You can look for homes without scrolling down further as the property search feature is incorporated into the header section, making for a seamless user experience.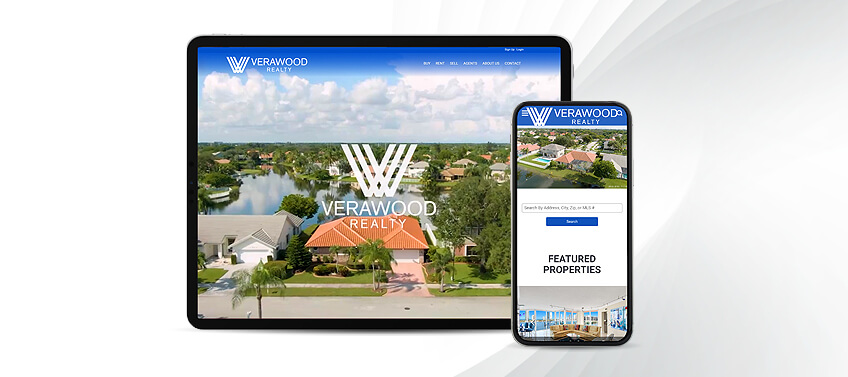 Adrian Burke
Miami, Florida
Luxury real estate agent Adrian Burke lives by a simple but lofty mantra: Luxury Real Estate Redefined. Fittingly, it served as our guiding principle when designing his website.
Right off the bat, visitors are drawn in by dynamic aerial shots of prestigious Miami beachfront properties—a preview of the vibrant lifestyle that awaits buyers.
Much like Adrian himself, the site is sleek and sophisticated but spirited. Graphic elements have been animated to create a sense of dynamism, as seen when the featured communities and client testimonials first load. A clever design touch is how each scroll corresponds to a specific section of the site, streamlining navigation and user experience.
What makes this website special: Adrian is a proud agent of Sotheby's International Realty. Aside from featuring some of Miami's premier properties, his website is also a hub for the esteemed auctioneer's other services.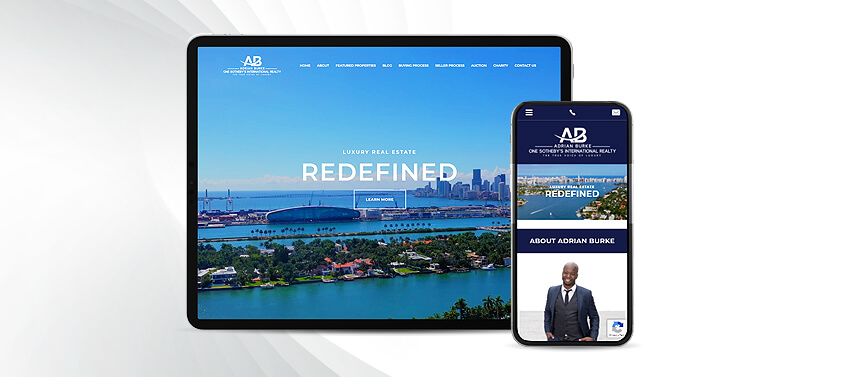 Vision Homes
Richmond, New York
Vision Homes Real Estate is committed to providing prompt and expert services, and this is readily apparent in their website's design. For instance, the home search feature and the buyer, seller, and home valuation tools are just below the fold for ease of access. Both featured listings and recently sold homes are organized as carousels, allowing visitors to have a clear snapshot of the area's real estate options.
In line with its values, the site also offers free resources to clients. These include step-by-step guides for both buyers and sellers, as well as educational blog posts on various real estate-related topics.
A slideshow of beautiful homes serves as the site's header, which gives prospective clients a peek into the brokerage's elite property portfolio. Subtle animations throughout the site, meanwhile, hearken to the proactive service that the firm provides each and every client.
What makes this website special: The brokerage goes above and beyond expectations by providing visitors with resources such as a mortgage calculator and a neighborhood school guide.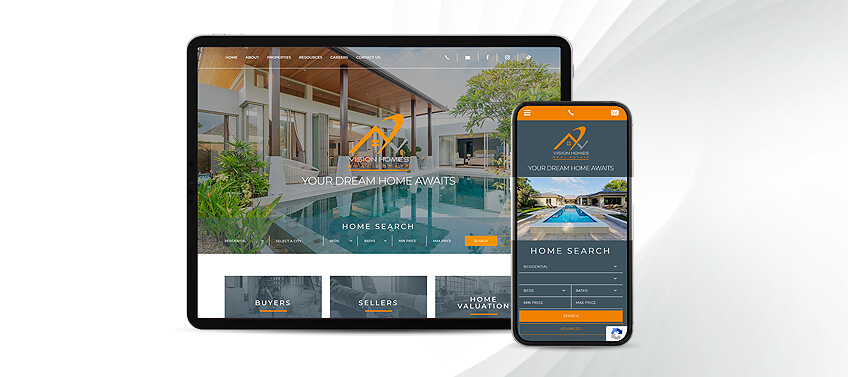 Jenna Steffens
Palm Beach, Florida
For a place as beautiful as Palm Beach, we knew that a visually striking design was imperative. That's why upon first loading FindMyPalmBeachHome.com, visitors are mesmerized by the lapping waves of the iconic seashore.
This visual-first strategy is evident throughout the site, including the edge-to-edge photos of featured properties. At the same time, a sleek layout creates a breezy feel that's true to the Palm Beach lifestyle.
An easy-to-use property search feature and shortcuts to important portals make navigation easy. A hovering header bar, meanwhile, ensures that links to other parts of the site are accessible no matter where you scroll.
What makes this website special: Strong visuals capture the striking beauty of Palm Beach, while a minimalist design makes finding what you need a cinch.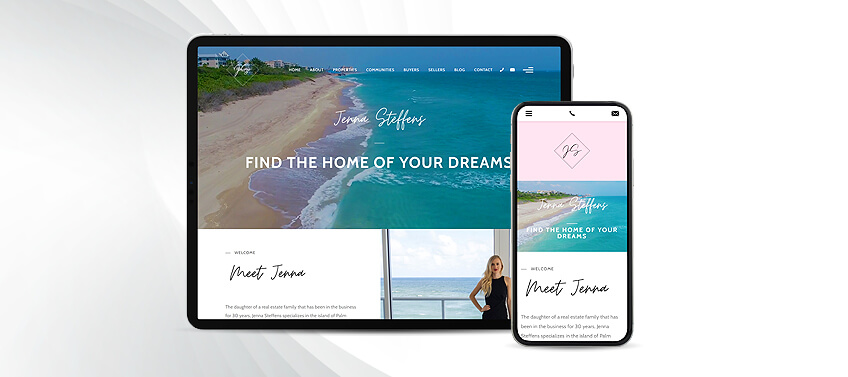 Seth Mansfield
Palm Beach County, Florida
SethMansfield.com skillfully marries form and function, as exemplified above the fold where the property search feature is overlaid on jaw-dropping images of Palm Beach.
The site draws inspiration from Douglas Elliman's brand guidelines while establishing Seth's unique style. For instance, the real estate company's signature blue palette is strategically used throughout the site, but Seth's monogram-inspired logo is applied to the header images, featured communities, and the footer section.
The website organizes properties by neighborhood, as luxury buyers usually already have a specific community in mind when browsing listings. Taking inspiration from Palm Beach's leisurely seaside lifestyle, we employed a decidedly clean and minimal layout for this project.
What makes this website special: Seth gives clients access to the most exclusive listings in Palm Beach. With this in mind, we included an opt-in system that alerts subscribers whenever a new property in their target neighborhood is listed.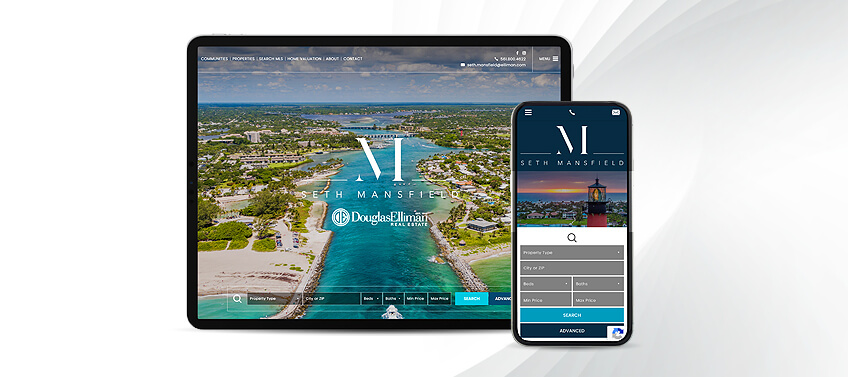 Carol Staab
Manhattan, New York City
For Carol Staab, Manhattan isn't just a real estate market, it's a lifestyle. Fittingly, CarolStaab.com opens with a video of her exploring the borough, doing media interviews, and showing gorgeous properties—a taste of the fast-paced but exhilarating lifestyle Manhattan offers.
Since Manhattan is one of New York City's toniest neighborhoods, we created a design that reflects its chic cosmopolitan vibe. We selected a gold, white, and black color palette as it connotes sophistication and good taste. Meanwhile, ample white space and oversized photos create a visually arresting experience.
Capturing the borough's dynamic lifestyle was also crucial. To achieve this, we animated design elements so they pop into view as you scroll, imbuing the site with a lively feel.
What makes this website special: When it comes to Manhattan luxury real estate, to see is truly to believe. That's why CarolStaab.com offers walkthrough videos featuring some of the most exclusive properties she represents.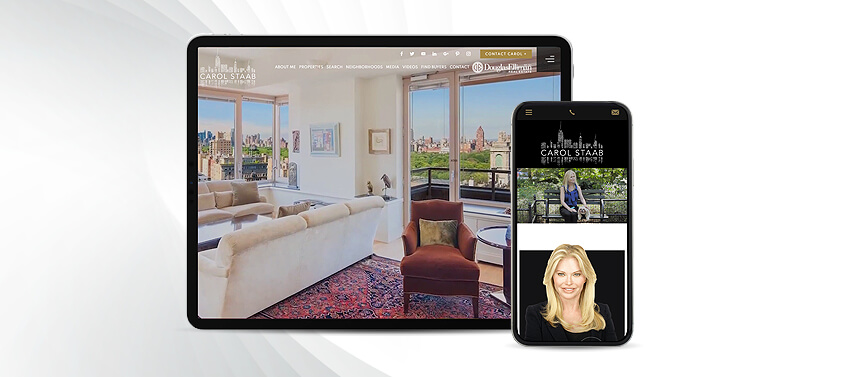 Aggieland Properties
College Station, Texas
Elegant but approachable best describes Aggieland-Properties.com. Upon loading the site, you're greeted by a behind-the-scenes look at the brokerage's stylish office, where you see its devoted staff in action.
For this project, we went for a clean and refined look, using white space to further emphasize the high-quality photos. We also had an eye towards usability, placing shortcuts for both sales and leasing inquiries above the fold. There are also quick links for people looking to buy, move, or estimate their home's value.
The site features a map of College Station, which is paired with a list of highlighted communities. When you hover over featured listings, each image zooms in and becomes full-color, revealing more details about the property.
What makes this website special: Since the firm is proudly owned and operated by locals, we added a little Aggieland charm to the design by way of a vintage-inspired postcard graphic.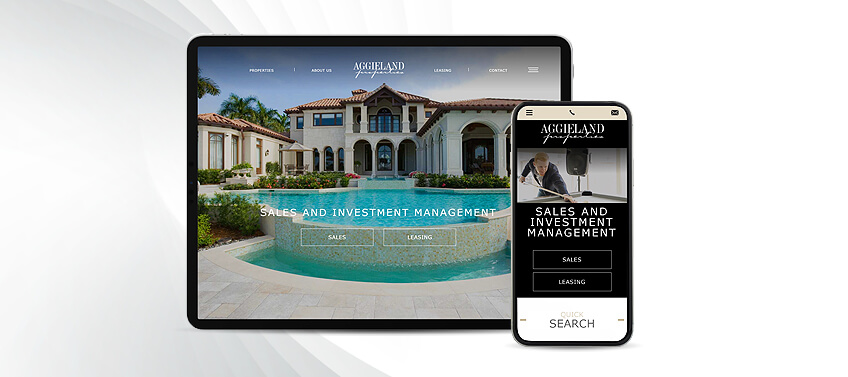 Kyle Lewis
Los Angeles, California
KyleDLewisRealEstate.com boasts an elegantly minimalist design that reflects the relaxed beachside lifestyle of Southern California. Given the area's stunning views, we employed a visual-centric aesthetic, exemplified by the crisp edge-to-edge photos above the fold. Scroll down further and you'll see a brief profile of Kyle, which establishes his credibility as a leading Los Angeles agent.
We wanted to achieve a clean look, so we made sure that copy and visuals never intermingled by giving each their own "lane," so to speak. The use of generous white space lends an uncluttered and orderly feel to the site. This is all made possible by Agent Image's AgentPro – Amante II design template.
The site's simple but sleek design also means that finding what you need is easy. The home search feature is just a few scrolls down, as are shortcuts to the buyer, relocation, and property valuation portals. The website also highlights Kyle's areas of expertise, allowing visitors to explore Los Angeles' various neighborhoods.
What makes this website special: Tasteful art direction ensures that this website perfectly captures the leisurely but sophisticated character of coastal Los Angeles.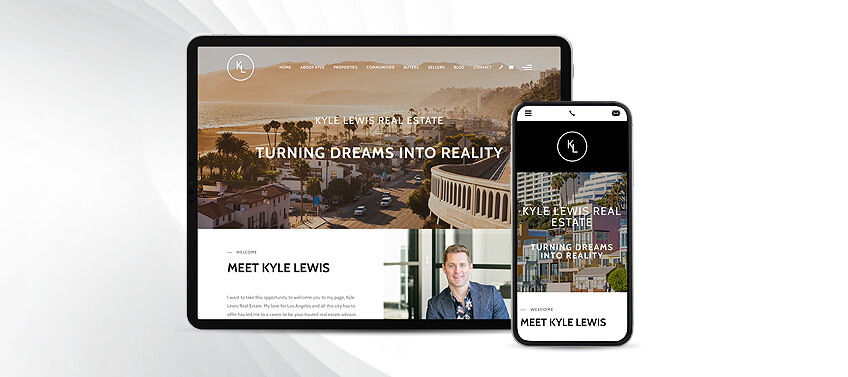 Ramona Biggs
Metro Atlanta, Georgia
Excellent client service is paramount to Ramona Biggs and she wanted her new website to reflect it. Using the Agent Image X – Quantum template as a basis, we developed a simple and user-friendly design to achieve this goal.
The property search feature sits just below the fold and allows users to zero in on their ideal property. Following it are shortcuts to Ramona's luxury property portfolio, her mailing list, and a property valuation tool. Featured neighborhoods and properties are prominently showcased so that visitors can quickly get an idea of the real estate options available to them.
Black, white, and gold are the primary colors used, and were chosen for their understated elegance. Touches like a subtle geometric pattern in the background add visual interest without cluttering the design.
What makes this website special: The flexibility of the Agent Image X – Quantum template allowed us to create a stunning minimalist website that makes everything you need just a few scrolls or taps away.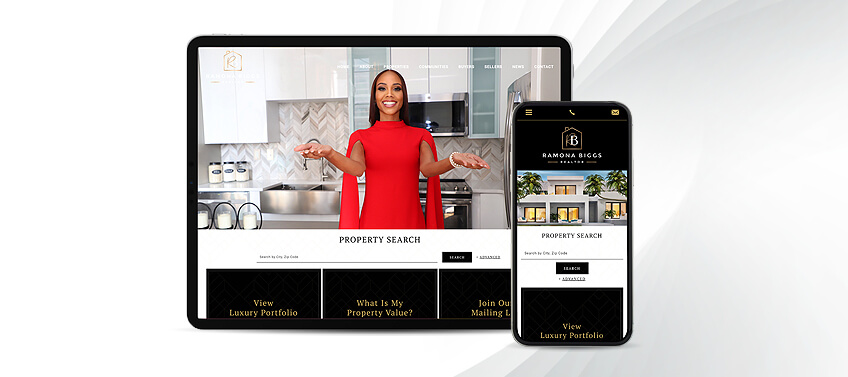 The best things about November 2020's best websites
Beyond just designing websites, Agent Image creates effective online storefronts that reflect your company's values, brand story, and business goals. As you can see with our selection above, no task is too big for our talented team of digital design experts.
Here's a quick summary of what makes this month's top websites worthy of being included in our list:
The Jills Zeder Group – This award-winning site features interactive elements and informative content that makes it easy for visitors to find their dream homes.

Verawood Realty – Minimalist aesthetic meets clever U/X design in a website that is as visually appealing as it is easy to navigate.

Adrian Burke – A vibrant design perfectly reflects Miami's chic but chill atmosphere. Moreover, this website acts as a one-stop-shop for all things luxury.

Vision Homes – Vision Home's website proves that marrying form with function elevates the overall browsing experience.

Jenna Steffens – A visual-centric design perfectly captures the sheer beauty and leisurely lifestyle of Palm Beach.

Seth Mansfield – Properties in Palm Beach are in high demand, and this website allows users to sign up for free alerts whenever there are new listings.

Carol Staab – Video walkthroughs give visitors an in-depth look at some of Manhattan's most prestigious properties.

Aggieland Properties – This website is a case study in how to create a design that is refined yet approachable.

Kyle Lewis – Crisp imagery, clean layout, and user-friendly features come together in this beautifully minimalist website.

Ramona Biggs – A service-focused design ensures that everything a visitor needs is but a click or tap away.
Revamp your website and unlock next-level success
Agent Image has over 20 years of website development experience, and we look forward to sharing our design prowess with you. Give us a call at 800.979.5799 to get a FREE online marketing strategy consultation.
Did you enjoy reading this article?
Sign up for more updates with our Agent Intelligence Newsletter!
We are committed to protecting your privacy.
Real Estate Websites for Agents
Learn which package works best for you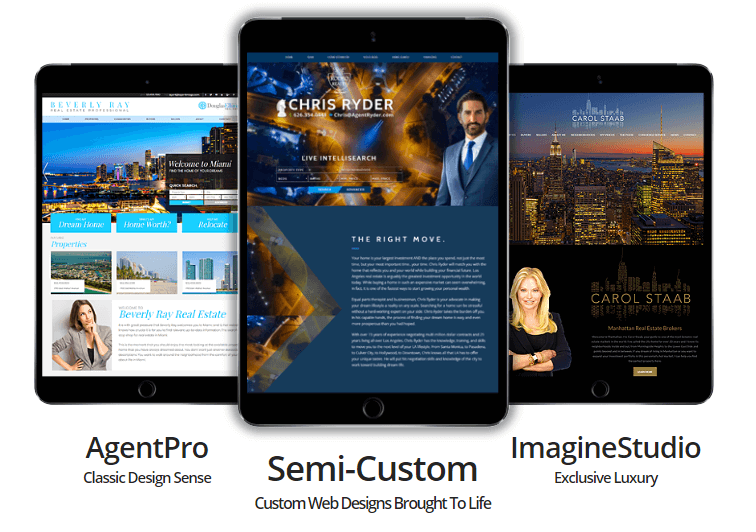 Learn More