10 Free Design Sources for Your Real Estate Marketing
There's nothing like visual content to get a visceral reaction out of your target audience. But what if you can't pay top dollar for the best graphic designers and photographers in the game?
You can DIY it – there are design resources out there that offer stock images, design tools, and design inspirations for free. Logo design, layout design, and photo editing for both online and print materials will be a breeze even if you don't have formal training.
Design resources to check out
Create a professional-looking logo within minutes using this online application. It has a user-friendly interface that lets you customize stock icons and font types with ease. You can start by typing in your company name, which appears as part of the logo, and the kind of business you operate. This helps narrow down your stock icon choices, with Free Logo Design presenting the ones most relevant to real estate branding.
Use different icon, font, and color combinations to customize their existing stock. You can also play around with sizing and placement. When you're done, you can download a 200×200-pixel file of your new logo for free.
Browse through LogoGarden's free icons by industry then customize your pick. You can use various effects like distress, shadow, shine, and reflection to give your logo more character. You can also add text if you have a business slogan that you'd like to incorporate into the design. Once finished, you can download a small scale file of the logo.
You also have the option to save your design in LogoGarden's database in case you want to produce merchandise like company shirts or mugs later on. All you need to do is register your email address with them.
YouiDraw's Logo Creator lets you take your pick from a wide selection of stock icons sorted by industry and style. You can start with a blank canvas or make use of their existing templates. Design t-shirts, CD covers, and posters with their Drawing feature, and explore digital art with the Painting function.
You can export the finished product as high resolution JPEG and PNG files. The design will have a YouiDraw watermark if you're using a free account.
Photoshop Express Editor is ideal for producing marketing collateral and visual content. It lets you upload JPEG, JPE, and JPG files 16 megapixels or smaller and make creative enhancements. The online app has a broad range of tools and features that are simple to use. You can control a photo's saturation and brightness, as well as do touch ups to make it look more uniform or uneven.
When you're done, you can save a high-quality file of the edited image onto your computer for free.
A video tutorial comes on as soon as you enter the Logomakr website, helping you learn how to make effective use of the app's features. You can use a stock icon by typing in a keyword or industry name into a field in the upper left corner. Customize the icon of your choice with text, colors, and sizing.
You can then download the finished product when you're done. However, you have to give Logomakr legal credits whenever you use it in any of your branding and marketing efforts.
Unsplash is a no-nonsense resource for stock images. The images in the website come from different photographers that can be used without any charge.
Downloading pictures from Unsplash is incredibly simple – just click through the picture you want to download and tick the download button on the far right of the page.
This straightforward app lets you take a step-by-step approach to designing a minimalist black and white logo, which simplifies the process. You can begin by choosing a base shape and a secondary shape from their selection of stock icons,then move on to customization with background colors, background images, and background image filters.
The last step is to generate your logo and download a 600×500-pixel PNG file of it free of charge.
Be Funky has three applications: Photo Editor, Collage Maker, and Designer. With Photo Editor, you can upload an image or use one of their stock photos, then enhance it with numerous tools and features. The Collage Maker is a simple app that lets you insert photos into a collage layout with six grids. Again, you may use you own pictures or Be Funky's stock.
The Designer has templates for just about everything a small business needs, from posters and restaurant menus to Facebook ads and infographics. Some of these templates can be used for free, though you'll have more choices if you register for a paid account.
Customize these templates by adding design elements, text, and background color. You can make these additions look more seamless by controlling their opacity.
You can save your work as a high quality JPG or PNG file onto your computer, Facebook account, Google Drive, Dropbox, or Be Funky account.
To use Canva, you must sign up for a free account or log in using your Facebook or Google Plus account. A two-minute tutorial will show you how to use the app's tools. There are templates for social media posts, presentations, blog graphics, eBook covers, and Facebook covers, just to name a few. You also have the option of using custom dimensions for your designs.
You can download your designs as high quality JPG, PNG, and PDF files for free.
You can use Logaster to design logos, business cards, envelopes, letterheads, and favicons. Get started by typing in your company name and selecting your activity type, which ranges from business to medicine. The app's Logo Creation Wizard will then supply you with appropriate stock logo concepts.
After customization, you'll be able to download a small size logo for free, albeit with a watermark.
The benefits of using free design sources
These applications are ideal for business owners who are just starting out, as well as those who'd like to DIY design for a more hands-on approach to real estate branding. This lets you add a personal touch to your real estate marketing materials.
You can also rely on these free sources when your design budget is tight, or when you need to deliver marketing collateral but don't have time to look for a graphic designer.
Since these apps can be used for free, they lend themselves well to experimentation. You can use them to create several versions of a design logo you plan on having professionally rendered later on. Just remember to keep back-up files for reference.
Did you enjoy reading this article?
Sign up for more updates with our Agent Intelligence Newsletter!
We are committed to protecting your privacy.
Real Estate Websites for Agents
Learn which package works best for you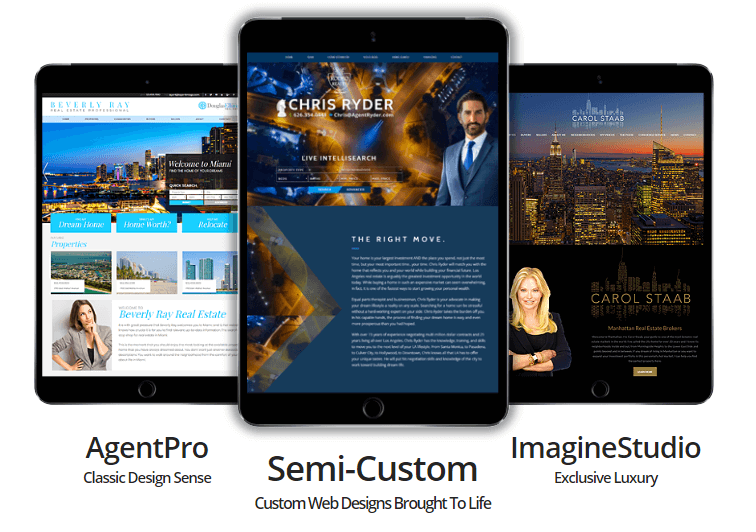 Learn More