100+ Topics and Ideas for Your Real Estate Blog
You've decided to blog. Congratulations! You're taking a great step towards getting your name, website and personal brand known in your community as the go-to real estate professional. But, we won't lie … blogging takes time, effort and dedication … and it can be hard to come up with topics and ideas to fuel your creative juices. When in doubt, reference this list of 100+ real estate blogs topics.
Lead Generating Blog Posts
Area Tax/Levee Issues
School Rankings
Positive Employment News/New Area Jobs
Commuter/Walkability Ratings
Local Crime Rates
Upcoming Open Houses
New Listings
Reduced Home Price Alerts
Local Influencer Blog Posts
Relocation Guides/Resources
Local Business Finder
Top Area Restaurants
Sites to See
Top 10 Local Attractions
Things to Do
History of the Area
Places to Socialize

For Single
Retiree
Couple
Families, etc

Pluses to Living in Your Area
Best Contractors
Community Resources
Neighborhood School Guides
Annual Events/Festivals
Review Local Events
Best Local Private and Public Golf Courses
Most Popular Night Spot
Top Area Café
Insider Hole-in-the-Wall Restaurant Guide
Useful Local Market Analysis
Downloadable Reports
Cost Estimators/Mortgage Calculators
Tips for Financing and Refinancing
Marketing Expert Blog Posts
Highlight Recent Sales
Discuss Clients You've Helped
Testimonials
Post about Unique Listings
Targeted Posts by Demographic

Millennials
Retirees
Families
Newlyweds
Singles
First-Time Buyers/Sellers
Veterans, etc

Cross Promote with Local Businesses
Maximizing Sale/Purchase Price
Statistics on Local Housing Market
Exclusive Neighborhood Analysis
Expertly Crafted Website
Subscriber Targeted Blog Posts
Free Downloads for Subscribers
Links to Exclusive Market Information
Advice on Finding Local Service Providers
Offer Sharable Content like Infographics via Newsletter Signup
Regular Posts Targeting Niche Market
Insider Information on Refinancing/Home Loans
Real Estate Blog Posts for Buyers
What to Look For
Types of Property Available in Your Area

Waterfront Real Estate
Newly Built Condos
Mountain View Homes
Retirement Communities
Luxury Estates
Gated Communities
Pet-Friendly Neighborhoods
Kid-Friendly Neighborhoods

Costs of Homes in Your Area Based on Size, Location, Style, etc
Deals for Top Quality Local Real Estate
Buying Guides
Introduction to Local Housing Market Reports
Recent Home Sale Prices
Price Analysis
Market Condition Analysis
Homebuyer FAQ
Financing Options
Understanding the Buying Process
Tips for Getting the Best Price
Video Tours and HD Photos of Available Properties
Real Estate Blog Posts for Sellers
Tips for Preparing a Home for Resale
How to Choose Which Bid to Accept
Calculating a Home's Worth
Tricks for Staging a Home for Less
Easy Landscaping Improvements
Recommendations for Home Improvements with High ROI
Maximizing Your Home Value
Negotiating for Top Dollar
Tools for Using Photos and Video to Sell Your Home
Guide for Hosting an Open House
User Engaging Blog Posts
Ask for Reviews/Comments
Create Fun Polling Questions
Solicit Comments from Locals about Living in Your Area
Share Testimonials
Post Video Blogs of Interviews with Happy Clients
Write Reviews of Local Events and Solicit Opinions
Target Locals to Post Opinions about the "Best of_____", i.e.,

The Best Wings in [City]
Places for Affordable Furniture
Top Spots for Singles, etc

Highlight Interesting Reviews/Testimonials from Clients
"Day-in-the-Life" Posts about Working with Real Estate Agents
Offer Discounts or Free Downloads for Referrals or Shares
Buzz Creating Blog Posts
HD/Aerial Photos of the Largest Home in Your City
Highlight Unique Luxury Property Features
Post about Local Celebrities Living in Your City
Take a Side on a Heated Local Issue (Warning: this could backfire!)
Share Shocking Photo/Video Blog Posts like:

"Unbelievably Cheap 5 Bedroom Manor" or
"One-of-its-Kind Home Goes on the Market for the First Time"

Tie Your Blog Posts to Trending Current Event Topics
Spectacular Celebrity Estates
The Biggest Homes in the World
The Most Lavish Homes Ever Sold
Homes Sold for Shockingly High Numbers or Equally Shocking Low Numbers
Traffic Generating Blog Posts
Use Someone Locally Famous to Guest Blog for You
Post Predictions for Upcoming Year in the Housing Market
Discuss New Technologies that Help Sell/Buy Real Estate
Write about Most Attention-Grabbing Properties You Represent
Share Video Tours of New Listings
Shareable Blog Posts
Pictures of Celebrity or Politician Estates
Views of Unique Landscape of Your Area
Comparative Analysis of Your Market versus National Market
Rank the Top Real Estate Properties in Your Area
Downloadable Reports/PDFs for Sharing via Social Media and E-Mail
Did you enjoy reading this article?
Sign up for more updates with our Agent Intelligence Newsletter!
We are committed to protecting your privacy.
Real Estate Websites for Agents
Learn which package works best for you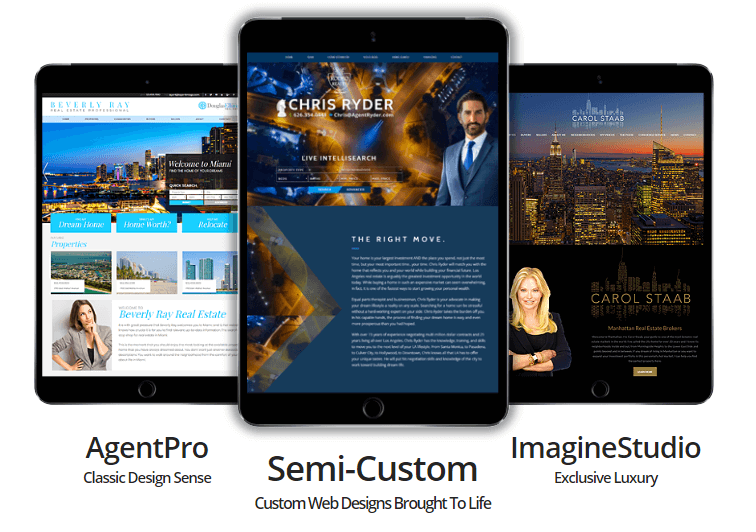 Learn More