11 Google Tools You Need for Real Estate Internet Marketing
According to a recent report released last November by the White House's Council of Economic Advisers, Millennials already account for about 30% of the adult population of the United States. As Baby Boomers continue to age out of the housing market, shaping your real estate marketing practices to reach the 25 – 35 year old demographic is more important than ever.
Moreover, due to the collapse in the housing market, a larger proportion of Millennials than in previous generations are renting rather than buying.
Most have struggled to find steady work in the sluggish job market while others who could afford to buy a home are reluctant to risk their credit on an uncertain economy and fragile housing market.
This has created the need for real estate agents to create innovative strategies to attract those gun shy Millennials. Unlike previous generations of homebuyers, most of the work of selling real estate happens online. As the number one search engine, Google is a great place to start when maximizing your online presence to attract buyers.
From generating referrals to providing real time imaging, if you want to cast your net wide, Google can help. In fact, more than 80% of online users in the U.S. use Google for online searches.
Google Tools for Real Estate Internet Marketing
With that being said, we've put together a list of the top Google tools you need to support your real estate Internet marketing efforts – driving buyers and sellers to your website.
Generate Views
These seven tools are designed to make your website more searchable, more interactive, and more user-friendly. Used together, your real estate website does your online marketing for you!
1. Google Profile: The first step to generating visits to your website is to have a full and robust Google profile that gives a snapshot of your company whenever people are searching real estate online. Add photos, your contact information, a description of your business, and enable users to send you a message directly from your profile.
2. Google AdWords: Next, make it easier for potential homebuyers and sellers in your area to find you with Google AdWords. This tool generates leads based on location. When someone is searching within your zip code, your business profile will appear in the search results.
3. Google Places: No longer do you have to rely on ads in the local paper to get noticed. Google Places is designed for real estate agents and businesses to list their company, and to be easily found by consumers, buyers and sellers.
4. Google Maps: Google offers a number of different ways to enable users to see your business and/or properties on an interactive map that allows them to zoom in on a specific area. Google Maps API uses satellite imaging to show more detail on your maps. Allow your listing to be found in more than 50% of online searches on Google with Google Maps.
5. Google Earth: For a minimal cost you can add Google Earth to your real estate website and give your visitors a 3D view of your properties. Prospective buyers can see satellite images of nearby parks, schools, and businesses all from your website!
6. Google SketchUp: One thing homebuyers want to see when they come to your real estate website is a detailed view of your properties. Google SketchUp enables visitors to view your listings in 3D including the surrounding areas. List your SketchUp images to your Google Earth listing to wow your website visitors!
7. YouTube Channel: While 3D imaging and high quality photos are excellent tools for attracting homebuyers, video is even better! Through Google, you can create your own YouTube Channel full of video virtual tours of each of your properties. Reach those regular YouTube viewers who use the
Internet to search for real estate 90 times more than the average person!
Maximize Results
Once you have utilized the seven Google tools that generate page views, add these four Google tools to maximize the results. Get real time data about pageviews, organize your team, and enable prospective clients to reach you from anywhere!
8. Go Mobile: Google's Go Mobile service can help you reach the nearly 70% of users who are more likely to buy from businesses whose websites are compatible with their mobile devices. In fact, mobile Internet traffic is likely to eclipse desktop traffic by the end of 2015.
9. Google Voice: Without paying a dime, you can have all of your calls sent to one place with Google Voice. Whenever a prospective client calls your office, your cell phone, or your home number, have them all forwarded to your Google Voice number for free in the U.S.!
10. Google Alerts: Stay on top of the game while keeping an eye on how well your real estate online marketing is going with Google Alerts. This free service notifies you whenever your business name is searched or referenced online. See your traffic grow in real time!
11. Google Apps: Finally, organize your office and your real estate team with Google Apps. Open up a Gmail account for all of your team members and from there, everyone can access interoffice documents, calendars, messages, and more! With virtually unlimited storage, no software required, and easy setup, Google Apps is making real estate online marketing simple. Start collaborating better now!
Today, traditional brick and mortar real estate agents and agencies are finding that without a powerful online presence, they will become obsolete. There are so many tools that enable you to enhance the welcoming personal touch of a neighborhood real estate agency while maximizing your online marketing.
Maximize Google Real Estate Tools for Success
Google tools are just one way that real estate online marketing is getting easier to do, but there are many more!  At Agent Image, we use innovative, avant-garde techniques to harness the power of the Internet to work for you! Speak with one of our representatives today or fill out our online contact form for your free consultation! We look forward to hearing from you soon and to helping you maximize your real estate marketing efforts. Connect today!
Did you enjoy reading this article?
Sign up for more updates with our Agent Intelligence Newsletter!
We are committed to protecting your privacy.
Real Estate Websites for Agents
Learn which package works best for you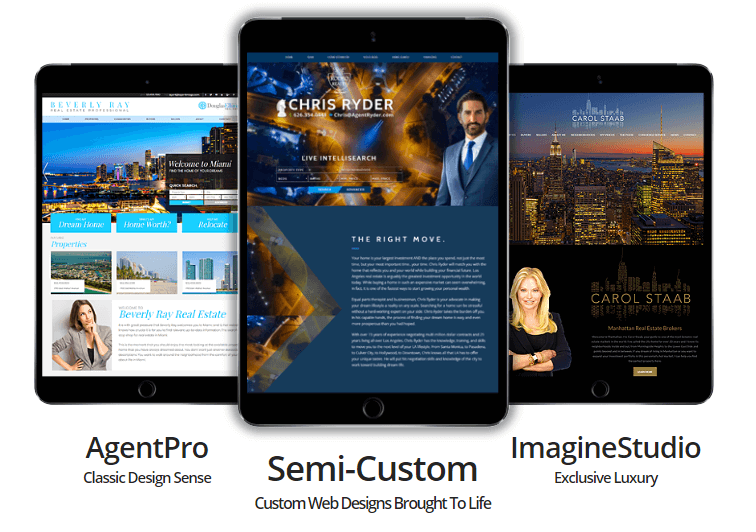 Learn More