11 Inspirational Real Estate Web Designs
A great real estate website can do wonders for your personal brand, your lead generation and your business. But, in an online world filled with cookie-cutter template websites, what can you do to make sure your real estate website stands out from your competitors?
At Agent Image, we believe in providing our clients with more than a template website where you can change the colors and photos to your liking. We're building unique, beautiful websites that are more than just a pretty face! Optimized for lead generation, increased search engine rankings and prospect conversion, our real estate web designs are powerful tools in your online marketing arsenal. And, we're masters of matching your web design with your personal brand and local market.
To help you find inspiration for your website project or redesign, we've gathered some of our favorite designs from the past few months. Below you can browse some of our design styles and view recently completed examples.
Parallax Scrolling
Parallax scrolling site design has become quite popular in recent years due to its simplicity, ease of use and ability to pack a wealth of information into the site. It typically uses a unique scrolling effect with a series of background images behind floating content. This design is modern, sleek, simple, and creative. The scroll effect pulls readers eyes down toward listing searches and contact information tabs effectively. Frank Grabon's Philadelphia real estate website uses this design style.
Textured
Our textured design style uses a combination of 3D elements and patterns to create a truly dynamic looking website. This design style is popular with agents who want a unique and innovative feel, while portraying professionalism. Gary Finkelstein's recent website project is a great example of a textured design style combined with advanced Parallax!
Corporate
For real estate agents, teams or brokerages looking for a straightforward approach to web design with clean lines, traditional colors and a sleek yet refined elegance, a corporate design is a great direction. The Dirk Stone Real Estate Group recently completed a website project with our team in this style. Note the clean user experience, clear message and straightforward approach to displaying content, search capabilities and contact information.
Minimalist
For those who want to focus on imagery and a few important features, the minimalist design is a great option to maximize impact. Specializing in the Orlando luxury market, the Madorin Group recently completed a minimalist website design with our team. The initial images and calls to action are visually captivating and entice visitors to continue through the site. Note the simplicity of the menus and the vibrant imagery.
Flat
A more scaled down contemporary design that uses solid colors without any shadows or textures, our flat design is user-friendly, streamlined for efficiency and boasts a clean and easily navigable layout. Cathy Richards at Epic Park City Homes recently completed a website project using a flat design.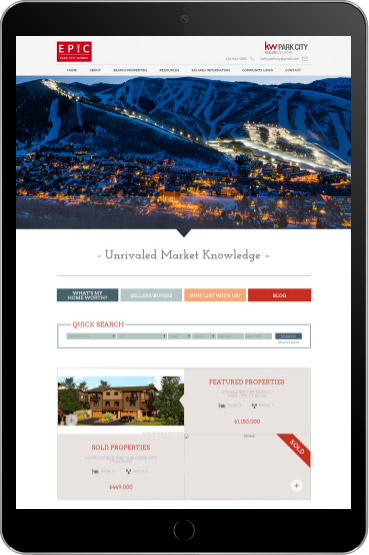 Elegant
An elegant design, as the name implies, offers more ornate details and portrays a luxurious and refined image with traditional color schemes and fonts. This design style is a favorite of agents and brokers who deal in luxury properties, and offers a clean and professional image. The team at Prestige Luxury Properties recently completed an elegant website design with our team. Note the use of traditional colors and ornate details, as well as the simple – yet elegant – user experience.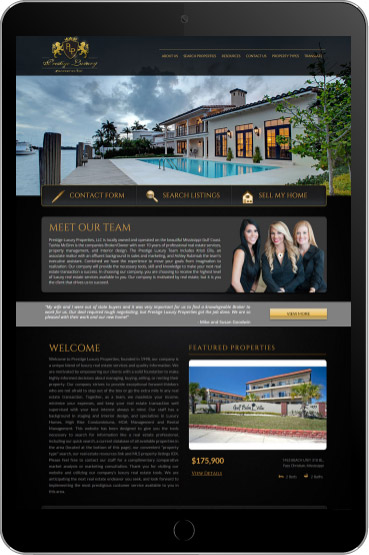 Avant-garde
The avant-garde design suite takes advantage of asymmetrical details and uses geometrical lines to offer a fresh approach to web design using non-traditional accents. This web design screams pizzazz, style and sophistication. The avant-garde style is great for those who want a very custom look without sacrificing a clean and fresh user experience. William Lewis, a Phoenix-based agent specializing in luxury homes, recently completed a website project that falls into the avant-garde style. Notice the asymmetrical lines and its unique style.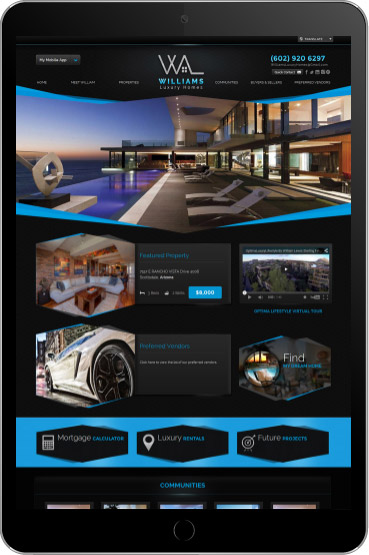 Rustic
The rustic design style is quite popular with agents and teams that specialize in ranch homes and rural land. These designs typically use warm colors combined with textured elements to give a welcoming feel – often paying homage to the rugged west. Luci Edwards, a Montana-based agent, recently completed a rustic website project with our team. Note the unique textures and colors that fit perfectly with his brand image.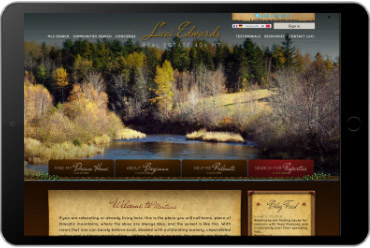 Retro / Vintage
A retro/vintage design style is perfect for agents looking to sweep their clients back to an era of stylized accents, charming design and inspiring colors. Carrie Schliesing, an agent in Anchorage, Alaska, recently completed a website project with a retro/vintage theme. The use of color, charming accents and fonts match her slogan: "character counts in real estate."
Abstract
Our abstract design style uses a multi-layer layout with translucent accents to give off an expensive feel. The style is perfect for agents who prefer a visual centerpiece of stunning photos, and offers a clean and dynamic user experience. With the focus on high-quality images and inclusion of headings that can't be missed, Mel Carbonell's website is one of the best examples of abstract design.
Animation
Animation is always a fun option for a website project, and offers an interactive feel. This website design style is great for captivating visitors and for standing out in your local market. Alliance Las Vegas, a Las Vegas realty and property management firm, recently completed a fantastic animation design. Note the use of the Vegas landmarks and the dynamic calls to action throughout the site.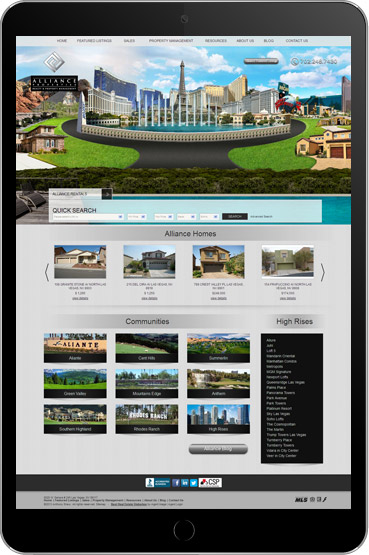 What Design Are You?
As you browse through these and other Agent Image web designs, ask yourself, 'What design are you?' Choosing the right web design for your real estate business is more than the types of properties you sell. It has a lot to do with your personality and the message that you want to send to visitors on your site.
Is the message you want to send more business oriented? Service oriented? More personable? These questions are crucial to helping our team determine which style best suits your needs. We have a highly skilled team of web designers who can custom design a website specifically for you.
No matter what area of real estate is your focus, we have web designs that can help you put your best foot forward. Speak to one of our helpful representatives now for your free consultation to discuss your new web design today!
Did you enjoy reading this article?
Sign up for more updates with our Agent Intelligence Newsletter!
We are committed to protecting your privacy.
Real Estate Websites for Agents
Learn which package works best for you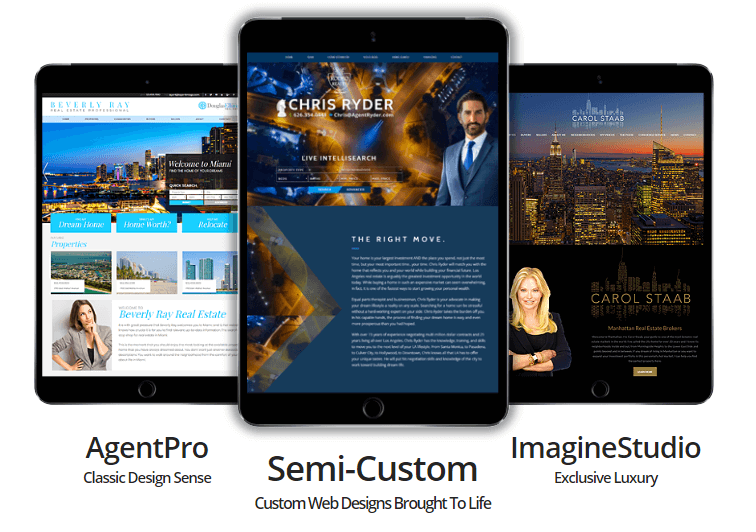 Learn More