12 Crucial Tips for Drafting the Best Real Estate "About" Page
According to the National Association of Realtors® 2014 Profile of Home Buyers and Sellers, 92% of buyers use the Internet in some way during their home search process. In fact, with the way mobile technology is becoming ubiquitous in our search for everything from restaurants to Realtors®, buyers are increasingly finding their agents online. What does your website say about you? More specifically, when visitors dig into your "about page," what are they going to learn?
It is not the same as a face-to-face introduction. There is really no give and take – or is there? The most crucial tip for drafting the best real estate "about page" begins with understanding this concept: there is a give and take and while making a good first impression online is different than person-to-person, the goal is the same. This blog post will help you understand how to make the most out of that first impression.
Your "About" Page should be 'Dressed to Impress'
Say a potential client walks into your office off of the street and wants to know more about your services. What would they think if you are frazzled with papers everywhere, your clothes are disheveled, and your office was disorganized and untidy? Not a very good first impression at all.
When you are building your real estate "about" page, think of it as dressing to impress. Follow these formatting tips:
Make it Tidy – Don't clutter your page with lots of bells and whistles that distract readers.
Make it Organized – Place links, videos, and pictures on side panels or at the bottom of the page to make finding information easier.
Make it Pretty – Use eye-pleasing colors and web designs that are easy on the eyes; no yellow backgrounds and red flashing fonts.
Your "About" Page is a Two-Way Conversation
Have you ever met someone and felt like you couldn't get a word in edgewise? That's what it is like when a visitor comes to your "about" page and sees long, drawn-out paragraphs. It is a long-winded, one-sided conversation and can make a bad first impression. Think of your "about" page as a two-way conversation.
You want to proactively answer the questions that your potential clients have while also revealing information about yourself and what you can do for your clients. Follow these writing tips:
Break up Long Paragraphs – Use bullet points and lists to break up long blocks of information to keep readers' eyes moving down the page.
Be Informative – Don't fill your "about" page with a litany of facts, but be informative by telling them your specialties, licenses, and accreditations.
Be Personable – Don't be afraid to show your personality both with words and pictures.
Your "About" Page has to be More than Just a Resume
There is a wealth of information online about building a smart real estate website. But different sites will tell you different things, sometimes conflicting information. One of those areas is about what to include in your "about" page bio. Some say to list your accomplishments, others say to post your previous experience.
Your "about" page has to be more than just a resume. You should talk about your accomplishments, past experience, years in the business, etc. But this is your first introduction; this is your opportunity to tell clients more about you. Follow these content tips:
Give Personal Insights – This is more than telling your readers that you're an avid rock climber or yoga instructor. Tell them about your personality traits that make you the agent of choice
List Relevant Accomplishments – You do not need a 20 point list of accomplishments, just the most relevant and recent awards, deals, or milestones.
Show Off Your Personality – If you are funny, don't be afraid to show your lighthearted side, but be careful to still remain professional.
Your "About" Page Must be Confident not Cocky
The last thing you want to do is to sound like a braggart when you are trying to make a good impression. Attracting readers online is no different. You definitely want to be confident in the way that you present yourself to potential clients, but the written word sounds differently than spoken word. If you are not careful, you can come off sounding cocky, not confident.
One of the trickiest areas to accomplish being confident as opposed to cocky is when it comes down to money. Sure you do good business and make a lot of money, but showing off your yacht or summer home in Cape Cod on your "about" page sounds just like that – showing off. Follow these framing tips:
Sell Your Business Acumen – Potential clients don't want to hear how rich you are; they want to know that your business is successful and how you can help them.
Make it About the Client – When you boast about your success on your "about" page, make it about what the successes for your clients; don't make it all about you.
Highlight Your Satisfied Clients – Post client testimonials or photos of your clients in front of their new home – that's something to brag about!
Want to See These Tips in Action?
We recently completed a website project for Catriona Mariano, a real estate broker serving the Greater Los Angeles area. Catriona's "About" page is a great example of all of these types coming together to make a fabulous – and welcoming – introduction. You'll learn a bit about her background, her real estate knowledge and experience, her awards and certifications, and her affiliations – all without feeling like you're being "sold" to.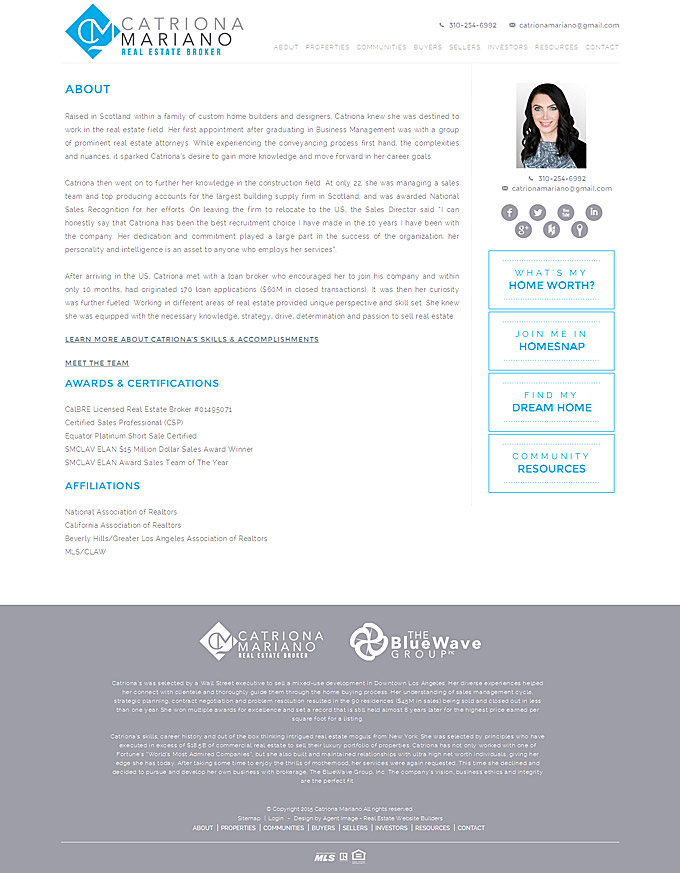 Need Help Drafting Your Real Estate "About" Page?
Your area of expertise is real estate and you want your clients to know that and not be distracted by less than stellar web content. If your "about" page is not up to snuff, they may never get passed it to see that you are the best real estate agent for them. The good news is that you can get help drafting the best real estate "about" page without taking a writing class to learn how to do it.
Our expert real estate marketing firm excels at crafting the right image for you and your real estate business – that way you can focus on moving properties and we focus on bringing in building a website that attracts more clients. These tips and others are available at your fingertips. Contact us at Agent Image to find out more ways that we can help you excel.
Did you enjoy reading this article?
Sign up for more updates with our Agent Intelligence Newsletter!
We are committed to protecting your privacy.
Real Estate Websites for Agents
Learn which package works best for you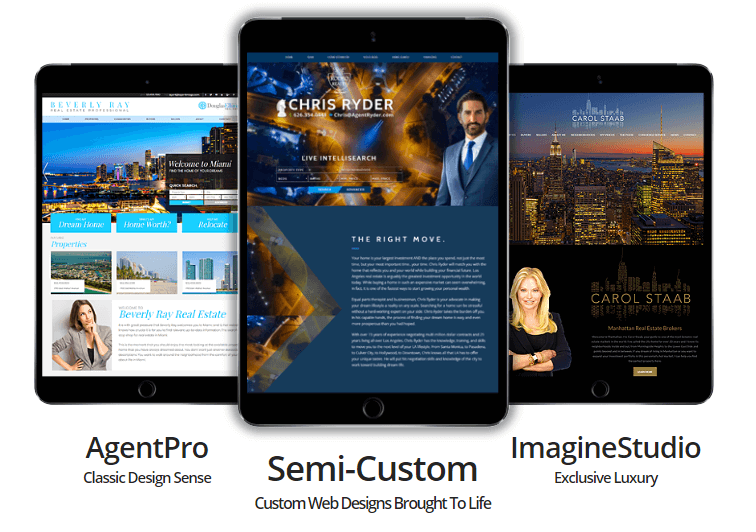 Learn More