12 Essential Habits that Will Make You a Better Real Estate Agent in 2021
Success is always earned, especially in a competitive and ever-evolving industry like real estate. To stay sharp and ahead of the curve, you have to put in your best effort.
Earning your success requires more than just bursts of hard work though. Consistency also matters. This is why it pays to be smart and strategic when deciding the actions and routines you establish for yourself.
Are your professional and personal habits aligned toward your long-term goals? As we launch into a brand new year, take some time to pause and evaluate the strategies you've set in pursuit of your success.
If you're looking to step up your game as a real estate professional in 2021, make these 12 habits an integral part of your day-to-day activities:
Take what works and build on it.

"If it ain't broke, don't fix it," as the popular adage goes.

There's a reason why Stephen R. Covey's "The 7 Habits of Highly Effective People" is a perennial global bestseller—having sold more than 40 million copies worldwide since its original 1989 release. To put it simply, his advice works.

To recap, here are the seven tenets of Covey's framework to success:

Be proactive. Take responsibility over your choices and actions, rather than letting circumstances or moods dictate them.

Begin with the end in mind. Have a clear vision of what you want to achieve, then use it to guide your actions and decisions.

Put first things first. Prioritize. Learn to identify what matters most and schedule around it.

Think win-win. Target solutions that are mutually beneficial to all involved. Think "we," not "me."

Seek first to understand, then to be understood. Develop empathy. Before you can influence others, you must be open to being influenced first.

Synergize. Embrace your differences with other people around you, instead of treating them as a threat. Seek out ways to complement others, rather than to compete with them.

Sharpen the saw. Keep learning and growing. This applies not only in skill and knowledge, but also in the physical, social and emotional, and spiritual sense.

Covey's seven prescribed habits are sensible and practical, whether for career advancement or simply for continuous personal growth. Through the years, people from all walks of life have embraced and practiced these habits to unlock and maximize their potential as individuals, as well as professionals.

As a real estate agent, you aim to deliver only the best service and assistance that you can offer to your clients. That's why this tried and tested framework is a great place to start building the right habits.

With these serving as your firm foundation, you can adapt and add complementary practices that will enhance your specific abilities and competencies as a real estate professional.

Be consistent with your brand identity.

For those who are just starting out in the real estate business, here's a tip worth taking to heart for the rest of your journey:

Establish your brand early and stay consistent with it as you grow.

Your career as an agent will be off to a strong start if you know exactly what you want to offer, as well as how you want to deliver it. Whether it's specializing in waterfront villas or upscale condo high-rises, or becoming the go-to listing agent in your specific neighborhood or city, build a distinctive and recognizable brand that your target clients will easily associate with your name.

Staying consistent in your brand-building means carefully planning every aspect of how you present yourself, from how you dress to the language you use in your official communication and promotional materials.

One thing to remember when it comes to deciding on your brand is to choose what you are most comfortable doing. Be yourself and don't just play a role or character that you might have difficulty sustaining in the long run. Let your authenticity and sincerity shine, rather than a flashy but fake persona.

Set clear goals and be relentless in pursuing them.

Expand on Covey's second habit—which prescribes having a clear vision for your venture—by plotting out tangible goals that will drive you forward and keep you focused.

Here, another popular business framework will come in handy. Use the SMART Criteria to define objectives that will help build your real estate business:

S – Specific
M – Measurable
A – Achievable
R – Relevant
T – Time-bound

Remember, setting goals and targets is just one part of a long process. What will lead you to success is your commitment to pursue these objectives through good and bad times.

Always come prepared.

As with any undertaking, careful preparation goes a long way. Planning ahead always pays off, regardless if it's for a months-long partnership with a client, or simply for your weekly schedules.

Having the discipline to create and stick to a plan keeps you efficient. You accomplish more things in less time, while managing your energy better. It also keeps you agile enough to respond and adapt to any challenges along the way, especially if you've plotted out contingency measures ahead of time.

Pay attention to every little detail.

Realtors are professionals who are comfortable wearing many hats. You schedule meetings, review listings and offers, assist with paperwork, serve as liaison between the buying and selling parties, and more. Playing so many essential roles in the home selling or buying process, your attention to detail must always be sharp.

Developing this quality takes practice and a conscious effort while you engage in your regular activities, no matter how simple or mundane. Keep at it until being thorough and meticulous becomes second nature for you. Your keen attention to detail will be one of your biggest strengths as a Realtor.

Explore and rediscover your neighborhood and city.

As a Realtor, you always carry with you a reputation as a local area expert. This is why it pays to know your hometown—from the local neighborhoods, to the entire city, and in some cases, the communities that surround it—like the back of your hand.

Real estate market reports can give you the hard numbers you need to know about the local housing stock and market trends, but for you to live up to expectations as a "local expert," you'll need to invest some time and effort to truly get to know your area.

Make it a habit to drive around town and talk with residents and local business owners. This will help you keep up with changes in the local lifestyle and have a reliable feel of the neighborhood "pulse." Engaging with your community also enables you to form better insights about buyer and seller preferences in your market and other things that don't appear in market reports.

Remember that because of the pandemic, homebuyers today have limited means to explore their target homes and neighborhoods in person. At best, they can seek out information through virtual conversations over social media or via email.

In this current business landscape, your in-depth knowledge of your primary markets becomes more crucial than ever before in enabling your clients to make informed decisions.

Make friends everywhere.

Real estate transactions involve many moving parts. These multifaceted deals always involve various vendors, contractors, and other professional service providers. So while you're taking your time getting to know your local community, invest in good, productive relationships, as well.

Your brand will benefit greatly from having a strong network of partners that can vouch for your business. Even just gaining the trust of local residents—starting with clients you help buy or sell homes for—can increase your sphere of influence in your area.

Ask questions.

Even if you're a professional who has spent years studying, training, and learning through experience, you must also acknowledge that sometimes, you simply don't have all the answers.

Top-producing agents are never reluctant to ask questions and seek assistance if they struggle in a certain situation. The ability to accept help from a reliable partner or support group is an advantage, rather than a sign of weakness.

Tune out negativity.

The right mindset will make you more adaptive and resilient to any challenge, mistake, or even failure that comes your way. Having a firm belief that you can overcome any difficulty is crucial.

Bad days happen. Disappointment and doubt can come when you least expect them, even if you're the most prepared and most well-meaning professional. The key is to not dwell in any of these setbacks. With a strong sense of self-esteem and a problem-solving mindset, you can wiggle your way out of any tight situation.

Establish regular routines like morning meditation, non-work journaling, and other similar mindfulness exercises to make it easier to stay centered, no matter how stressful the job gets.

Take a breather.

While it's true that tenacity and determination are great qualities of professional problem-solvers like real estate agents, it is likewise important to recognize the value of regular, sufficient rest.

Even if you strive to overachieve for the benefit of your clients, your schedules and routines should always leave room for proper care for your mind and body. Always remember that you deliver your best work when you are at your best.

Invest in yourself and your brand.

Growth and self-improvement are part of a continuous process. Learning and upskilling should not stop the moment you received your real estate license or establish your real estate firm.

In fact, milestones like these should only inspire you to expand your knowledge and competencies even more. Growing your business and brand is not just another item on your to-do list, but a constant habit to embrace.

Run a beautiful and regularly updated website.

In the modern business landscape, having a strategically created and curated digital presence is a huge advantage. Your next big client may be one tap on their phone screen away from finding you in a vast sea of Realtor options on the internet.

After putting in the effort to create your real estate brand, make sure that people can easily find it by maximizing your opportunities online. To this end, you'll need a well-designed website—one that is not just visually attention-grabbing, but also loaded with relevant features and content to keep your audience engaged.

An effective real estate agent website not only captures the imagination of your target market, but also inspires them to take the next step—whether that is to search for the ideal home or neighborhood in your market, or to partner with you to sell their property.

Make a bigger impact in your local real estate market in 2021 with Agent Image
Since 1999, Agent Image has emerged as the most trusted name when it comes to designing and creating top-quality websites for the world's most discerning, top-producing real estate agents. Our work focuses not only on crafting breathtaking visual designs, but well-rounded and functional platforms optimized to generate leads and promote client engagement.
Want to know how Agent Image can elevate your real estate business? Contact us here to schedule a free consultation with our industry-leading website design and internet marketing specialists.
Did you enjoy reading this article?
Sign up for more updates with our Agent Intelligence Newsletter!
We are committed to protecting your privacy.
Real Estate Websites for Agents
Learn which package works best for you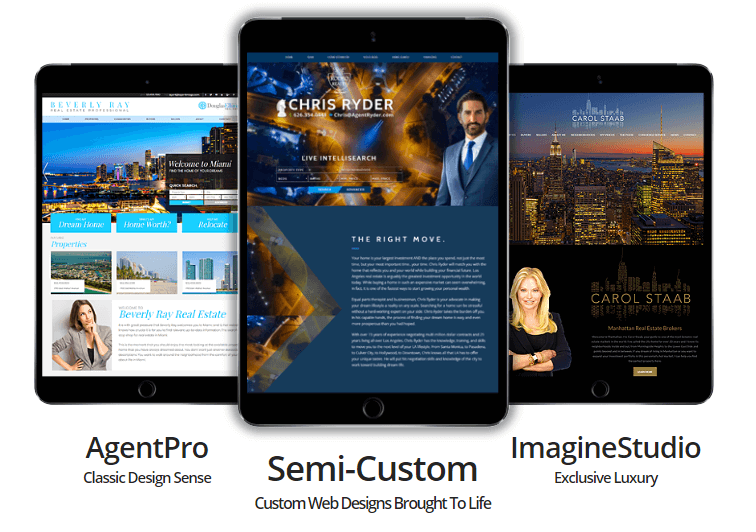 Learn More