15 Top Realtor Blogs You Should Be Reading this 2016
Knowledge is essential to the success of any real estate professional.
Having a good grasp of what's happening in the industry and the community will not only create a good impression on clients. It will also help you provide the best advice and services, and better prepare you for any changes in the market.
Some of the best sources of information in the industry are real estate blogs, particularly those written by fellow professionals with first-hand experience in the market. Here are some of the top real estate blogs out there that can help you brush up on your knowledge – and maybe even inspire you to start your own.
Targeted towards would-be investors, this real estate investing blog is chock full of useful information and will give you, the real estate professional, a better idea of the kinds of questions your potential clients need answers to.
On their blog, Redfin features updated information about housing markets all over the country, along with expert insights and advice. As Redfin employs their own real estate professionals, the information they gather and share is grounded on the first-hand experience and know-how of real estate insiders.
Movoto provides a fun and fresh approach to real estate, with such blog features as bonsai gardening, the "best backyards," best ZIP codes for married couples, and quirky insights on various communities around the country.
Zillow is a real estate online authority known for their frank, straightforward copy, something that's reflected on their blog, "Porchlight." There they feature their own studies and surveys, as well as information and insights from industry leaders. Articles are interesting, professionally written, and easy to read.
Housingwire, already an undeniably important industry resource, also has a very accessible blog that features "opinion, commentary and analysis on everything that makes the U.S. housing economy tick – not to mention the ghosts in the machine, too." REWired is where they take a lighter or deeper look at things (sometimes both at the same time).
"Buying, selling, or renting a home shouldn't be painful. At Trulia, our goal is to make it simpler. (And fun.)"– This is the tagline of Trulia's blog and they pretty much live up to it. Here you'll find up-to-date information for home buyers, sellers, renters, and real estate pros, including the latest market trends and statistics from various sources and their own market studies.
Bankrate.com has a slew of finance blogs helpfully grouped by category – Banking, Cars, CD Rates, Credit Cards, Economics, Federal Reserve, Identity Protection, Insurance, Investing, Mobile Finance, Mortgages, Personal Loans, Rates, Retirement, Saving Money, Senior Living, Taxes, and Wealth.Find news, commentary, tips, and more.
Wondering how to blog for the luxury market? Check out Christie's International Real Estate's blog, LuxuryDefined. It's all about luxury living and luxury communities around the world. It tracks trends in the luxury property market, including data and findings from its own studies, and also features posts on luxury living.
If you're in commercial real estate, then you've probably heard of the BrokerList, which was created to help CRE groups and their members connect with each other. There's plenty of up-to-the-minute industry updates here as well.
The National Association of REALTORS has a wealth of blogs, each about a particular topic or targeted towards a specific readership. Bits & Bytes, for example, features "technology trends and tips from the Center for REALTOR® Technology. The Source is about commercial real estate; Resort Life talks about resort property topics; NAR Newsline is where to get the latest real estate news; and so on.
Great Colorado Homes, Inc. is a brokerage that knows how to blog. Check out their blog post on 10 reasons why you'll love moving to Colorado Springs – it's a fun, easy read with plenty of interesting visuals and information broken down into useful chunks.
MSNrealestate collates real estate articles and data from other sources – Zillow, Curbed, The Wall Street Journal, MarketWatch, U.S. News & World Report, Trulia, and so on. It provides a helpful overview about what's going on in real estate all over the country.
The blog of real estate appraisal and consulting company, Miller Samuel Inc., offers insightful information on various markets around the country, including factors that affect property values. It uses infographics and other visuals to help break down complex information for the average homeowner or investor.
Want to know where to find local neighborhood data, how to build strong SEO foundations, what the best IDX solutions are, and so on? Then this blog is a must-visit. Find everything technology and internet-marketing-related here.
While it's no longer owned by the irrepressible Jay Thompson (who up and moved to Seattle), the past winner of Inman Real Estate News' Most Innovative Blog award is still full of personality. Check out this oldie-but-goodie post on How to Survive a Phoenix Winter, for example.
Are you blogging yet? There's no better time to start than now.
For more info on the benefits of blogging and how to get one started, get in touch with us. We will be happy to provide you with the guidance you need.
Did you enjoy reading this article?
Sign up for more updates with our Agent Intelligence Newsletter!
We are committed to protecting your privacy.
Real Estate Websites for Agents
Learn which package works best for you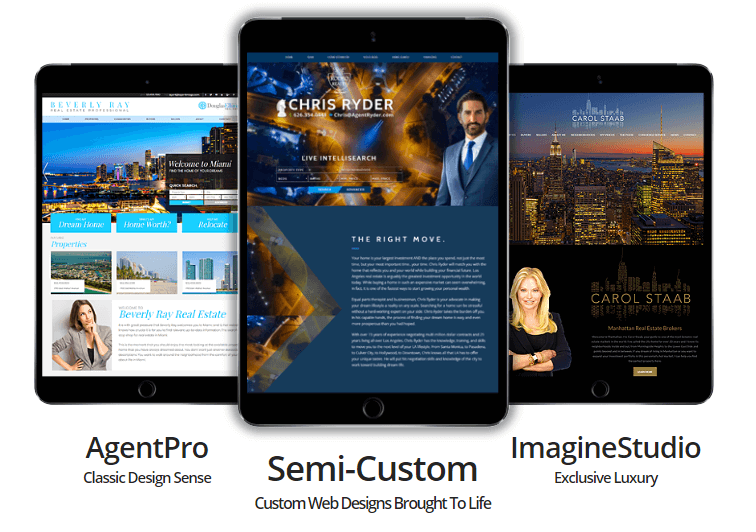 Learn More