18 Internet Marketing Pitfalls You Should Know
Internet marketing is an overwhelmingly vast field and it's only effective if done properly. Here are many common factors that contribute to web marketing failure. Identify the ones that relate to your experience so that you can correct them right away.
1. Not having a concrete plan: Identify your objectives first before signing up for ad campaigns, social sites, etc. This way, you avoid spending too much on marketing costs you don't necessarily need.
2. Zero value: Give your audience a reason to visit and recommend your real estate website. Put up market studies and Resource pages that will be of value to your site visitors. In effect, this will give search engines a reason to rank your page high on search results.
3. Not being aware of what your competitor is doing: Your web marketing strategy should not exist in a vacuum. Consider the practices of your competitors, learn from their flaws, get inspired by what they're doing right and identify what you sets you apart from them.
4. Unrealistic goals: As most pursuits, your vision for success should be measurable and attainable. This way, you can focus on your action plan without experiencing constant disappointment.
5. No internet niche: Your website should have its own target audience and unique, relevant content.
6. Too many ads: Keep your ad groups small and focused on one specific offer at a time. Avoid having multiple pay per click accounts unless you are a large advertiser. If you're ready for a serious PPC campaign, hire a qualified and experienced online advertising specialist.
7. Segmented approach: Weave together your social media marketing efforts to complement each other .For example. promote your Facebook account on your blog and automatically link your blog posts on your Facebook and Twitter wall. Make sure all your social profiles have links to your website and vise versa.
8. Falling for trends: Some SEO techniques are advertising-driven instead of audience-driven. Remember that your website should be, first and foremost, helpful to home buyers and sellers. Your site content should be written first for your human visitors instead of purely for search engines.
9. Zero adaptability: Be in the know of important technologies to keep your website fresh and relevant. This will attract visitors, natural links, likes, +1's, and social media shares. Check if there are any new real estate plugins out there that you can add on your website or productivity tools that you can use on your PC or mobile devices.
10. You are half-hearted about social media: It's not called social media marketing for nothing. If someone leaves a comment on your blog or your status updates, make sure you reply promptly. Connect regularly with important people in your social network.
11. Dominating versus participating: Like in a regular social gathering, you should not be continuously dominating a conversation. Listen to your social followers and participate in the discussion.
12. Fake comments: Some online marketers promote irrelevant links as comments on blog entries and forum threads. This is considered as spam and will be flagged by website administrators.
13. Irregularity: Social media appearance should be consistent. Readers will be expecting regular posts and other uploads at least every week.
14. Dysfunctional website: Make your site user-friendly. Be sure that you do not have any dead links; that your site is compatible with all common browsers, and that it can be displayed on different screen resolutions, including tablets and smartphones.
15. Spamming: Make sure the people in your email marketing database is being sent relevant emails or offers. Don't send spam messages and don't flood your followers' news feed with repeated posts.
16. Leaving everything to your web developer: Real estate professionals like you are turning into savvy internet marketers, and your webmaster needs your guidance on how exactly you want your website to look like to make it more marketable
17. You are hard to contact. Provide a venue for intelligent online discussion on your website. This can be as simple as enabling commenting on your blog or adding a forum section on your website. Make sure you have a Contact Us form on your site so that people can easily reach you.
18. Pop-ups: Having too many advertisements on your website or social pages can annoy your visitors. Forcing site visitors into clicking on ads before they can access your content can also turn people away.
For more tips, check out next month's blog posts by subscribing to this newsletter and by Liking us on Facebook.
Did you enjoy reading this article?
Sign up for more updates with our Agent Intelligence Newsletter!
We are committed to protecting your privacy.
Real Estate Websites for Agents
Learn which package works best for you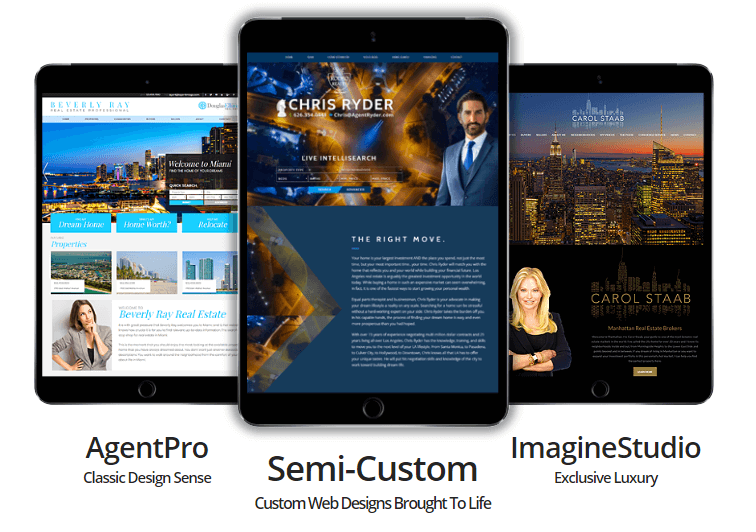 Learn More