20 Branded Real Estate Websites of 2018
With the right design, content, and features, your website can communicate your brand's goals, message, and identity in seconds. And it can help you stand out from the thousands of real estate websites out there.
Here are 20 of the most well-crafted, branded real estate websites that caught our eye in 2018: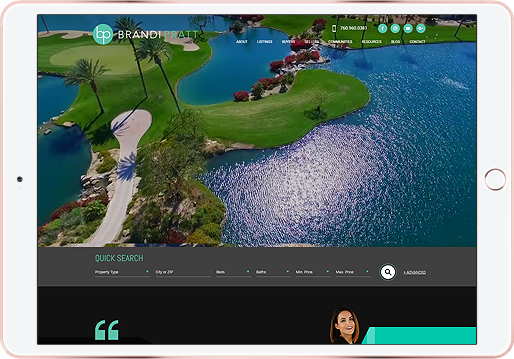 Brandi Pratt
Brandi's main selling point as a real estate agent is her mastery and knowledge of technology. She shows her digital prowess through her marketing strategies, communication methods, and social media platforms. Upon entering Brandi Pratt's website, buyers and sellers can also see various pictures and videos of the Coachella Valley lifestyle.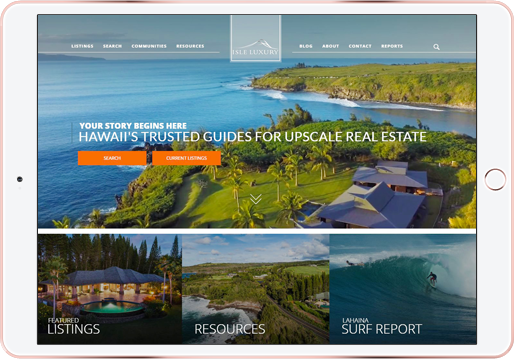 Greg Burns
Greg Burns' goal is to be the go-to guide for luxury real estate in Maui. His website details his achievements, his mission, and his knowledge of the different aspects of Maui real estate. His past features in television shows and magazines also enhance his credibility as an expert in Maui real estate. To give clients a better feel for the Aloha State, Greg Burns integrates pictures and videos of its world-class waves and crystal-clear ocean waters into his stunning website.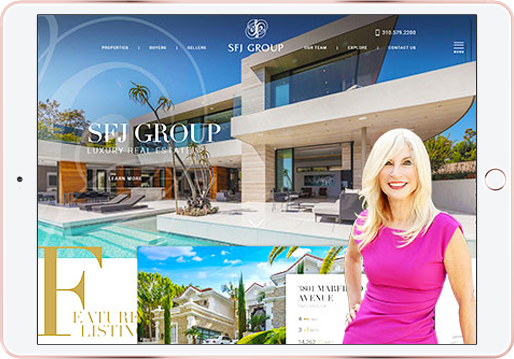 Sally Forster Jones
Head to Sally Forster Jones' website and you'll easily see why she's one of the top real estate brokers in the Beverly Hills area. Her website is clean, elegant, and simple design invites users to browse through the stunning luxury properties in her sought-after area. Users can also look at her team's exceptional numbers, including their total sales, transactions, and international impressions.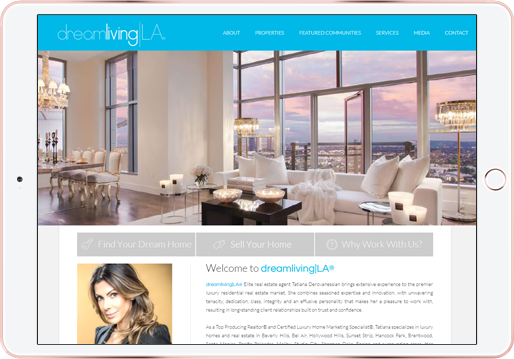 Tatiana Derovanessian
Tatiana Derovanessian's website boasts of a chic, yet relaxing vibe through its cerulean and white palette, simple layout, and striking photographs. Her website highlights the world-class service that she offers, making her the go-to resource for Los Angeles luxury real estate.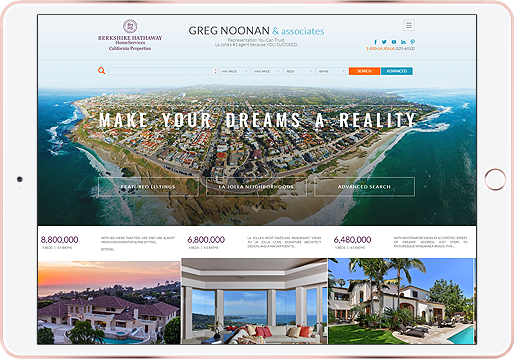 Greg Noonan
Greg Noonan's impressive website is one that can definitely help buyers and sellers make their La Jolla real estate dreams a reality. The website contains breathtaking aerial photos, concise neighborhood information, and informative blog posts to give users a glimpse of the quintessential La Jolla lifestyle. Greg Noonan also keeps an active social media presence, which users can immediately view at the top of the website.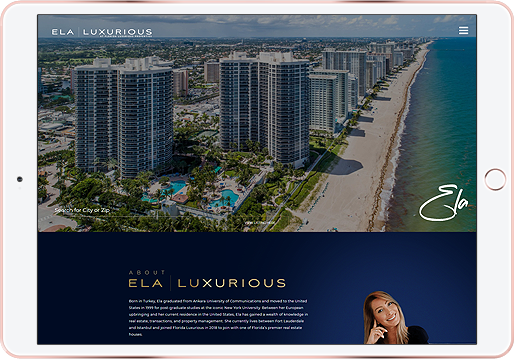 Ela Luxurious
Ela Luxurious is a well-traveled real estate agent who aims to help others on their real estate journey in South Florida. Her bold, chic, and welcoming website encourages users to connect with her and share their real estate goals.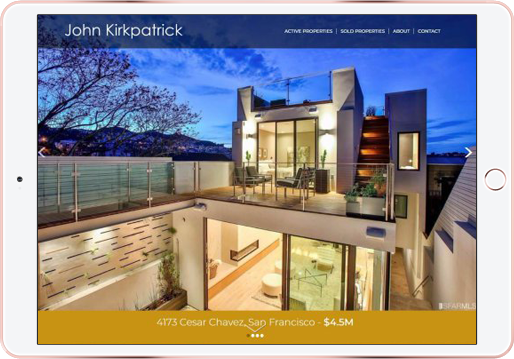 John Kirkpatrick
When users visit John Kirkpatrick's website, they will immediately see that John is the perfect agent for real estate in the San Francisco Bay Area.
The written content on his site provides insight on his deep understanding of the different San Francisco neighborhoods and its lifestyle. His website also shows his active involvement in San Francisco's art community, which helps enhance his brand as an enthusiastic resident of the Golden City.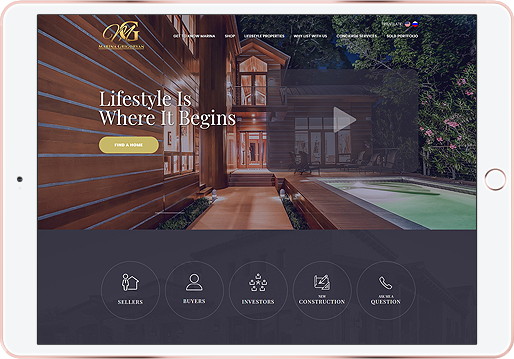 Marina Grigoryan
Luxury living is one of the main themes of Marina Grigoryan's website. Her sophisticated logo and informative pages show users that she is the agent to call when it comes to buying and selling luxury real estate in Florida's Bay County. Photos of the various landmarks and spacious homes in the area further highlights Maria's brand as an experienced luxury Realtor.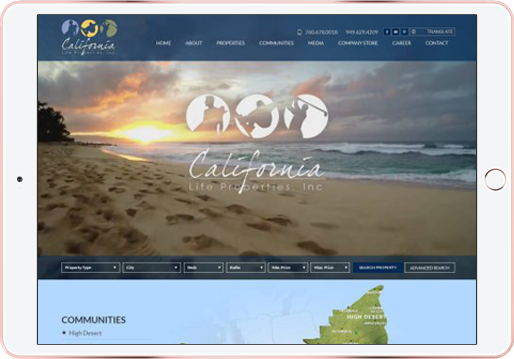 California Life Properties
The website of California Life Properties successfully paints a picture of the much-coveted Southern California lifestyle. As a trusted name in the real estate industry, California Life Properties delivers first-class service to all their clients. To complement the active Southern California lifestyle, the team's logo consists of silhouettes of a surfer, golfer, and snowboarder.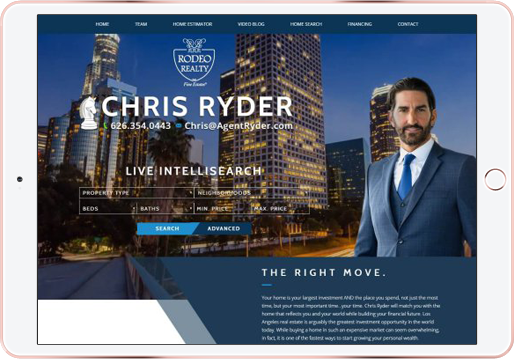 Chris Ryder
Chris Ryder is on a mission to help clients find the perfect Los Angeles home. Many of the tools and features in his website such as the property search tool, the home valuation tool, and the financing section helps in pointing users in the right direction. This website also exhibits a more modern and vibrant design by using bold colors, eye-catching videos, and unique angles.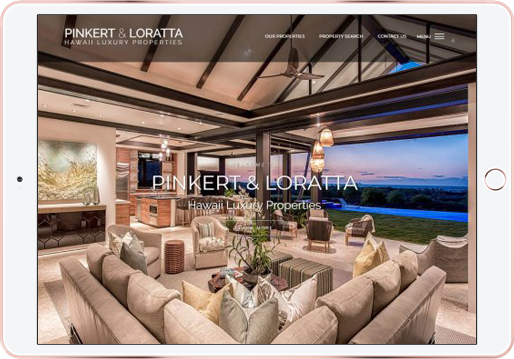 Pinkert Loratta
Pinkert Loratta sets itself apart from other Hawaii real estate companies by selling more than just luxury Hawaii properties. Instead, they sell the ultimate Hawaiian lifestyle. This approach is evident throughout the website's stunning high-resolution photographs, minimalist layout, and compelling messages.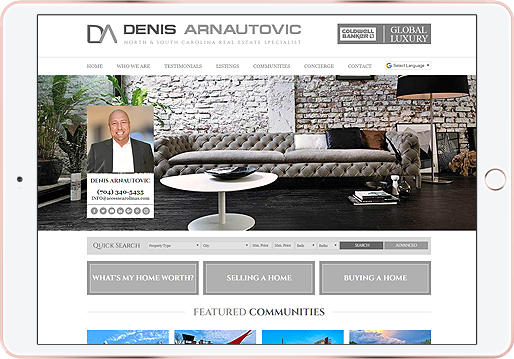 Denis Arnautovic
Home buyers and home sellers who land on Denis Arnautovic's website can immediately see that his site is a one-stop shop for Charlotte, North Carolina real estate. Its smooth navigation system, neighborhood descriptions, and clean-cut design make this website stand out from the rest of his competitors.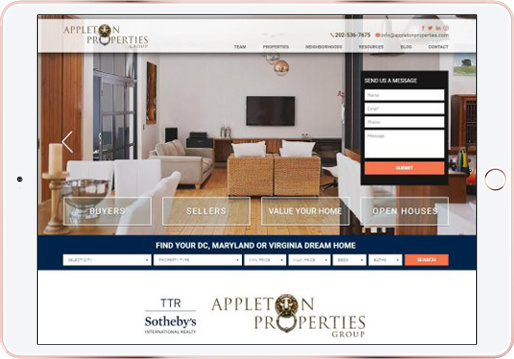 Appleton Properties
Appleton Properties is determined to provide the best possible real estate service to their clients. In their website, users will find comprehensive neighborhood pages, property management services, concierge services, monthly market reports, and many more.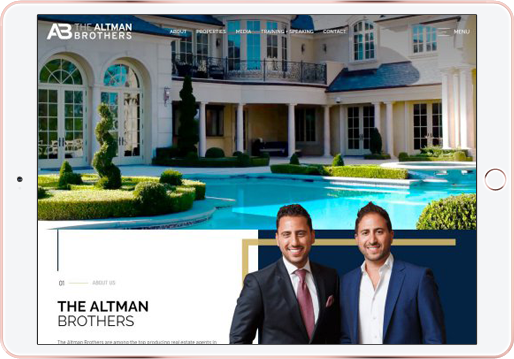 The Altman Brothers
In The Altman Brothers' website, there's no doubt that the stars of Bravo's Million Dollar Listing show are the top experts in the Los Angeles luxury real estate market. Their distinctive "AB" logo can be seen all throughout their website, from their featured listings down to the site's footer. The team also highlights their television show, awards, interviews, TV guestings, and speaking events.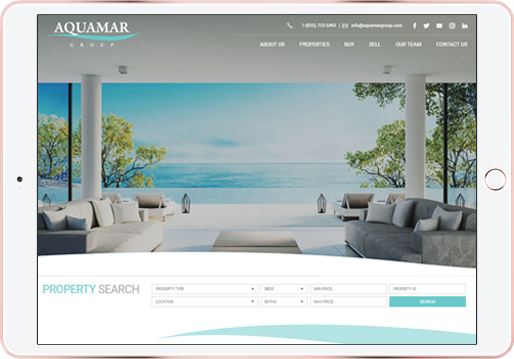 Aquamar Group
The unspoiled beauty of Central America and the Caribbean takes front and center in Aquamar Group's bright aqua and white website. The team has established themselves as experts on international real estate markets, which is emphasized throughout their website. The firm also wanted to showcase the lifestyle in the region, not just the properties, and they've succeeded.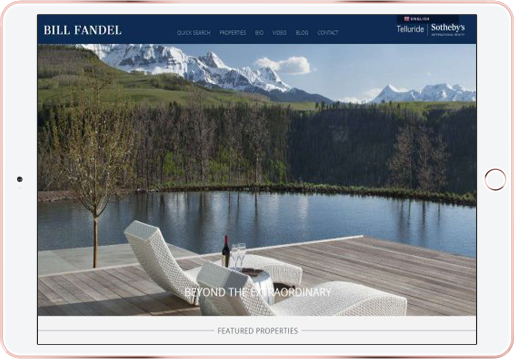 Bill Fandel
As soon as home buyers or sellers enter Bill Fandel's website, they know that they'll be in good hands. Bill's long list of incredible awards and achievements in his website's homepage tells users that he is an established and trusted real estate agent in the Telluride Region. Users are also shown breathtaking panoramic videos of the Telluride Region and its beyond extraordinary luxury properties.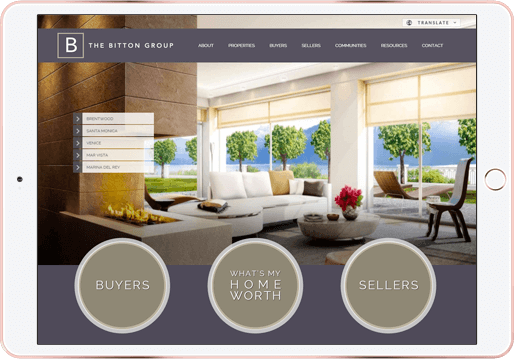 Bitton Group
The Bitton Group's main goal is to take the luxury L.A. real estate market to the next level. Their website's clean, minimalist design serves as the ideal backdrop for the stunning properties that the team represents in the Westside. Extensive community guides, home-buying and selling roadmaps, and community resources are not only helpful, they also show potential clients that The Bitton Group truly knows L.A.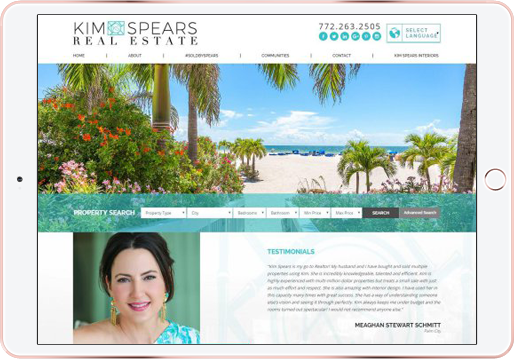 Kim Spears
With its turquoise and white color palette and straightforward homepage, the Kim Spears Group's website shows clients exactly what the company is: a boutique real estate firm that focuses on Florida's spectacular waterfront properties. The team's brand as a highly referred and highly recommended real estate company is shown through their impressive designations, comprehensive community pages, and glowing testimonials. Kim Spears' expertise isn't limited to luxury real estate. The website also provides a link to her superb interior designing services.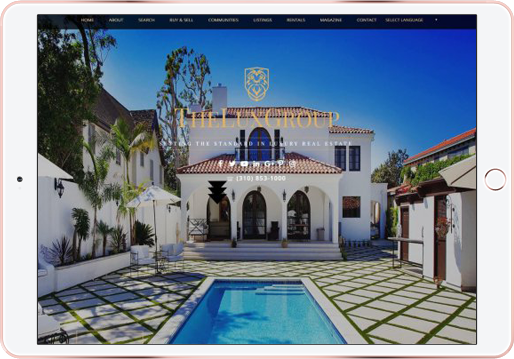 The Lux Group
The Lux Group's sophisticated website design, classic black and gold colors, and elegant typeface wonderfully complement the luxurious properties that the team represents. Their website also emphasizes their experience and expertise as the top luxury management company in Los Angeles. By setting the standard for luxury real estate, The Lux Group has proven to be the go-to source for the buying and selling of properties in Los Angeles.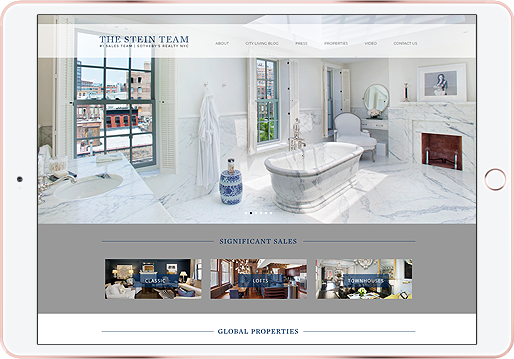 Stein New York
SteinNewYork.com does a superb job of showcasing the luxury and elegance of New York City properties through sharp, full-screen background images and a polished design. The stylish navy blue and gray color scheme blends very well with the simple, pared-down design elements, creating a very polished overall appearance. The clean lines, subdued palette and perfect use of accent colors embody everything that is New York – chic, modern and brimming with energy. Subtle animations are paired with quick and easy navigation and the uncomplicated user interface allows the design and the content to shine – neither one upstaging the other.
Take your real estate brand to the next level with the help of Agent Image. Our doors are always open! Contact our expert designers and marketing strategists today at 800.979.5799 for your free consultation.
Did you enjoy reading this article?
Sign up for more updates with our Agent Intelligence Newsletter!
We are committed to protecting your privacy.
Real Estate Websites for Agents
Learn which package works best for you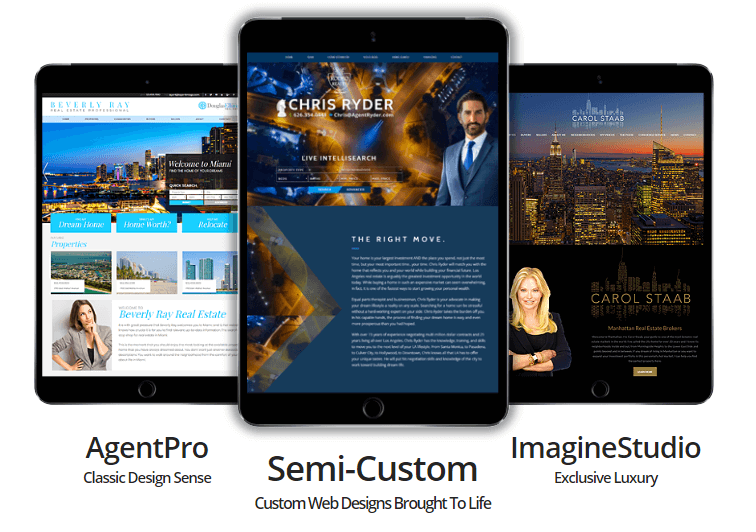 Learn More