3 Ways to Boost Your Online Reach Using Social Media
Statistics show that 7 out of 10 Americans are signed up on a social network. And today's real estate professionals realize that this online interactive platform is a powerful tool at their disposal – one that's literally often already in the palm of their hand.

Here are three important ways you can use social networks to boost and improve your business:
Be A Generous Resource

Want to stand out above the competition? Build a reputation as a generous and highly accessible expert on real estate in your local area.

Use a highly visible platform like Facebook, Twitter, or Instagram to showcase your knowledge and insights. Post useful guides on the home buying and selling processes. Share home maintenance and seasonal interior design updates so your home buying clients will remember you well after you close the deal.

Have fun showcasing the ins and outs of your locale, including the quirkier side of things relating to your business and your community. Include feel-good content that is both attention-grabbing and informative, which may put you in the best position to make a name for yourself.

If you're able to do these consistently and truly act as a local resource to your audience, you'll be able to grow a following that will vouch for you as an expert in your field. Soon enough, your name will be the first thing that comes to mind when people need guidance and assistance with real estate dealings in your area.

Let Images And Video Do The Talking

Social media is a visually driven medium. Take advantage of this feature to generate curiosity and lasting interest among your followers.

There are several ways to maximize a visual approach in your social media strategy. Impressive, high-resolution photographs are always impactful. You can work with expert graphic designers to create infographics that combine useful information with effective visuals. You can take what you know about the local market and turn those ideas into a graphic for easy sharing and reference.

Better yet, explore even greater opportunities with video content. You can make a great impression on your followers by producing concise but informative 2 to 3-minute video clips that may cover anything from property tours to community profiles, local events and destinations, and real estate how-to's.

Use visual content to show off, too. Showcase your featured properties in a unique, aerial perspective with drone footage. Take your followers on a virtual home tour with a 360-degree photo or video. You can even host a live open house, thanks to today's easily accessible live streaming technology.

Have Real Conversations With Your Followers And Visitors

Social media helps you boost your exposure in many ways. But don't forget the main advantage that social networks provide: the opportunity for direct customer engagement.

Social media platforms enable direct and timely exchanges between page managers and users. Convenient comment fields and built-in messaging features allow users to engage with local real estate specialists straight from the screen that they are viewing. There's no need to click away to a "Contact Us" page or open a separate browser tab or app.

For a real estate professional seeking ways to make a lasting mark in their local market, establishing genuine connections through meaningful conversations is always a fruitful strategy.
Looking to boost your business with an improved social media presence? Contact the internet marketing experts at Agent Image. From setting up your profile on platforms like Facebook, Twitter, and LinkedIn to managing your posts on a weekly basis, we have the right social media solutions best suited for your needs.
We look forward to having a productive conversation about your goals and strategies! Call us today at 800.979.5799.
Did you enjoy reading this article?
Sign up for more updates with our Agent Intelligence Newsletter!
We are committed to protecting your privacy.
Real Estate Websites for Agents
Learn which package works best for you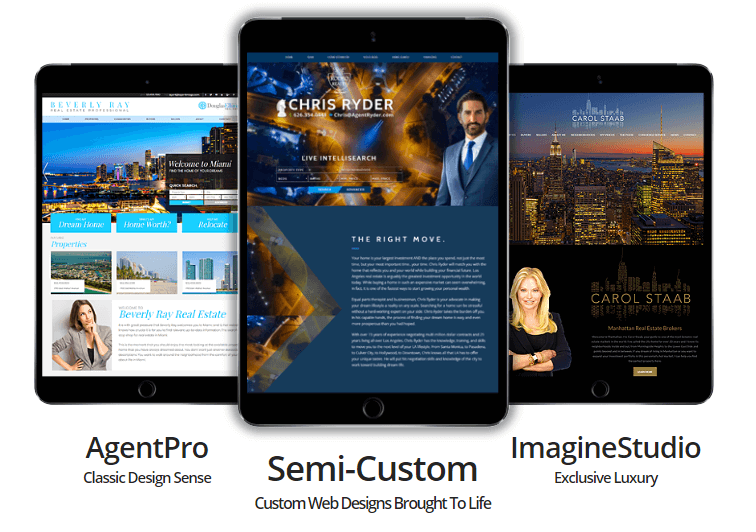 Learn More