5 Signs Your Real Estate Website Needs Some Attention
Old. Tired. Shabby. These are not the words that should come to mind when you think about your real estate website. But in today's ever changing world of technology, it can be a constant struggle to keep your website up-to-date. Just having a real estate website is not enough.
Even if you've recently completed a new website project, it's important to stay abreast of changes that will impact your site. You must stay proactive – paying attention to new search engine optimization techniques and trends in website design. Not to mention the importance of social media, quality content and blogging!
You'll also need to decide whether or not you want to tackle the maintenance and upkeep of your site alone. As a full time real estate agent, will you have the time, energy and knowledge to stay up-to-date with the changes and implement them successfully?
Whether you decide to conquer your real estate website alone or hire a professional web design and internet marketing firm, you'll need to first decide just how antiquated your site really is.
Here's our take on the top 5 signs that your real estate website needs some attention – and how to fix it!
Old Website Design
Just over a decade ago, you were way ahead of the game if you even had a website. Today, your site needs to be well-designed, easily navigable, engaging and filled with the information your prospects are looking for.
Do you find yourself making excuses when you show your website to your colleagues? Have you tried to perform a home search via your site? Does your site offer calls to action that are helping you convert visitors into leads? Does your website project your personal brand image?
It's no surprise that our 50 Beautiful Real Estate Websites page is one of the most visited on our site. Agents know what a beautiful and functional website is when they see it. If you're not proud of your website design, you should be! This is one of those things you'll probably want to contact a professional for, and we can help.
Want to see this in action? Check out one of our recent projects for Vantegic Real Estate. His site offers cutting edge design with all the functionalities today's buyers and sellers are looking for!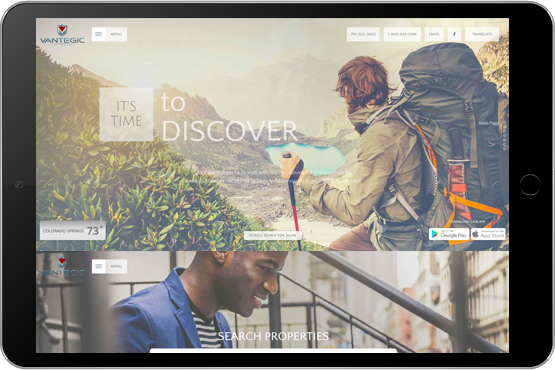 Slow Page Loading
Fact: Slow page loading leads to fewer lead conversions by up to 7%. Put another way, if your website does not load in three seconds or less, 40% of users will leave your site. The speed with which your page loads affects the end user experience and ultimately lead conversion, as well as your rankings on search engines.
Needless to say, if your website takes too long to load, you are losing clients and money. The cause is often an outdated website that relies on a server that is incapable of handling the volume of data coming through on your site, or your page is overloaded with images and functionalities that are not optimized for quick load times.
At a time when the majority of homebuyers begin their search for homes online, the last thing you want to do is have a website that has them leaving before it's even loaded! An experienced web designer can ensure that visitors can enjoy your site without any freezes, slow loading, or poorly loaded images.
Want to see this tip in action? The Madorin Group recently completed their Agent Image website. Notice how quickly it loads and how the photos are optimized to load and change quickly?
Not Optimized for Mobile
A recent study conducted by Kentico found that a whopping 85% of online shoppers are using their mobile devices to compare companies. In fact, more people are using their mobile devices to search online than those using their PCs for the first time ever. Moreover, the survey found that more than three quarters of those surveyed said that they frequently return to websites that are mobile friendly.
What's more, Google recently updated its algorithm to give websites that are optimized for mobile a higher priority in the search engines over those that are not. This means if your real estate website is not optimized for mobile, you could be getting buried in the search engines by your mobile-friendly competitors.
Not sure if you're website is mobile-friendly? You can use this Google mobile-friendly test to see how your website performs. Based on the results, you can decide if your site is ready for a reboot!
Want to see this tip in action? Express Brokers Realty, LLC just completed their website project, and being mobile-friendly was high on their list of priorities. It's completely functional on a multitude of devices.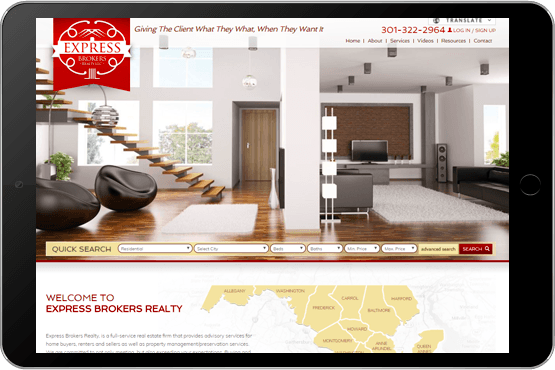 Not Taking Advantage of Social Media Platforms
New media platforms are popping up nearly every day, but the big four remain the same: Facebook, Twitter, Google+ and LinkedIn. If you are not linking your social media platforms to your website, you are already behind the game.
Believe it or not, your prospective customers are looking for you on social media. They want to know who they're potentially working with. What do your social media profiles say about you, and how can you use them to show your expertise in the local market? It all starts with a strong profile and great content – and then connecting these platforms to your website so you can be found.
Want to see this tip in action? Check out the new website we just launched for Christopher Williams. His site seamlessly integrates his Facebook feed and offers visitors direct links to all of his social networks.
Outdated Content
Finally, once visitors get to your website and start to browse around, the last thing that you want is for them to go looking for information only to find outdated posts from months, even years ago. Your website should be constantly updated to reflect current information and trending news.
You want your site to become a place where users find useful information but also, the more frequently you post on your website the more your content will come up in search results. Your ranking on search engines is determined by several factors and two of the major metrics in page ranking are page updates and how fresh your content is. Without quality content, all of these other fixes are largely moot.
Want to see this tip in action? The West Michigan Life recently completed their Agent Image website project. There's no stale content here! Check out their market updates, videos, neighborhood pages and more!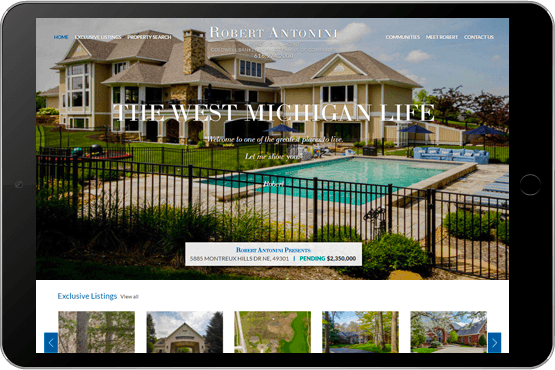 Interested in making your real estate website more beautiful? The real estate marketing specialists at Agent Image can help you improve your real estate business goals by creating stunning website makeovers matched with successful internet marketing strategies.
Get a beautiful website and stand out from your competitors. Complete this form to learn more and get a free consultation.
Did you enjoy reading this article?
Sign up for more updates with our Agent Intelligence Newsletter!
We are committed to protecting your privacy.
Real Estate Websites for Agents
Learn which package works best for you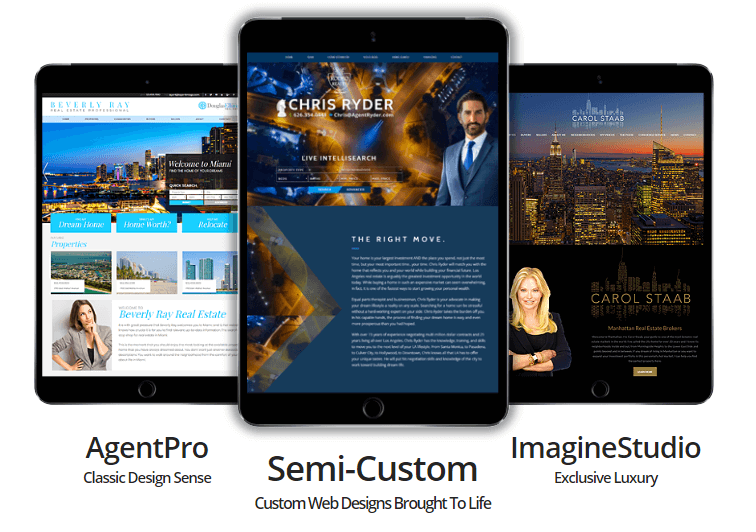 Learn More