Why Just Having a Real Estate Website is Not Enough for Agents & Brokers
You could spend thousands building a masterful website that gets plenty of traffic, but these days, just having a real estate website is not enough for real estate agents and brokers. Today, having a social media presence is just as important as having a first rate real estate website. From business promotion to lead generation, social media is enabling agents and brokers to reach an even larger audience than websites alone.
While new social media tools are cropping up all of the time, for the purpose of this blog, we're going focus on the top 5 social media sites that are helping agents and brokers gain mass exposure online. These sites provide constant access to the 40% of potential buyers who, according to a recent Pew Center Research study, frequently logon to their social media accounts using their phones – and nearly 30% do so daily.
That means if you are connecting your real estate website to these popular social networking sites, you significantly increase your ability to build authority and relevancy in your market and thus attract more business.
With that being said, let's take a look at some of the top social media sites and why – when they work in parallel with your real estate website – they are gold mines.
The Top 5 Social Media Sites for Agents and Brokers
Part of what makes social media sites like Facebook and Twitter so effective in driving traffic to your real estate website is the opportunities to keep your audience engaged. You can use these sites to promote sales, new listings, great photos and community events on a daily basis, several times a day.
Every social media site has its own benefits and capabilities, as well as target demographic. The following five sites are among the most popular and useful for real estate agents and brokers and each can work in tangent with your real estate website.
Facebook
Facebook began as a social networking site for college students to chat and share photos, but now it has amassed an incredible number of users in all demographics. It is the largest social media site boasting over a billion users worldwide and a majority of those users log on to their Facebook accounts every day.
More importantly to real estate agents and brokers, 82% – 89% of those users fall right in the age range of new homebuyers aged 29 – 49. Older adults do not use Facebook nearly as much as this group; however, 65% of those in the seller's market aged 50 – 64 are Facebook users.
If you are not using Facebook to connect to these potential clients then you are truly missing out on a big chunk of your market. In addition, Facebook has introduced a number of tools that cater to business users including affordable advertising, business pages, and the ability to set up groups where other users can join and share content from your page. Each is easily adaptable to suit your particular market. Share your recent blog post, start a discussion about an upcoming community event, or simply let your friends and family know about your next open house. When used wisely, Facebook can be an effective tool in your marketing arsenal.
LinkedIn
LinkedIn is another social networking site that actually preceded Facebook by two years. It was built as a virtual space where colleagues, co-workers, and professionals could take advantage of their connections to network with others in their field. Today it has grown from a small networking site of around 20 million to a quarter of a billion users worldwide.
Just like the growth of Facebook, LinkedIn has fast become more than a professional networking site. It is now a place where businesses and individuals show off their skills and build their personal and corporate brands. Unlike all other social media sites, LinkedIn is not a social gathering hub. It remains largely the purview of professionals and businesses.
The advantage to linking your real estate website to LinkedIn is the ability to market you or your agency in a more polished manner. When visitors to your website link out to your LinkedIn profile, they can see how long you have been in business, your skills and qualifications, more about your professional background, education, and experience. LinkedIn provides a clean and robust platform in which you can display your professional resume.
Twitter
Twitter is a different animal than both Facebook and LinkedIn. It allows you to communicate with users broadly in 140 characters or less even if you are not connected to them. This gives you an advantage as an agent or broker to promote your business to people outside of your personal and professional network.
The benefit of such a tool is that it doesn't take a lot of work to stay active on Twitter. You can tweet out several messages a day without spending a lot of time to do it. You can add a Twitter button to your website as well as a retweet button so that visitors can quickly and easily share information, blog posts, and links from your website.
Instagram
Instagram has more users than Twitter but less than LinkedIn at 26% of adults, but that number continues to grow as it becomes more popular. As a tool for marketing your real estate website, Instagram is ideal for showing properties to millions of people. With a click of a button, users can share images from your website with their Instagram followers if you add a link to this social media site to your real estate page.
Considering that more than 50% of users do share photos with other people when they are online, this tool can be invaluable to you as a real estate agent or broker. Whenever you add a new property or want to highlight a featured property, having an Instagram button on your real estate website makes it easy for your visitors to share the homes that they like with others.
YouTube
YouTube used to be the place where mostly teenagers shared videos of themselves singing to the soundtrack of their favorite songs, or video of their pets doing silly tricks. Now, YouTube is also becoming a place for businesses and professionals to attract customers and clients through the use of high quality videos.
In fact, YouTube is second only to Google as a search engine and is the largest video sharing site in the world. A well done video can go viral and receive hundreds of millions of views. As a real estate agent or broker, you don't have to go viral to make good use out of this incredible social media tool. You can create your own YouTube channel where you showcase video tours of all of your properties.
When you link your YouTube channel to your website, you can capitalize on your online traffic by giving visitors a place to see more detailed videos of your properties. YouTube also offers tools to analyze the data received, from the number of unique visitors to your site to the number of video shares.
Social Media in Action
Mike Klein, an East Sacramento real estate specialist with Keller Williams recently completed an Imagine Studio website project with our team at Agent Image. Mike's website is a great example of how to integrate social media. Not only is he engaging with his clients and prospects via the top five social media platforms we've suggested, he can also be found on Pinterest, Google+ and his WordPress-based real estate blog. Visitors to his website can easily find him on these platforms via the site's top navigation.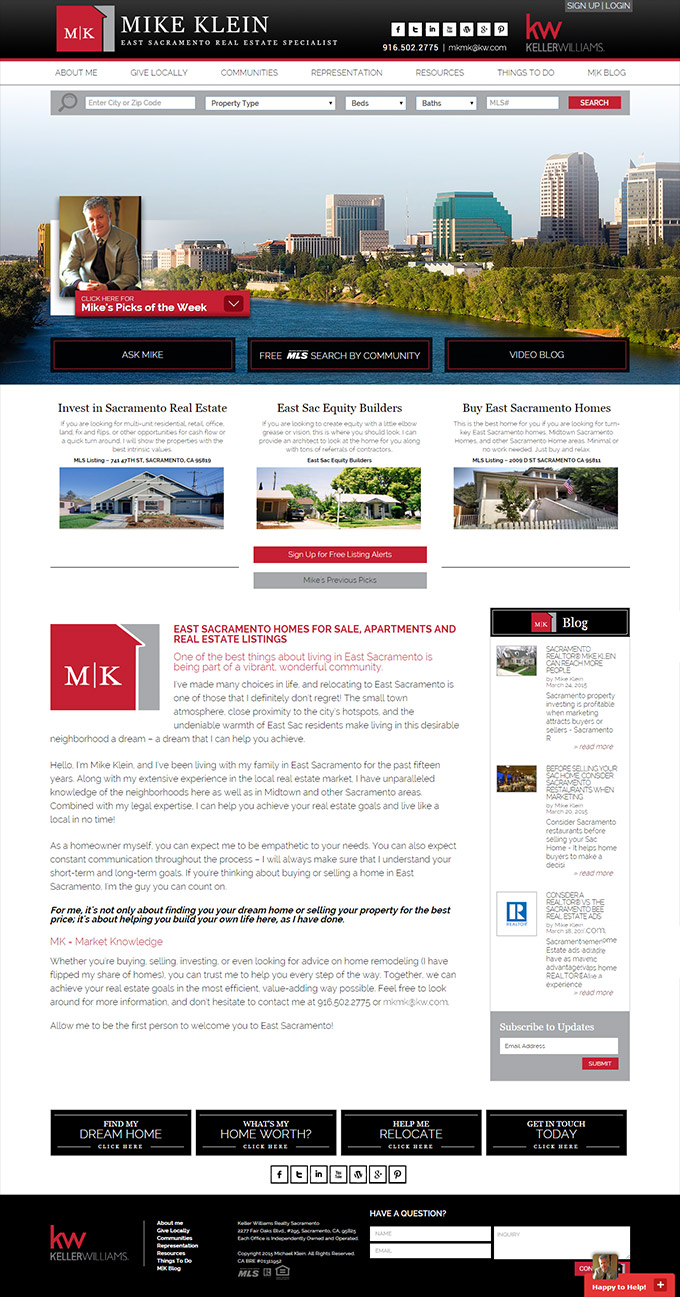 Social Media Packages
Many web design firms are still only focused on building better websites while missing out on the utility of combining outstanding web design with a robust social media presence. At Agent Image, we give our clients both so that their branding is spread as far and wide as possible.
We have social media packages that are designed to increase brand awareness, attract more followers, add more subscribers, and ultimately drive more traffic to your real estate website. Stay on the cutting edge of the real estate business – learn more about our innovative media packages today by scheduling a free consultation to discuss your specific needs. We look forward to hearing from you soon!
Did you enjoy reading this article?
Sign up for more updates with our Agent Intelligence Newsletter!
We are committed to protecting your privacy.
Real Estate Websites for Agents
Learn which package works best for you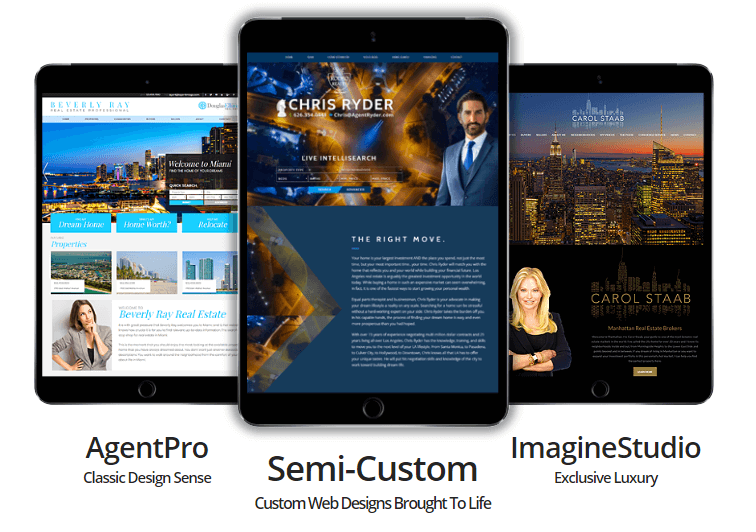 Learn More