5 Ways to Assess If Your Real Estate Website is Effective
You may feel that you have built a killer real estate website, but how will you know for sure? Without measuring the effectiveness of your website – and tweaking it where necessary – you are essentially throwing money and time right down the drain. Here are 5 ways to assess if your real estate website is effective at attracting visitors and more importantly, converting them into clients.
#1: Assess Your Social Media Reach
Your ability to attract followers and shares on your social media platforms is directly related to the layout design of your website and the quality of your content. The more relevant your website pages are to a broad number of searchers, the more people you will attract.
One way to assess your social media outreach is to analyze your built in social media page metrics. For instance on Facebook, you can measure the "reach" of your page posts. See which posts received the most attention to understand how to craft better content for your target audience.
Remember to factor in the type of device used to view your website. Fewer clicks on a website that is accessed through a mobile device are not as useful a metric as determining how long a visitor stayed on your website. Mobile users scroll more than click; even desktop websites are moving toward scrolling designs as opposed to click-through pages.
#2: Adjust Your Website Metrics Regularly
The metrics by which to measure your website's effectiveness are changing constantly. As user behavior continues to evolve and as technology gets more and more advanced, the ways to assess how users engage with your site are going to change.
In order to stay on top of these changes you have to be vigilant about search engine updates and changes. That often involves learning a new set of SEO techniques to keep your content relevant on search engines.
Still there are certain measurements of user behavior that can be relied upon to tell you how effective your website is. For real estate blogs, visitor stay time on your homepages, property descriptions, community pages, and property searches is a strong measure of conversion rates.
The longer you can get visitors to stick around your website the more likely they are to become your clients or at least to contact you. Therefore your real estate website has to be very user oriented and easy to browse and include:
Integrated IDX Search Bars
Robust Property Descriptions
Top Quality Photos and Videos
Useful Community Descriptions
Reliable Market Information
And Handy Mortgage Calculators
#3: Measure New Subscribers versus Unsubscribe Requests
A better gauge of your website's effectiveness is your number of subscribers. Subscribers are users who not only visited your site but liked it so much that they were willing to give you their email address in order to hear more from you on a regular basis.
Your top priority is to make them glad that they did. Your email newsletters and subscriber content has to be something that they cannot rely on from anyone else. When you take account of the number of new subscribers you receive each week versus the number of unsubscribe requests that you get, you have a good idea of one, how effective your content is, and two if your newsletter is helpful or not.
If you get a large number of subscribe/unsubscribe requests over a particular week, analyze the type of content you shared that week. Ask yourself:
Which day saw the largest number of subscribe/unsubscribe requests?
What content did I share on that day?
Were there bad addresses that resulted in unsubscribe requests?
What are the reasons given for unsubscribing?
It could be a matter of reducing the number of emails that you send each week or updating your email database. In order to get a good idea of your website's effectiveness you have to drill down into these numbers and not just take them at face value.
#4: Gauge Your Professional Reputation with Downloads
One way to get feedback from your peers and professional networks is to offer them a free or paid PDF download. Maybe you are offering new signups a free personalized home value analysis.
Downloads are a good way to reward new subscribers and clients. Make sure that they are useful, full of reliable information, and easy to share. Keep a close eye on the number of shares and downloads of specific content to better target future posts.
#5: Track Content Shares
Finally no website these days will make the grade without having great sharable content. By connecting your website with your social media platforms you are better able to generate cross traffic to increase your online presence.
In order to judge your website's effectiveness you need to track the number of content shares from your website on users' social media pages. You can add a share or like button on your website pages for all social media platforms like:
Instagram
Facebook
Pinterest
Twitter
Snapchat
LinkedIn
Email
Videos get more shares and images generate more likes. Your real estate website should be full of high quality images and professional grade videos that can be easily shared on social media. Use strategically placed CTA buttons to encourage more shares and track them to see which get the highest number of shares to cater future posts to your followers.
How are You Measuring Your Website's Effectiveness?
Have you been as vigilant about staying on top of how many video shares you had this week as you should be? Have you failed to keep your weekly routine of cleaning up your e-mail database to weed out bad addresses and assess your new subscribers?
If you are like many of the busy real estate agents and brokers who use our services, you simply do not have the time to manage all of your website duties. That's why our team at Agent Image has been counted on to build websites for some of the country's leading real estate agents.
Instead of losing business because of a neglected website strategy, let our team of professional web designers build you a fantastic lead generating real estate website. Contact us now to schedule a free consultation.
Did you enjoy reading this article?
Sign up for more updates with our Agent Intelligence Newsletter!
We are committed to protecting your privacy.
Real Estate Websites for Agents
Learn which package works best for you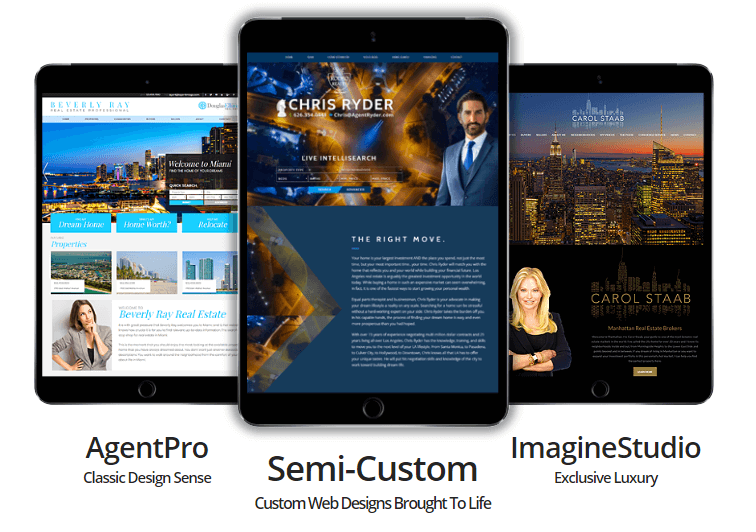 Learn More