5 Improvements You Should Have Made to Your Website Yesterday
The short answer to the question 'What can I do to improve my website?' is to hire a team of professional web designers like ours at Agent Image. However, there are things that you can do now – and should have done yesterday – to greatly improve your website. The best part about these improvements is that they are easy to do and you can see results instantly.
It's time to open up your website and take notes to see how yours stacks up to our recommendations. Here is our list of 5 improvements that you should have made to your website yesterday (but can still make today!).
#1 Update Your SEO Technique
Without an effective SEO strategy, your website will likely languish in the search engines. Staying up-to-date is step one to making sure that your SEO technique is effective. It is step one but only the first step. In order to update your SEO technique, you have to:
Update your website SEO content
Configure your website IDX search box SEO tags
Refresh your SEO keyword selection
Direct search engine descriptors
A few years ago, basic SEO strategies mostly involved cramming a bunch of keywords repetitively throughout your website. That strategy will not work today. Google and other search engines are constantly updating their algorithms for aggregating the most relevant content for users.
Filling your website with first rate content is the best way to ensure that your website remains relevant to searches. However, optimizing that content with an updated SEO strategy will help your website show up at or near the top of online searches. Use coding to direct search engines to display your page descriptions better on search results, refresh keywords, and update your SEO content regularly.
#2 Revamp Your CTA Button Styles and Placement
Your CTA button placement and style has a huge effect on your click-through-ratio (how many visitors click on your action button). There are many decisions to be made to determine where and how to display your CTA buttons. One thing that you can do right now to improve your real estate website is to revamp your CTA button styles and placement based on these three elements:
Static CTA versus Pop-Up CTA: Static CTAs can end up getting lost in the background if they do not contrast but pop-up CTAs can slow down pages and annoy visitors. Check out some of our recommended techniques for creating unobtrusive CTAs.
Button Size: Your CTA buttons should be larger than your web text but not so large that they look cartoonish. You want to create buttons that stand out but do not overwhelm.
Button Color: The right color for your CTA buttons will vary based on your overall website color scheme. A good rule of thumb is to make sure that the color stands out against your website background. Try to use a specific color for CTA buttons only. Use several CTAs on one page experimenting with different colors.
Button Position: CTA buttons are most effective at the beginning and end of blog posts, in a static position on the right hand toolbar, and between paragraphs of text. Experiment with the best button position by moving your CTA buttons around frequently.
Button Text: A survey conducted by OnCarrot found that using specific text on CTA buttons results in better conversion rates. Instead of using a CTA button that tells visitors what to do, try using button text that leads them to the next step; i.e., "Find an Agent in Your Area" as opposed to "Click Here"
Just by changing the CTA button text, the survey found a nearly 50% increase in conversion rates. That means more subscribers to your newsletters, more leads, and therefore many more new clients. Try out different text options on your CTA buttons and track the results of those changes.
#3 Add More Unique Content
An immediate improvement to your search ranking and your website can be achieved by adding more unique content. Homebuyers and sellers are far too familiar with how similar some of the content on real estate websites seems to be. Set yourself apart in your area by producing top quality content that shows off your local expertise and makes you a local influencer.
That could be a timely newsworthy blog post or an announcement for a local open house. When you add unique content using noteworthy statistics from legitimate sites, the chances of your website being referenced on someone else's website greatly improves and so does your search ranking.
#4 Improve Your Online Customer Service
As is true with nearly every line of business, by improving your online customer service, you end up with many more happy users. As a real estate agent, your reputation is everything to your success. If too many former clients find you unresponsive, unreliable, or unavailable, you can forget about ever succeeding in real estate.
You can use your real estate website as a tool to help you improve your online customer service. One way that many agents make themselves leaders in their market is by being accessible. You can show your clients that you care by investing a little bit of your time in updating:
Your response time
Contact form auto-responses
E-mail sign-up follow up
Easy sign up for newsletter alerts
In general, consumers lose patience with a company if it takes them more than one business week to respond to them. In the real estate business, one day can mean the difference between conversion and lost opportunity. One way to show your clients that you are there when they need you is to offer a live chat assistant on your website.
People feel more comfortable knowing that they are speaking with a real live person on the other end. On top of that, it gives your brand a personal touch that most consumers find lacking in many modern business dealings and therefore appreciate all the more.
#5 Match Your Website Image with Your Brand
Finally, you want to match your website image with your brand. For instance, if you deal in gorgeous ranch style properties, don't keep it a secret. Your website colors, layout, and content should all be working together to relate that image to your website visitors.
While most of our 5 improvements are things that you can do right now to see fast results, connecting your image with your brand is something that we do best at Agent Image. Just see how much we have been able to do to completely redesign hundreds of real estate websites to get maximum results.
Taking it to the Next Level
Are you hoping to make some quick fixes to your website while you decide on the web designer that is right for you? These 5 improvements to your real estate website can go a long way. If you are ready to go the rest of the way, you are just one click away. Take advantage of our free consultation and speak with us now about your website redesign!
Did you enjoy reading this article?
Sign up for more updates with our Agent Intelligence Newsletter!
We are committed to protecting your privacy.
Real Estate Websites for Agents
Learn which package works best for you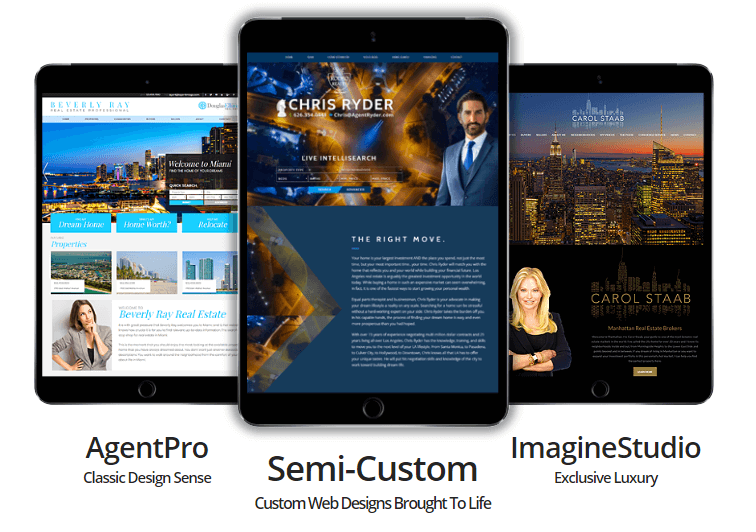 Learn More