6 Features of an Unbelievable Real Estate Neighborhood Page
The first step to understanding how to build unbelievable real estate neighborhood pages is to put yourself in the homebuyer's shoes. If you were moving to a new area, what features would you want to see listed on a real estate neighborhood page? You can paint a pretty picture with images of property listings or links to neighborhood attractions and utility services, but today's buyers want more than that.
To really make your website stand out above all of the competition, your real estate neighborhood pages have to give buyers the information that they need to make an informed decision about whether or not one of your listings is located in an area that they want to live.
Here are our top 6 features of an unbelievable real estate neighborhood page that gives homebuyers the answers to all the questions they have.
Home Prices
Homebuyers don't just want the price of the home that they are looking at from your listings. They want to get a feel for the area as a whole. Each neighborhood page should include the average home prices in that neighborhood, the types of homes available there, and the sales prices of some of the recent homes sold in the area.
As a real estate agent, you have access to the type of market information that buyers want to see. Build charts and graphs that visualize the statistics for your site visitors. Include information like:
Month-by-Month Fluctuations
Neighborhood Home Price Comparisons
Local versus National Average Home Prices
Annual Home Price Statistics
Mortgage Rate Calculator
Community Description
Buyers are just as diverse as the greater population itself. Different homebuyers are looking for different things. Some are younger and are looking for access to an active nightlife, while retirees may be looking for a quiet location with plenty of walking trails and greenery.
Give a solid overview of what it would be like to live in the community, and how various types of homebuyers can enjoy the area. Those who are baby boomers or nearing retirement age may be looking for a community with the full complement of health care services. Younger buyers with small children will want to know that their new neighborhood will have plenty of playgrounds and other kid-friendly facilities. Avid outdoor enthusiasts will be interested in area parks and outdoor recreation. Use the neighborhood page to paint a vivid picture of the community.
Neighborhood Photos & Videos
A picture is worth a thousand words and no less critical when including important features of your neighborhood page. When a visitor to your website clicks on a neighborhood page, they should be able to see neighborhood photos or even videos of the area. Particularly if there are local events that take place nearby, images of a community event are always good sellers.
Is there a community or public park within walking distance from the house? Include a link to that park, features of the park, and the distance from to the park from the property. Is there a biking trail or a swimming pool nearby? Include photos of all of the features that make this neighborhood one that buyers want to live in.
Area Statistics
What many homebuyers who are visiting your website want to see in addition to plenty of photos and community information are area statistics. Some real estate websites go too far in selling only the highlights and not being honest or realistic about the not so great features of a community.
That is selling your market short. There are all kinds of buyers looking for properties in many different types of neighborhoods, not just the suburbs. You can find strong real estate statistics for every part of the country that will give prospective buyers the information they need. Make sure to include statistics like population density, average temperatures throughout the year, and so on.
School Rankings
Many of today's homebuyers are between the ages of 25 and 49. This is a group that tends to have children who are school age. Your real estate neighborhood page would be remiss to not list information about area schools. Keep in mind that you don't want to just list the names of schools but provide parents with the means to find out what the schools are like.
Breakdown your school segments by grade level: elementary, middle, and high school. Include links to websites where they can find information like:
State, Regional, and National Rankings
Number of Schools in the Area
Graduation Rates
Local Attractions
Families moving to a new area are going to want to get out and mingle. If they are used to an active social life with plenty of outdoor activities, highlighting those features are extremely helpful to those buyers. Likewise, if a homebuyer is looking to escape the hustle and bustle and is looking for a more laidback environment, they should be able to gather that information from your real estate neighborhood page.
It is always helpful to sort local attractions out by the type of attraction and the distance from the neighborhood. Using area maps from Google can help buyers picture how near or far these attractions are. Make sure to flesh out details of those attractions and add links where possible. Here is a sample breakdown of a neighborhood "activities" list:
Things to do:
Local Events
Parks
Shops
Theaters
Museums
Sports Venues
Restaurants
Want to See These Tips in Action?
Lux International Properties in Naples, Florida recently completed a website project with our team. Their website features a wealth of community information, and is an excellent example of the type of information you should try to include on your neighborhood page.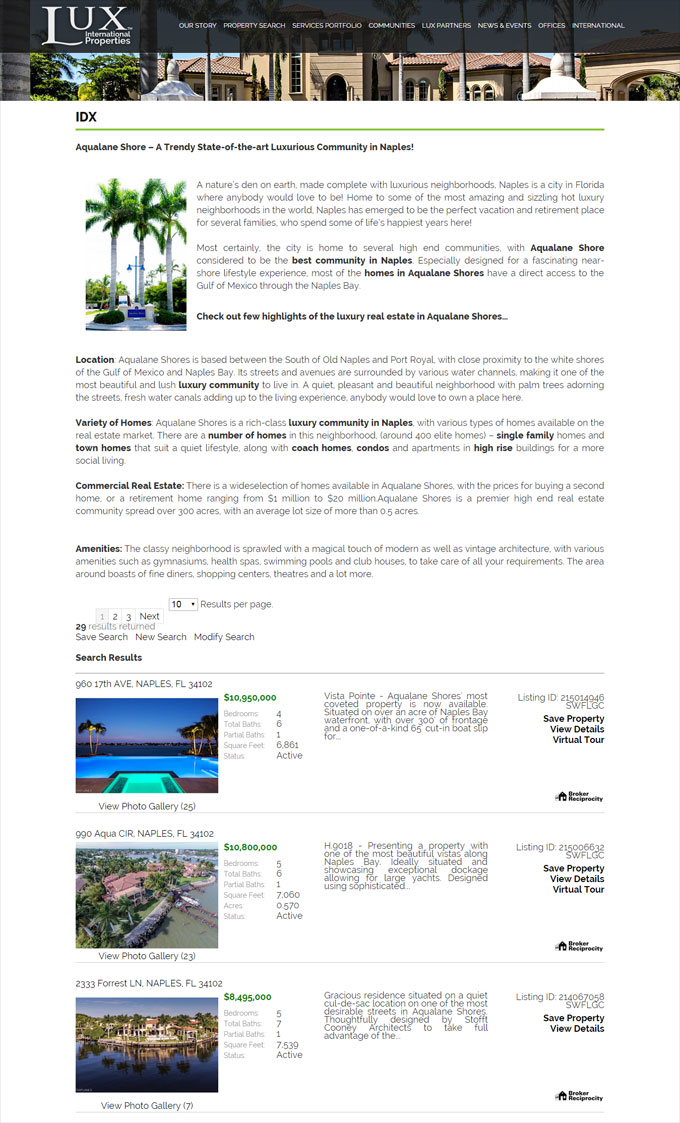 Another great example is Sill Realty Group, which offers a great description of each of their local communities and has integrated map searching via their IDX platform.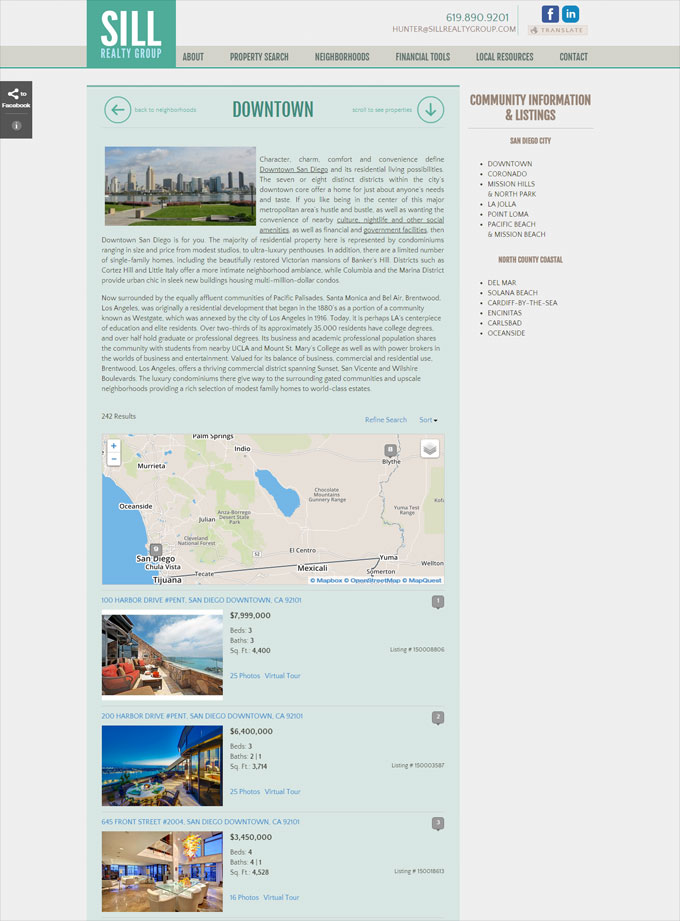 Looking for Help with Your Neighborhood Pages?
Our team of real estate web design experts can help you maximize your web traffic by including all of the features that make for an unbelievable real estate neighborhood page. Take a look at some of our services and contact us right away to get started making your real estate website the best that it can be.
Did you enjoy reading this article?
Sign up for more updates with our Agent Intelligence Newsletter!
We are committed to protecting your privacy.
Real Estate Websites for Agents
Learn which package works best for you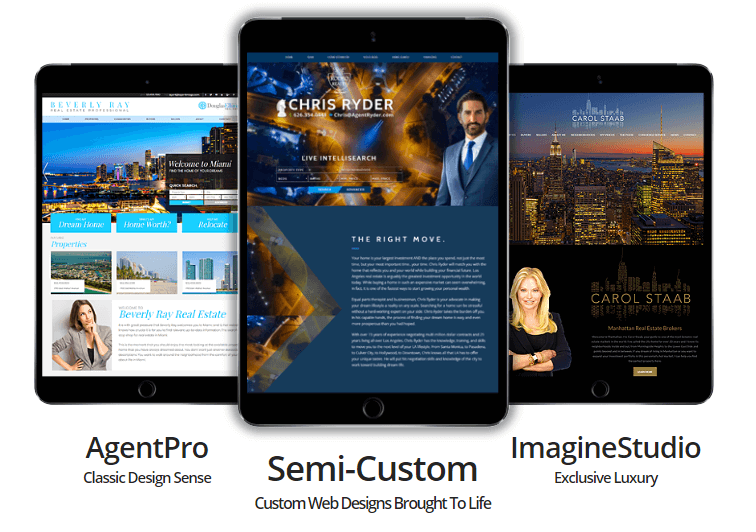 Learn More