6 Things Homebuyers Need From Your Real Estate Website
Being a top real estate agent or broker begins with building strong, positive relationships. Homebuyers are depending on you to give them good advice, realistic options, and honesty most of all. Establishing trust is chief among your jobs as a qualified real estate agent. Part of building that trust begins from the moment prospective homebuyers visit your website.
Many real estate websites are just an amalgam of different properties. Often they provide generic search results that sort properties based on price, neighborhood, number of bedrooms, etc. They give people a general idea of what types of homes are available on the market in a particular area. Nothing separates these types of website from the rest.
Homebuyers want to know more than property type and price. If you want to be the real estate agent with the go-to website, you have to begin with giving the people more. Because most homebuyers start their home search online before they even speak to a real estate agent, your website should stand out from the rest. In fact, a study by the National Association of Realtors® suggests that 92% of buyers use the Internet in some way in their home search process.
The best way to give yourself that edge is to know what homebuyers want to see on your real estate website.
What Does a Homebuyer Need from Your Real Estate Website?
Here are the six things that most homebuyers want to see when they visit your website. Use these tips to give them what they want, and you will likely attract more searches and close more clients.
#1 Pictures and Videos
A picture is worth a thousand words is no truer than when it comes to real estate photos. There may be a property on your website that has the number of rooms the prospective buyer wants, is in the neighborhood they desire, and in their price range, but if there is no picture, they will likely keep searching.
While you can't always manage the photos that come in via your IDX, all of the properties you represent should have a number of photos and not photos from your iPhone. What homebuyers want to see are plenty of photos that show the interior and exterior of your properties. For select properties it is often worth the extra money that it takes to hire a professional real estate photographer to present your listing in its best light.
A word of caution: You do want to show your properties in the best light, but be careful not to be misleading. Again, your relationship with your prospective buyers is built on trust first and foremost. There is nothing wrong with showing the best features of the properties but be honest about the shortcomings as well. This isn't the best time to try out the latest Instagram filter. The last thing you want is for a client to fall in love with a house based on your website photos and then see the real thing up close and discover that it is not at all as you represented it to be. Let your real estate photos work to market the property and help establish trust.
Better still, adding a video tour of the properties on your website can garner a lot of online traffic to your site. Make sure that the quality of both your photos and videos are consistent with your personal brand and are professional. Take it a step further by using your real estate knowledge and know-how to create a video blog that provides potential clients with information about yourself, the community and answers to typical real estate questions.
See This Tip in Action: An Flamand, an Agent Image client and real estate Broker in Orlando, Florida, uses video to give prospective clients insight into the area, to answer common real estate questions, and to drive traffic to her YouTube channel and website.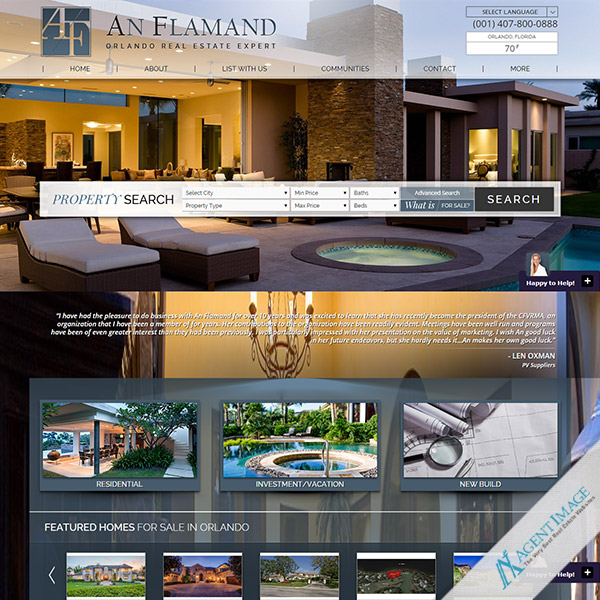 #2 Neighborhood Info
Each prospective homebuyer that visits your website for available properties is different. Some care mostly about price, others care mostly about the property itself, while others want to know what the neighborhood is like. Particularly for people who are moving to a new area that they are not very familiar with, providing reliable neighborhood information is very important.
Many real estate websites will say that every property is in a nice neighborhood. No one wants to move into a bad neighborhood. But if you want to stand out as the go-to real estate agency, put neighborhood data on your website that buyers can trust. That means using statistics from government agencies and associations that track crime rates, income levels, and school ratings even if the numbers are not the best.
Giving a potential homebuyer the information they need to determine the best neighborhood for their family is priceless. Build out a section of your website that is strictly for offering neighborhood information. In this section, consider linking to available properties, or provide a search experience that can be tailored by neighborhood.
See This Tip in Action: Greg Noonan & Associates provides a wealth of La Jolla neighborhood information to their website visitors. And, it's located in the center of the page where it can easily be found and enjoyed!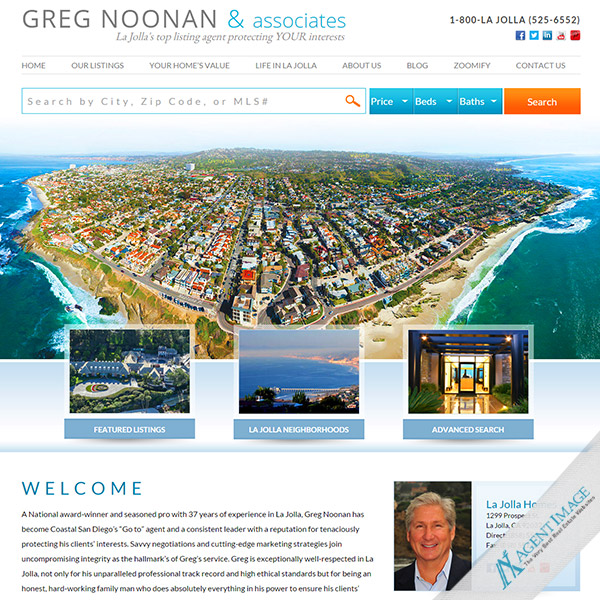 #3 Informative Blogs
A lot of real estate websites these days also include a blog; this has become standard practice. If you want your blog to stand out, make it as informative as possible. Give your website visitors information that they can use. Discuss trends in the housing market, job or population growth in certain areas that you represent, the latest community events and more.
Your blog should not be used to push your services or experience. It should offer homebuyers and sellers valuable information that establishes your relevancy and authority.
See This Tip in Action: Agent Image client and HGTV star, Egypt Sherrod uses her blog to attract prospective buyers and sellers to her Atlanta-based real estate group.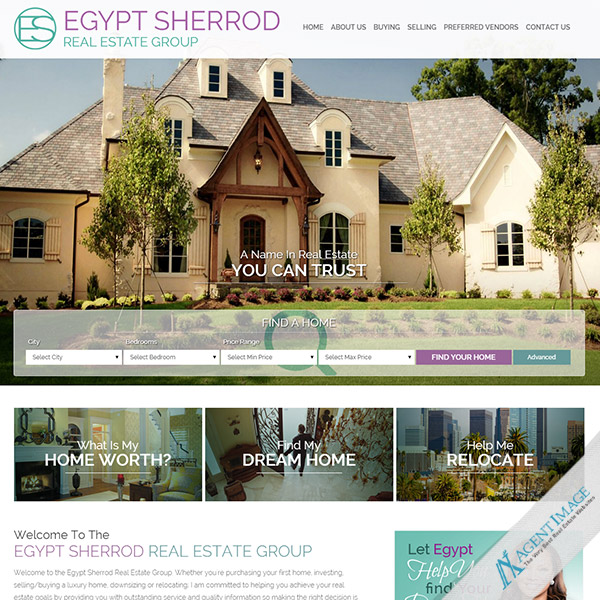 #4 Expert Advice
One way to establish trust online before you even speak to your prospective buyer is to give them expert advice that will help them in the home buying process like buying and selling tips, mortgage options, case studies and more. You have a wealth of insider information about ways to get the best price for the house you want, how to secure the best mortgage rate, or who to contact when you need a contractor, lender or home inspector. Don't be afraid to share some of that information with your prospective buyers.
See This Tip in Action: Hall & Chambers Real Estate, who recently finished a semi-custom website project with our team, offers valuable buying and selling strategy advice with their potential clients to establish trust as an expert in the community.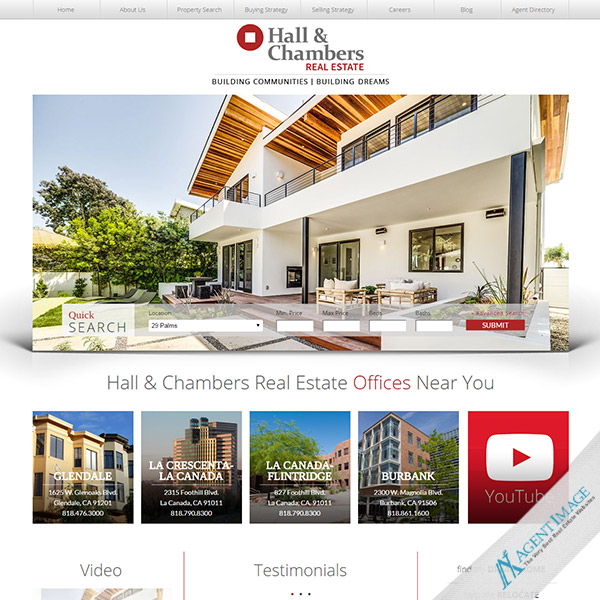 #5 Market Information
Providing market information is more than just saying what houses are going for these days. Providing market information on your real estate website is also about educating your clients about the local market. How are sales trending? Is it a buyer or seller market? What's the average sales price or days on market statistic?
Half of the work of an agent during the process of buying or selling a home is educating the client along the way about escrow, about inspections, and the like. Start building that relationship online with reliable market information on your real estate website.
See This Tip in Action: The team at ERA Showcase Real Estate in Yuba City, California offers the ability to request a market value analysis of your home prior to listing it for sale. This is just one way to provide exceptional market information to your clients.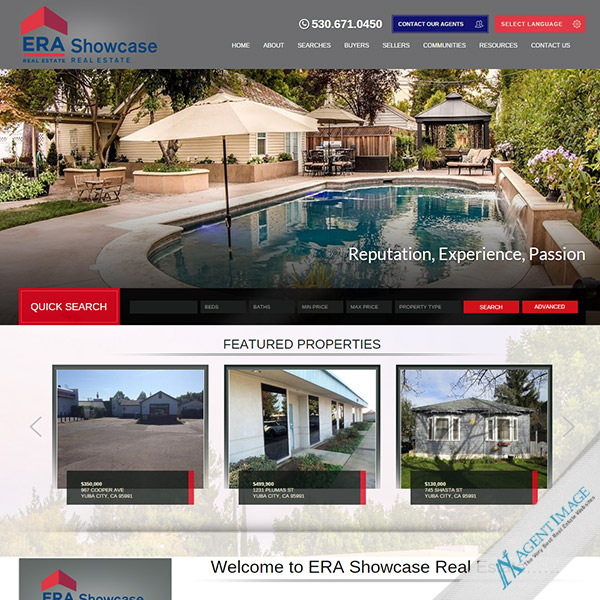 #6 Choices
Lastly, your clients want choices. You may have a ton of luxury properties that are drop dead gorgeous to show on your website, but not all of your prospective buyers are looking for them. Give visitors choices that will fit all different price ranges, preferences, and sizes. This can be achieved via robust IDX property search solutions or via specific search options such as "Search by Neighborhood" or "Search Homes with Pools" or even "Search Homes Near the Golf Course."
See This Tip in Action: Realtor Judy Zimet with Russ Lyon Sotheby's International Realty in Carefree, Arizona uses her Agent Image website to offer a variety of search choices to potential homebuyers, including the ability to search by map.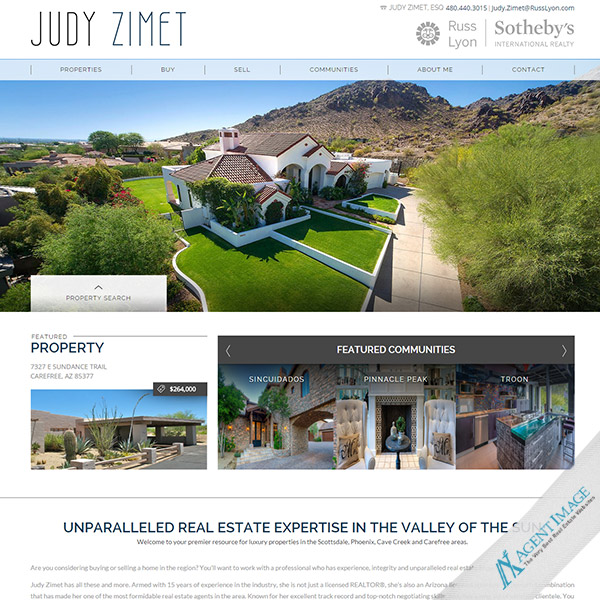 Take Your Real Estate Website to the Next Level
Using these real estate website tips can help you provide homebuyers with the tools and information they need to make a knowledgeable and informed buying decision. When you provide homebuyers with this type of information, you establish yourself as a trusted advisor – someone who really understands their market and clients' needs.
Building a strong online presence will help you draw more traffic to your website, which will give you more opportunities to close deals. At Agent Image, we offer online solutions for real estate clients across the country. From mobile marketing to real estate web design, let our team take your real estate website to the next level. Connect today to get started!
Did you enjoy reading this article?
Sign up for more updates with our Agent Intelligence Newsletter!
We are committed to protecting your privacy.
Real Estate Websites for Agents
Learn which package works best for you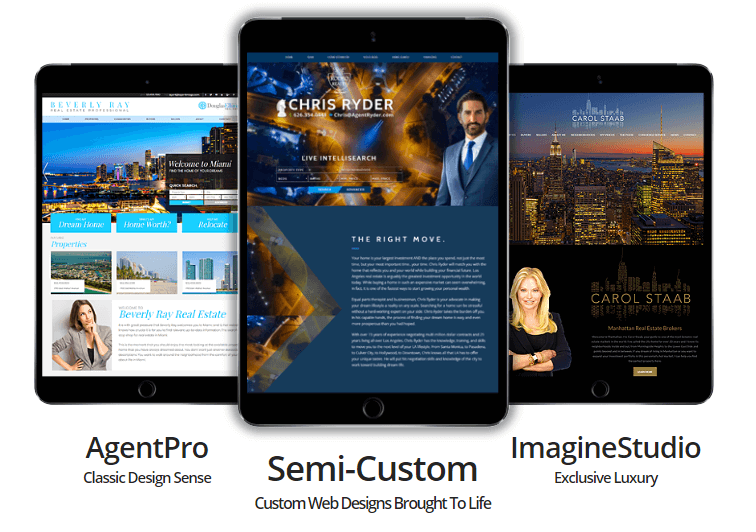 Learn More