6 Tips for Managing Your Online Reputation
According to the National Association of Realtors, nearly 90% of real estate agents today use social media platforms to build up their business and reputation online. Social media has been around long enough now that we know the benefits. You can interact directly with your clients and prospects. You can reach a much wider pool of interested buyers. And you can become a thought leader in your local market with the content you distribute via social media.
It's easy to understand why social media has become an integral part of an agent's toolkit. However, like with anything else in life, there are pros and cons to the implementation of a social media strategy. Perhaps the most difficult component is trying to manage your online reputation.
In fact, a study conducted by Microsoft showed that only 44% of adult users ever consider their reputation and the consequences of their online activities. The same study found that over 90% of online users have actively attempted to manage their online reputations at one time or another.
Tweet this: 44% of adult social media users consider their online reputation. #AIInsights
As a real estate agent, your reputation is everything. A few bad reviews or some unflattering posts on your part can really damage your personal brand. That is why we felt it necessary to share with you our 6 tips for managing your online reputation proactively as well as ways that you can clean up your image online – if needed.
#1: Search Your Name Online
The first step to managing your online reputation is to find out just what your reputation is in cyberspace. If you have ever made a comment, liked a post, or shared a link, chances are, you have an online profile, whether you know it or not. As a real estate agent it is imperative that you figure out whether or not your online reputation is a positive or a negative one.
Search the different search engines, not just one: Google, Yahoo, Bing, etc. You may have to browse through several pages to get one that pulls your name or your business name up. Try several combinations of your full name, your last name, your business name, and any screen names you might have used in the past.
Secondly, go to social media sites and search for your profiles there. For each site, click on the link and read what has been said about you or your company. If there are negative comments, save the link, note the poster, and keep reading (we'll discuss what you can do with negative comments below). Even if most comments are positive, don't disregard the negative ones.
#2: Get Rid of Bad or Old Accounts
Now that you have searched your name and business online, it is time to reinvent or rehabilitate your image. If you have a public profile from back in your college days that reflects negatively on you, the first step to rehabilitate your image may mean shutting down that account. While that does not completely rid the internet of your former account, it does make it harder to find.
#3: Control Your Online Image
Once you have rid yourself of those drunken college photos, it is time to start the work of controlling your online image. There are several ways to do this, but the best way is to counter negative posts with positive posts. The trick is to be strategic about where and how to ask for comments:
Join Professional Sites: Joining other real estate forums where you can interact with other professionals in real estate is a good way to boost your professional image online. Leave comments on your favorite real estate blog sites, ask for recommendations on LinkedIn, and spend time interacting with your peers via Facebook, Twitter and other sites.
Write Professional Blogs: Frequently posting blogs on your website that point to your expertise as a real estate professional and which contain useful and intelligent information will build up more online content referencing your professional image, not your personal one. Remember that your real estate blog is not the place to talk about your vacation to Venice. It's about sharing valuable and interesting market information that will give potential clients the impression that you are – in fact – the market expert.
Create Positive Posts: A marketing survey from 2010 showed that online consumers are vastly more likely to choose companies who have positive online reviews. Creating positive posts enables you to promote yourself and your business online on your own terms. One way that businesses are doing this is by hiring companies to post reviews about you and your company on sites like Yelp and Facebook. The more authentic way of doing this is to ask your clients for recommendations and/or reviews. Perhaps you add this request into your 60-day follow-up email.
#4: Set Up Alerts to Track Your Online Image
After you have finished setting up your online profile in the way that you best feels represents your personal brand, you have to stay on top of it. The best way to do that is to sign up for alerts whenever your name or business name is mentioned online. Google Alerts is one of the most widely used, but there are several other search engine alerts that offer the same service.
Tweet this: Set up Google Alerts to track your online reputation! #AIInsights]
#5: Respond to Negative Reviews Respectfully
Inevitably, no matter how solid your online reputation is, you may still get negative comments or feedback online. Whether it is from a competitor or an old client of yours, the way that you respond to negative reviews can have a lasting impact on your online reputation – either for good or for bad.
Our recommendation is that you should respond to negative reviews politely at all times. Even if the comment or post is unfair, even more than in face-to-face interactions, it is extremely important that you always take the high road. Here are some ways that you can not only respond to negative reviews but also to turn those negatives into positives:
Directly respond to the poster by acknowledging their complaint and proposing a way to rectify it.
Make a public post about the comment apologizing to the person and publicizing your solution to the problem.
Allow customers to comment on your website so that you can respond to and monitor negative reviews and comments.
Ask the person to remove the negative comments or to update the comment with a positive one once you have both made peace.
Tweet this: Kill 'em with kindness. Respond to negative reviews respectfully. #AIInsights]
#6: Keep Personal and Professional Separate (if you can)
Finally, one way to ensure that your personal posts and comments do not affect your professional online reputation is to keep your personal and professional online profiles separate. If you are like many agents who use your legal name in your business name, that may mean that you will have to come up with a whole different profile for your personal social media accounts that do not reference your legal name at all. Having a Facebook business page, rather than a personal profile, for example, is a great way to separate the two.
Managing Your Online Reputation
Whether you search your business online and find that you have an overall stellar online presence or not, it takes vigilance to ensure that it stays that way. The best way to do that is to first commit yourself to providing your clients with outstanding service every time.
The next step is to hire a professional company that can help craft your image and to maintain it. At Agent Image we are leaders in improving your online branding, image and credibility in the real estate market through successful real estate Internet marketing solutions. Take a look at the services that we provide and then contact us today!
Did you enjoy reading this article?
Sign up for more updates with our Agent Intelligence Newsletter!
We are committed to protecting your privacy.
Real Estate Websites for Agents
Learn which package works best for you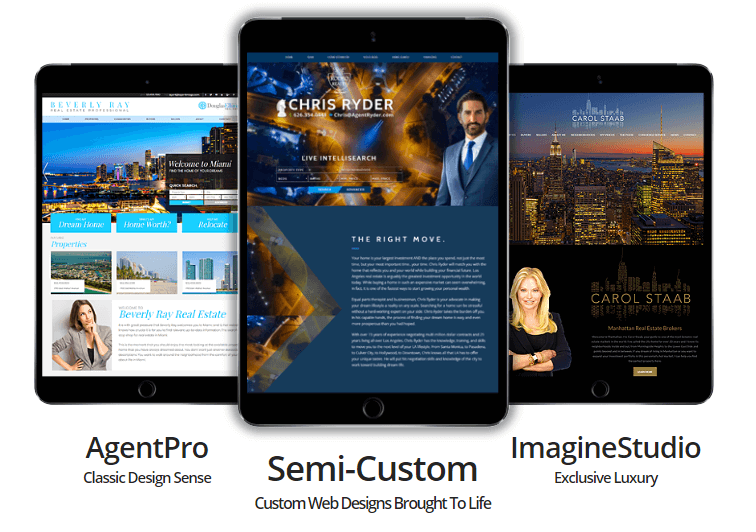 Learn More