7 Must Have Features for Responsive Real Estate Websites
In the rising era of mobile devices, the term Responsive Websites has been ringing in everyone's ears. Should you decide to venture into transforming your website to a responsive one, here are 7 must have features for responsive real estate websites:
Viewing in Portrait and Landscape Orientations
Other than the fact that there are hundreds of mobile devices with different specifications being used, users have their preferences in viewing your website.
Rich Images
Image-driven search results are enticing to the eye and help users visualize their potential home.
Responsive Listing pages
Consider matching property listing pages with the device users are using. For smartphones, have location maps and click to call functions available so users can schedule a viewing. For tablets, utilize the use of images and property video tours since they have more screen space.
Stand-out Header
The header should be your real estate business' logo so it may remind users that it's your website they're browsing.
Simple Navigation
Make it easy to use your website's navigation and provide them with important parts of your responsive mobile website.
Community Building
Establish a community by enabling users to register and save their searches so they can go back to it again. Incorporate social media sharing capabilities so they can share their finds with friends and family.
The Right Design
Last but not the least, make sure that the design you choose contains all the features you feel are important. It's about giving the users a great and convenient experience going through your website.
Did you enjoy reading this article?
Sign up for more updates with our Agent Intelligence Newsletter!
We are committed to protecting your privacy.
Real Estate Websites for Agents
Learn which package works best for you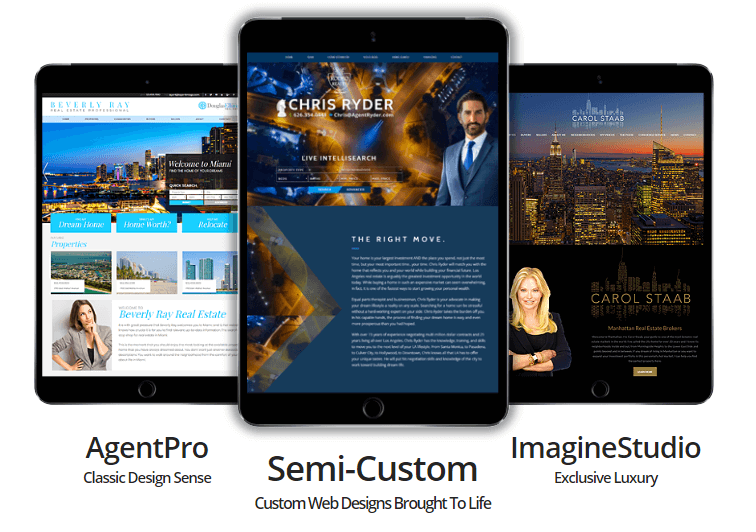 Learn More