7 Secrets of Effective Real Estate Web Design
Real estate professionals know that just like a house with a sturdy and solid foundation, knowing and applying the basic rules of web design will help you generate more leads. Here are 7 tips to attract more potential clients to your agent or broker website.
Secret No. 1: Make a Lasting Impression.

Pre-designed real estate website themes or templates are great for those on a budget but going for a custom website will help you stand out from the crowd.
Be part of the design process and give inputs so that your website will have a touch of you. You also know what the important parts of your website should be (such as property listings).

Secret No. 2: Work That Content.

A real estate website's visuals can only do so much, it's the content that will reel them in.
Try to avoid sounding like you're addressing a fellow real estate professional. Instead, keep things simple and easy as if you're talking to the client himself.
Have a chat with your web designer or web development team about using keywords that potential clients use to search so they can easily find you.

Secret No.3: Give Them What They Want.

Nothing is more annoying than going through a beautiful real estate website and see that the pricing of the properties or houses listed aren't shown.
That's the main reason why your visitors are browsing your custom real estate website, so don't forget to add your prices.

Secret No. 4: Go Mobile.

There has been a large growth of mobile users in the past year so take advantage of this by making your real estate website viewable and accessible to this market.

Secret No. 5: Go Beyond Digital.

Adding 360 virtual tours is fine but adding property or house video tours is better.
It helps visitors visual their lives in that setting better.

Secret No. 6: Make it Foolproof.

A word of warning: Be careful not to overdo your real estate web design by adding so much visuals that will look cluttered and visitors will decide to move on to the next real estate website.
There should be a clear path from the landing page to important pages such as your listings, information about you and contact information.
To make sure your website is user-friendly, have someone outside of the development process test it and give you feedback.

Secret No. 7: Always Keep Your Website Up-to-Date.

It's very important to keep your website updated especially your listings.
Discuss with your real estate web development team regarding IDX solutions that will allow you to capture leads, save property searches, and send email updates to your clients.
Or you can source virtual assistants that can run your website.
These secrets or elements are something your web designer and web development team should already know. It's a matter of adding your input into the mix so you and your team can create the best possible web design as real estate is a personal business.
Did you enjoy reading this article?
Sign up for more updates with our Agent Intelligence Newsletter!
We are committed to protecting your privacy.
Real Estate Websites for Agents
Learn which package works best for you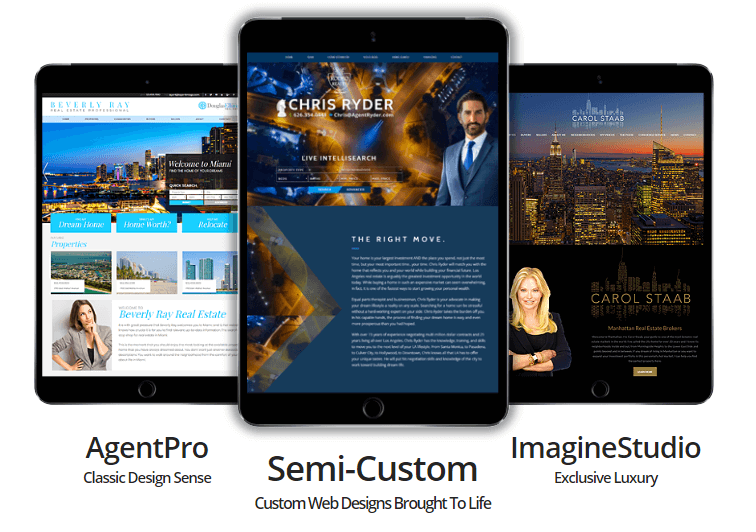 Learn More