8 Features You Need for Your Homepage
Your website's homepage is the very first opportunity to greet your visitors and invite potential clients to explore what you have to offer. It's no longer enough to just have an attractive interface to keep it effective in its role of generating leads and new business. Your homepage needs to be user-friendly, appealing, and representative of your brand.
Here are 8 must-have elements that will transform your homepage into a powerful, lead-generating machine.
Your Logo

The brand and company logo should be one of the first things a visitor immediately sees as your homepage loads. This element clearly introduces who you are, and the identity you want to portray as a company. The best area to place your logo is on the top left portion of the page or as a large focal point on the top fold. This instantly lets visitors recall your company name and know exactly where they are.

Let your logo shine! Instead of crowding it with many different design elements, leave plenty of negative space around it. A good tip is also to keep your logo clickable and serve double duty as a "return to home" navigation link.

Navigation Links

To quickly guide your site visitors and convert them to leads, a menu or navigation bar is a strict must. It lists down the most important pages of your website and keeps them readily accessible with one click or tap. Have your homepage navigation presented as a traditional navigation bar with text links, add dropdown menus or expanded menu panels for additional options, and perhaps jazz it up with riveting hover animation effects.

No matter your style choice, the goal is really to keep it simple. Including all of the page links of your website on your site navigation may seem like you have plenty of content to boast about, but it can quickly backfire by crowding the page and confusing your visitors. Incorporate only the essentials so you can keep focus on the key points of interest: a link to your About page, a link to your active Listings, a section for Buyer and Seller Resources, a link to learn about your Areas of Expertise like a Communities section or a Blog, and a way to Contact you.

Hero Shot

The hero shot has its roots in the tradition of film and storytelling where the viewer is presented with a dramatic portrayal of the main character. Adapted for the web, your website's hero shot is what is seen front and center upon first glance, setting the first impression. This will be the most prominent feature of your homepage.

Your hero shot can be a slideshow of high-definition images or a video montage showcasing your expertise. Apart from vivid color and high quality resolution, the content or subject matter of your hero shot should be tailored to what you want to achieve. Are you selling a lifestyle? Do you want to highlight key properties? Maybe you want to display a confident agent or team photo as a way of introducing your customers to the people they will be working with.

Remember, the hero shot has a job, and that is to create a relevant emotional connection and encourage visitors to continue browsing through your website.

Headline

This must be the most important sentence or phrase on your website. Keep it short, but powerful and meaningful, able to describe the value you are able to provide. Write about the reader, making them feel that they found the right place. You can place this headline as part of your hero shot, or incorporate it into your intro write up.

Follow it up with a summarized description about you, your company and how you can help. Keep it succinct and informative, but also warm and SEO-friendly, being able to hit on keywords that are relatable to your audience.

It's tough to craft the perfect headline especially when you want to stand apart from your competition. Hiring a professional copywriter is an added cost, but it is usually worth the investment.

Portfolio

Having an online portfolio is an essential tool in your arsenal as a businessperson and marketer. You'll want to communicate the services you offer and present what you have accomplished so far. Present your portfolio through click-through photo galleries, successful case studies, and a list of your notable stats and numbers.

Your portfolio is a straightforward way of demonstrating your skills and savvy. Highlight the featured properties you are proud to have under your company banner, as well as the locations you specialize in. By showing these examples to your website visitors, you can implicitly provide proof of your expertise. This may be a challenge if you are just starting out, but it's certainly something to put at the forefront and keep growing over time.

Call-to-Action Buttons

Call-to-action buttons are key tools to generating new leads. They allow your website users to proactively interact with you and take the next steps in their online journey. It's important to correlate your website content to the action they need to take. There is no need to pepper your homepage with these, but instead, limit them to strategic locations on the page for click-through continuity.

Start your call-to-action text with a clear action word, like Call, Connect, or Explore. Try to choose something that is commanding but still approachable in tone. You can also experiment with a compelling first-person voice to really keep your audience engaged with your offers. Try out examples such as: "Count Me In," "Sign Me Up Today," "Show Me More Properties in the Area."

Social Proof

Establish your expertise and overall trustworthiness in the real estate industry by offering social proof. It can come in the form of client testimonials, certifications, awards, and accolades. If you've also had the opportunity to be publicized in the local community, it's helpful to mention partnerships and affiliations, as well as press and media features.

The best way to present social proof is by citing direct quotations or excerpts, presenting affiliate logos and sharing relevant links. Social proof makes your website more relatable and having these elements on your homepage gives users a quick overview of your professional network.

Newsletter Signup

Wrap up your homepage with a lead magnet that offers something of value to your site visitors. In case they don't make an immediate inquiry, you still want to leave a positive and lasting impression. By using a short contact form in exchange for your offer, you can keep an ongoing connection with your audience.

One common practice is giving away a freebie, such as an article, a market report or an e-book. Others involve a subscription to a regular newsletter or the ability to avail of a limited time promo. You can also simply offer to provide a free real estate consultation as a way to get the conversation started.
Bonus Features for Your Website's Homepage:
Does your homepage already have all of these features? If you're thinking of making an upgrade soon, here are several additional elements that can really enhance the user experience on your website's homepage and take it to the next level:
Customizable property search
Explainer video
Interactive area map
List of areas of expertise
Blog post snippets
Team section to feature your agents
Social media feed
Automated chatbot
Translator
Transform your homepage to maximize its full potential and generate the leads you want.
Give us a call at 1.800.979.5799 or send a message here to craft an effective website homepage that will help you meet your business goals.
Did you enjoy reading this article?
Sign up for more updates with our Agent Intelligence Newsletter!
We are committed to protecting your privacy.
Real Estate Websites for Agents
Learn which package works best for you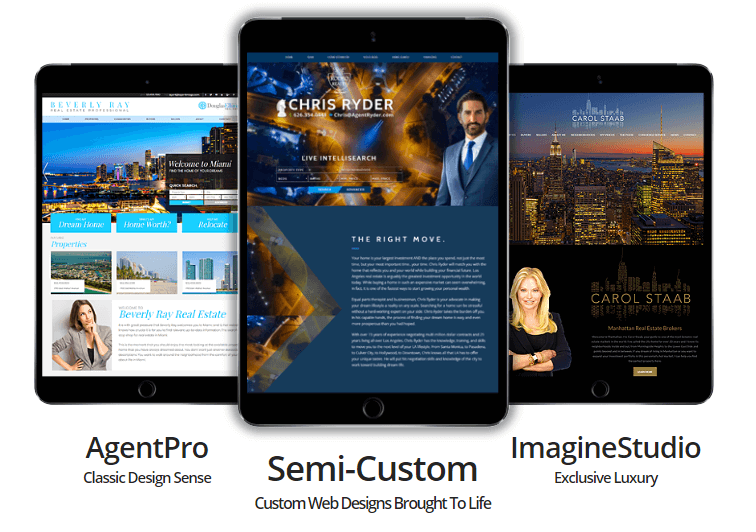 Learn More