9 Pro Tips on Acing Your Next Listing Presentation and Open House
Selling properties is part and parcel of being an agent. But before you can list a seller's home or schedule an open house, you have to sell something just as crucial first: yourself!
And selling your services often means giving a splendid client presentation — something easier said than done. Don't fret, though, as we have pro tips that will help you master this all-important aspect of business development.
PRO TIP #1
Have A Strong Online Presence
Your online presence plays a big role in whether a client selects you or not. Buyers and sellers don't live in a bubble — they'll almost always research an agent before asking them to pitch for their business. If your website is clunky, if you're not on social media, or if you have less-than-stellar Google reviews, you won't even be invited to present. That's why it's so crucial to have a strong brand presence because it gives you a foot in the door.
Not sure where to begin? A trusted partner like Agent Image can help you chart a path toward success with a new website and effective digital marketing strategies.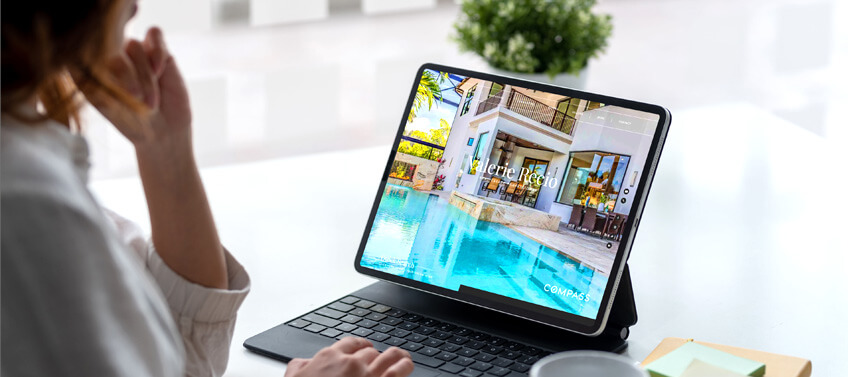 PRO TIP #2
Use Downtime Productively
You've booked a presentation to a buyer or seller. But apart from jazzing up your deck, you can also use the time in between to prime your prospects. Our friend Tom Ferry, who holds sales master classes for realtors, says you can send a video thanking the would-be client for choosing you. Furthermore, he recommends sending an email that provides a preview of the strategy you plan to use. Doing so gives prospects a taste of the hands-on service you offer and can make them more receptive to your pitch. You can also use this period to ask questions about the client's needs, which in turn allows you to further fine-tune your presentation.
PRO TIP #3
Start At The End
The first 60 seconds of a meeting are the most crucial time to create a good first impression. Sure, you could shower your prospects with platitudes, but why not lead off with your success stories instead? After all, what they really want to hear is whether you can help them reach their real estate goals — and what better way to do that than by starting off your presentation with a case study? Starting your pitch at the end, as our client Gary Gold puts it, sends the strongest message possible: I've done it before and I can do it again for you.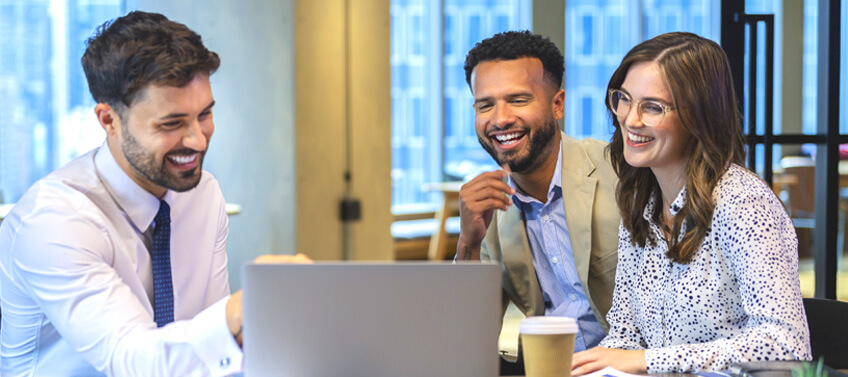 PRO TIP #4
State Your Plan
Homes for sale are drying up as interest rates soar and buyers rethink their options. If you're lucky enough to pitch for a listing, your presentation should clearly state how you plan to sell the property in today's tough market.
More specifically, your deck should include concrete details for your marketing strategy. What channels are you going to use? How will digital media play a role? Will you commission photographers and 3D tour experts?
2023 is projected to be a challenging year for real estate. Your presentation should provide assurance that you can close the deal with no trouble.
PRO TIP #5
Lather On The Visual Appeal
It bears repeating that first impressions are paramount in real estate. So if you're making a presentation, you want your deck to be just as impressive as your listing.
Think sleek layouts and modern design elements. At the same time, you don't want your deck to be so busy that it overshadows the property. As with most things that involve good taste, a fine balance is needed.
Of course, not everyone has an art director's eye, so Agent Image created ACCESS to help you prepare stunning decks without ever having to hire a graphic designer. With a selection of professionally designed templates that draw from our skills as award-winning real estate website designers, ACCESS is the fastest way to make presentations that sell. Even better, you can sign up today and get something published in a matter of minutes. And it's absolutely free.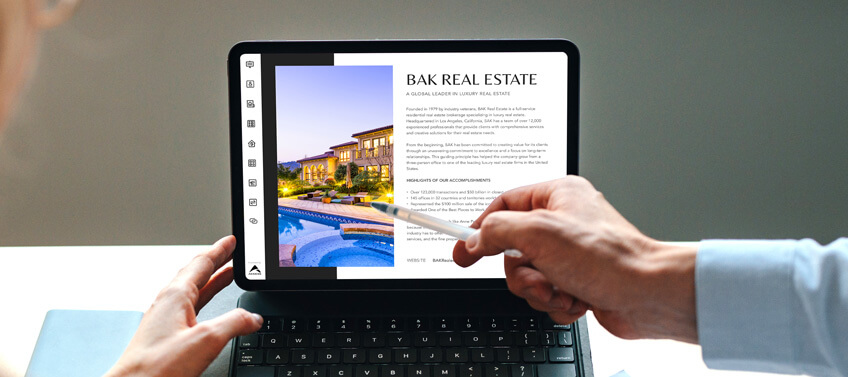 PRO TIP #6
Immerse Prospects With Imagery
The goal of any presentation is simple: to make a prospect fall in love with a property. Hence, it's important that your deck is more than just a collection of slides with information on them; instead, it should be an immersive experience that gives buyers a clear idea of what it's like to live in that home.
To that end, you can make your presentation stand out by adding photo galleries and video walkthroughs. Platforms like ACCESS even allow you to embed 3D tours from Matterport to make your presentation even more impressive.
PRO TIP #7
Let The Numbers Speak
Ultimately, you'll have to tackle pricing in your presentation. And any conversation about money is bound to be subjective. Shouldn't my property command more on the market? Isn't it possible to find a house in my budget range?
An experienced agent knows that including a local market overview in their presentation allows them to divert the conversion from speculation to certainty. More importantly, it shows their mastery of the property market and their data-driven approach to real estate.
PRO TIP #8
Include Client Testimonials
Who better to convince a possible client of your top-notch service than a former client? After all, they can provide first-hand insights into what it's like to work with you and the results you can achieve. Testimonials are even more powerful if they're in video format, but even standard written reviews can lend an indelible sheen of credibility to your business. Not sure how to solicit reviews from past clients? Here's a step-by-step guide we prepared.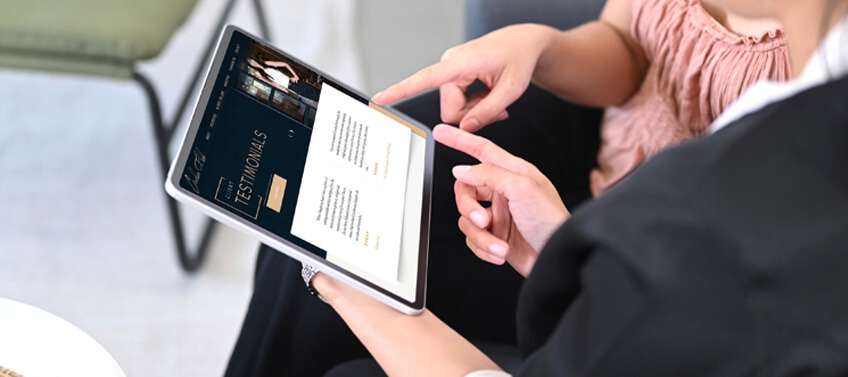 PRO TIP #9
Rehearse As If The Deal Depends On It
Because it does. With so many agents to choose from, being invited to present is a privilege not many get, so don't waste this opportunity! Rehearse your pitch from top to bottom to see if there's good flow. You should also anticipate any questions prospects might have so you can research the data in advance. Remember: fortune favors the prepared!
Get The Help You Need
A successful presentation has many moving parts. With ACCESS, you can leave the template design to us so you can focus more on selling yourself. Our FREE trial period won't last forever, though, so sign up today!
Did you enjoy reading this article?
Sign up for more updates with our Agent Intelligence Newsletter!
We are committed to protecting your privacy.
Real Estate Websites for Agents
Learn which package works best for you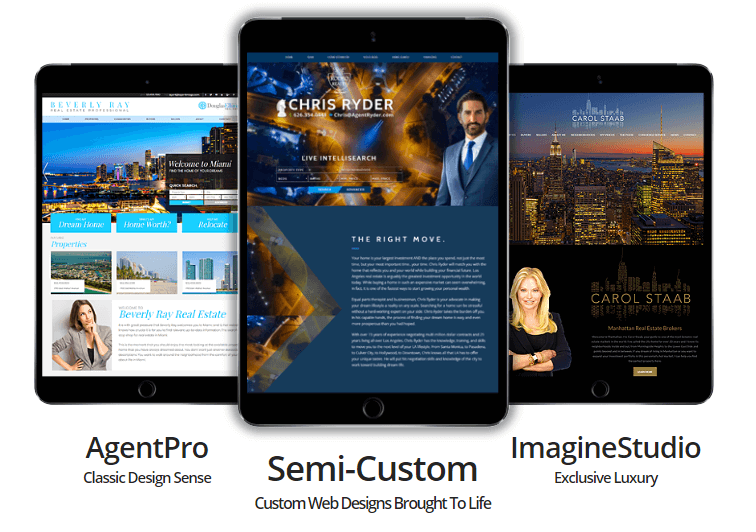 Learn More