Advantages of a Custom-Designed Real Estate Website
Aside from serving a practical function, a well-designed website plays a major role in how people view your business. However, there are times when a template website doesn't meet all your requirements in terms of design, features and functionality. This is one reason why more discerning companies go for a unique, custom website that fully embodies their brand. How you present yourself online through your website, will give potential clients an idea of who you are as a professional.*
Without a professionally designed site, you give your competitor the advantage and lose out on being unique. A custom website works to your advantage in more ways than one:
Branding advantage. Using a template-based design might not always meet the requirements of your branding goals. Ideally, you probably envision a website with multiple functionality, tools and pages that will be of value to your clients. Aesthetically, you have more control of how your homepage and inner pages look and this is important in achieving branding consistency. First impressions last, so it is important to engage people from the get go.
Increased flexibility. As with other industries, the real estate arena copes with significant changes in trends and market demand. To adapt, agents need a dynamic website that will let them update their content as needed. A custom website allows for this flexibility since you will be defining these needs on the onset of your web design process. Along with a unique, full-custom homepage and inner pages, examples of custom features include custom photo or video galleries, integrated blog, resource modules and tools, roadmaps, internet marketing and lead generation tools. Agent Image's dedicated support reps can increase the scalability of your site to accommodate these changes.

(Update: Agent Image TV is no longer offering video services. If you are looking for real estate website and marketing services, please visit www.agentimage.com.)

Less talk, more action. When you have a professionally designed and SEO-enhanced website, you don't have to be hands-on all the time. The less time you spend managing and updating your website, the more you can focus your energy and time on clients, actual sales, and marketing. If you have an Agent Image website, you can rely on our Support team to help you perform website updates. Please contact your dedicated web consultant for more information.
Get Recognition. You can proudly submit your premium-designed website to design galleries or web design competitions. As an example, the Web Marketing Association has an annual WebAward Competition that includes a category for the Best Real Estate Website. You may also enter your website in the next Webby Award under the Real Estate category. This is a great (and rewarding) way to get recognition and stand out from the competition. That way, you can also reach more people who may not be exposed to your services otherwise.
Air of expertise. A custom-designed website should be comprehensive enough in showcasing your services. Whether your expertise lies in excellent customer relations or an unprecedented knowledge of local culture, your website should effectively lead your web visitors to the direction of your best services.
If nothing else, a custom website is an investment. Your website should aim to be a major channel for generating business. Carefully plan and put your best effort in working with your Project Manager to create the website that benefits you. Visualize your overall goals for your site and outline the marketing strategies you want to achieve with your website.
If you're uncertain what kind of layout will work for you, Agent Image has different options depending on whether you are a broker, agent, or lender. You can draw inspiration from some of our finished products with past clients which are available on our Semi Custom, True Custom or ImagineStudio showcase gallery. Learn more about how we can cater to your unique needs in the real estate industry. Sign up for a free consultation or call us directly at 1.800.492.6777.
*Check out the Stanford Web Credibility Research and their guidelines on web design.
Did you enjoy reading this article?
Sign up for more updates with our Agent Intelligence Newsletter!
We are committed to protecting your privacy.
Real Estate Websites for Agents
Learn which package works best for you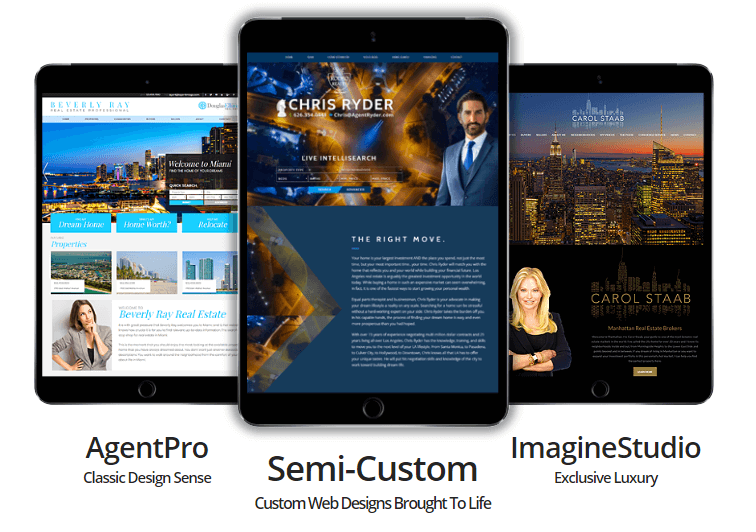 Learn More