Amplify Your iPad Listing Presentation
For the tech-savvy real estate agent, gadgets are more than just tools. They are virtual assistants in closing the best transactions. Along with the smart phone, the iPad with the latest real estate applications, can be the most helpful of all. With enough confidence, an agent with an iPad can pull off a very impressive listing presentation.
Here are some iPad productivity tools to get you started:
Keynote
Mac's version of Powerpoint, Keynote provides templates that are suitable for a listing presentation. In a matter of minutes, you can create your presentation through their pre-made backgrounds of over 44 designs.
Easily add other elements such as the interior and exterior photos of the house you are selling, a marketing 3D chart and your proposed floor plan. All these can be placed into the presentation through Keynotes drag-and-drop feature across iPhoto, iTunes and other Mac OS applications.
VLC Media Player
Impress your prospects with a professionally produces listing presentation video.
Your video should be short and straight to the point.
Highlight your company, your past successful sales and clients and the unique services you offer that will be of value to your clients.
If a home owner is looking to list their home with you, proudly show your real estate website and discuss the many ways you can sell their homes fast.
If you can get video testimonials of recent clients who you have worked with, that says a lot about your service.
(Update: Agent Image TV is no longer offering video services. If you are looking for real estate website and marketing services, please visit www.agentimage.com.)
REALTOR.com® iPad Listing Presentation
Available for the iPad or any Mac OSX computer, this real estate app updates through the NAR's REALTOR.com website. This app allows viewing of large-scale photos which is crucial when showing off house listings.
Helps in organizing your listings by providing the "Viewed" indicator and marking other sold properties within the perimeter of the estate for sale.
Includes mapping capabilities, area highlighter, area scout, foreclosures, and price comparisons.
Did you enjoy reading this article?
Sign up for more updates with our Agent Intelligence Newsletter!
We are committed to protecting your privacy.
Real Estate Websites for Agents
Learn which package works best for you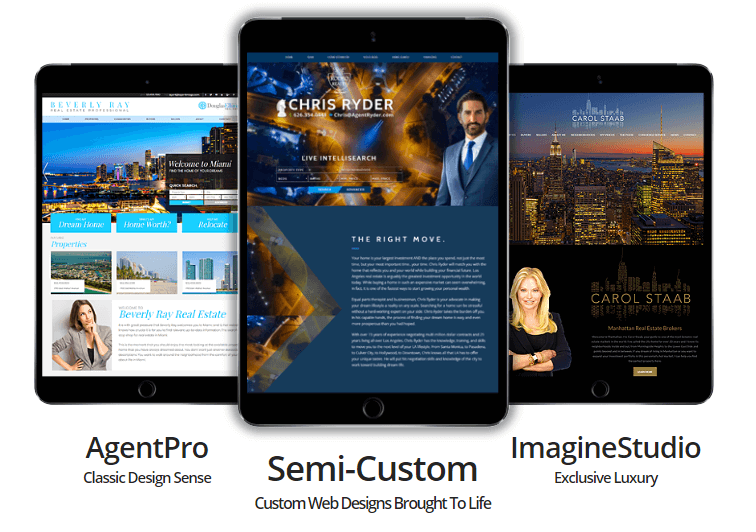 Learn More