Close Out December by Getting Yourself Ready for the New Year
For those of you who have weathered the "real estate storm" of 2008, congratulations – you are more resilient than most have proven. As many real estate professionals are looking to close out the year and put it behind them, the last month of 2008 is not one to just sit back and relax. As a matter of fact, it is the perfect time to sit down and revisit how you are going to hit the ground running in 2009 – if you haven't already done so.
With the economy still on shaky ground, home buyers having a difficult time getting financing and foreclosure numbers continuing to skyrocket across the country, the question is: How do you plan on adjusting your real estate marketing strategy to reflect this new economy we are up against?
The consistently successful agents continue to try new things, broaden their marketing reach, hit new marketing angles and most importantly, try to be the first to market with new ideas, techniques and strategies. You don't have to be the nation's top producer to pull these things off, but you have to market yourself like one if you want to be profitable in this economy.
You are probably wondering now how to pull this off. The answer is to market smarter, not harder. One way to do this is to think like a consumer in this economy. As a consumer, you want and need information first and foremost. You want it fast and you want it to be useful, unique and relevant to your particular situation. As a real estate professional, you can reach out to these prospects / consumers by giving them the information they need and want, but in a way that is interesting, digestible, useful and specific to their exact needs.
If you haven't noticed by now, traditional, static websites and old fashioned print marketing techniques are slowly becoming a thing of the past. The new real estate consumer is more advanced. Blogs, videos, podcasts, and interactive websites are what your consumers expect now. These are all different ways to release the same information faster and more effectively. This is marketing smarter! Listen to what your consumers want and need and give it to them how they want to receive it, not how you want to give it to them or how you only know how to release it. Use these new technologies to give your prospects, and even your current clients, useful and educational information related specifically to them and watch the following you will receive.
As we find ourselves in the holiday season don't kick your feet up and take your ineffective, boring real estate marketing strategy into the New Year. Instead, spend this last month to think about how you can broadcast everything you possibly know about what you specialize in to as many people as possible. Utilize interesting marketing mediums like Blogs, Videos, Podcasting and Interactive Websites to reach your prospects where they spend the most time….on the Internet.
Agent Image wishes you the best this holiday season. Give us a call if you would like to learn more about how to revamp your marketing strategy to make your 2009 a fruitful one.
Happy Holidays!
Did you enjoy reading this article?
Sign up for more updates with our Agent Intelligence Newsletter!
We are committed to protecting your privacy.
Real Estate Websites for Agents
Learn which package works best for you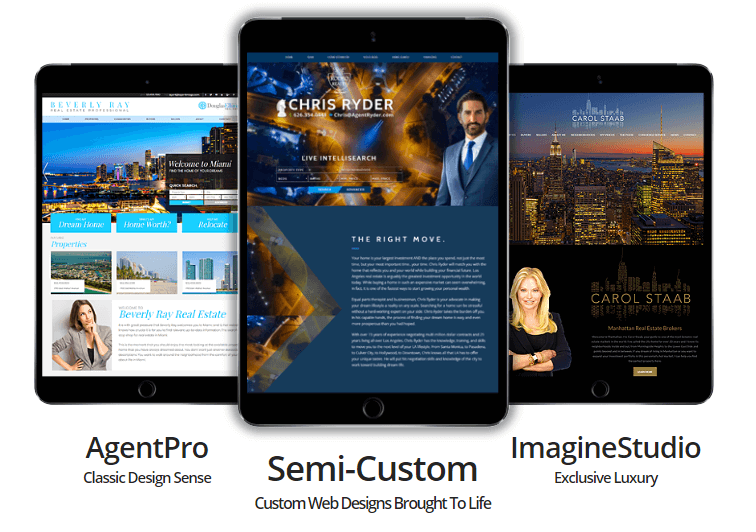 Learn More