Five Simple Ways to Boost Your Online Presence
With real estate related searches increasing to an all-time high of 253%, according to a recent study conducted by Google and the National Association of REALTORS®, boosting your website's online presence has never been more crucial. Here are some tips on how to play the digital marketing game and amp up your presence online.
Make your content count. One way of generating interest is for your website to provide quality content that people can rely on. Useful information, articles, related features, and the like will make your website visitors want to come back – in other words, you'll want to your site to be known as a trustworthy source of information.
Pro tip: A tried-and-tested search engine optimization (SEO) technique, "deep linking" your homepage to other websites and blogs that post similar topics enables you to add more content to your own site. Using site maps and internal links also contribute to generating more activity on your website.
Use the local lingo. As prospective home buyers use local terms when searching the internet for listings, making use of local terms in marketing allows your website to appear higher on the results page. It also improves its SEO.
Establish a mobile presence for your business. With the popularity of handheld smart devices ever increasing, more and more people are conducting their house search through the use of mobile search engines and mobile apps. Having a mobile presence for your business allows you to become more accessible to your potential customers.
Pro tip: Try using apps that are tailor-made for the real estate industry. Such apps will help you reach out to clients and potential clients and conduct business on-the-go. Keeping a mobile presence will also work to your advantage when dealing with tech-savvy clients.
Make your mark on social media. Expand your audience further and get to interact with potential customers and clients by using social media. Share tips, photos, videos – anything that can help promote your brand.
Pro tip: Make sure to insert links to your social media accounts on your business cards and each email you send!
Focus on quality. You're facing tons of competition, so your content needs to be good in order for you to stand out. Make good, original content that's readable, entertaining, and informative. When you create content that stands out, audiences will look forward to whatever you come up with next, further boosting your online presence.
If you need more tips and advice on how to make your website perform better, please give us a call at 1.800.979.5799.
Did you enjoy reading this article?
Sign up for more updates with our Agent Intelligence Newsletter!
We are committed to protecting your privacy.
Real Estate Websites for Agents
Learn which package works best for you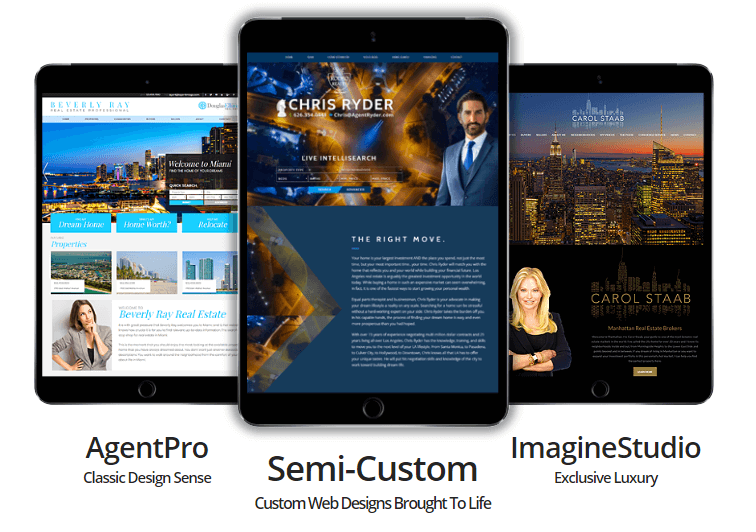 Learn More