Get "The Very Best Real Estate Videos" with Agent Image TV
Update: Agent Image TV is no longer offering video services. If you are looking for real estate website and marketing services, please visit www.agentimage.com.
---
Video marketing and online content sharing for the first half of 2011 continues to expand in growth and importance, with Google showing an estimated 22,200 monthly queries for the keyword "real estate video" and an estimated 60,500 monthly queries for "video tours". The keyword "video" alone gets an estimated global monthly search of 755 million.
Use Video for Your Next Listing Presentation:
Have you exercised your efforts to get into the front door of a prospect seller, only to pull out the same presentation that looks the same as any other agent's? If you've been doing what it seems like the same listing presentation over and over again, maybe it's time to think about revamping your presentation style.
Why Video?
People, by nature, are highly influenced by visual cues. What we see with our eyes instantly engages our emotions and sets first impressions. When it comes to listing presentations, powerful communication tools like a listing presentation video will definitely help set you apart. This is especially true if sellers are comparing you to agents who have approaches that are less engaging. At the end of the day, a listing presentation's success depends on how well you "click" with the client based on the impression you have left with them. Your listing presentation video must be able to help you secure the listing, and at the same time, answer all the major questions that the seller may have.
In a continued effort to provide the most effective marketing solutions to our clients, Agent Image is now offering real estate video products, alongside our website and internet marketing packages with the launch of AgentImage.TV, geared to assist real estate agents to easily add property videos, agent videos or video tours on their real estate websites.
With Google 's acquisition of YouTube and a shift by popular search engines like Google, Yahoo and Bing to blended search, the addition of video marketing will greatly benefit real estate professionals and ensures that our goal of bringing value to our clients by driving business to them through local search is achieved.
Please see our official Press Release for more details.
Agent Image TV allows you to:
Link video tours to your property listings.
Showcase your expertise and star in your own agent video.
Combine multiple elements (videos, music, photos, text) into high-quality video clips.
Embed videos on your website.
Share your uploaded videos.
Encourage user generated comments and reviews by showcasing your video on YouTube or Vimeo for exposure to millions!
Turnaround time for video production is only 10-14 business days. Visit Agent Image TV or call 1.877.270.0303 to get your own real estate video today
Did you enjoy reading this article?
Sign up for more updates with our Agent Intelligence Newsletter!
We are committed to protecting your privacy.
Real Estate Websites for Agents
Learn which package works best for you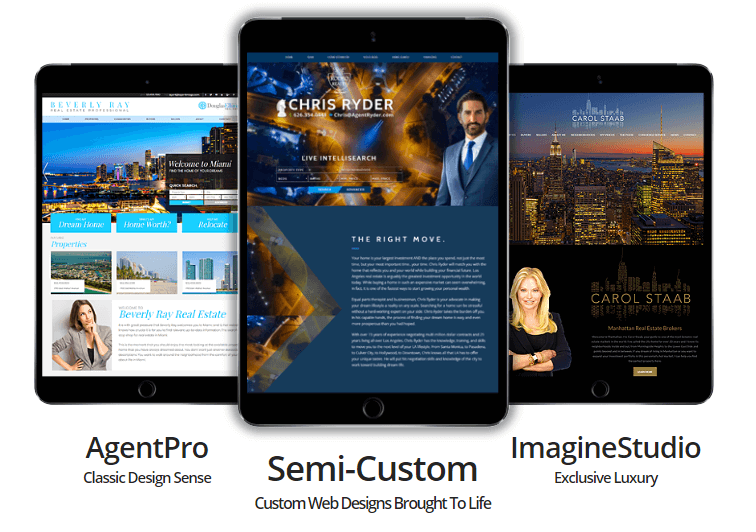 Learn More