Is It Time for a Website Renovation?
There's a lot of wisdom in the saying "don't judge a book by its cover". However, the truth of the matter is, a well designed cover always helps in attracting attention and generating interest. The same goes for websites – retain the same plain old look you've had for years and consumers will lose interest. What people want to see is you keeping up with trends in the market and adjusting your online look accordingly.
Just like with a home, renovations, interior and exterior design all join forces to add value to your property while enticing prospective buyers to take a look. The same thinking applies to your website. Agent Image offers special packages designed to keep your website looking fresh and ultimately attract new and repeat visitors to your site. By updating your content regularly, you will show consumers that you have something new to offer them on a regular basis which will keep them coming back for more, while gaining benefits from search engine optimization.
Another good reason to give your website a makeover every few months is that it presents you with a great opportunity to contact both past and existing clients in your database. Inform them about updates to your site and share any special offers you might have that will entice them to visit your website. Highlight your selling points and showcase what makes you different from the competition. Always have a call to action on your site saying why they should choose you among other agents or brokers.
Here are some pointers on how to make the most of your website makeover:
Make it personal! – Personalize your site with information about you. Post a mini-biography on your life and talk about why you enjoy doing what you do as a real estate professional. It's basic human nature. People relate with other people and function through emotion.
PR goes a long way – If you contribute to a charity or are part of a non-profit organization, highlight and address your good deeds. Maybe you have a special hobby or interest. You can address these things on your site to evoke compassion, attention and relate to your clients.
Pictures paint a thousand words – Use your agent photo or company group photo on the Home Page, About Page, Communities Page and Company Page to personalize your site. Taking the extra time to take digital photos of your area or hire a photographer to do visual wonders for your site. Entice prospective residents or investors with nice graphical images of impressive locations and properties in your area.
For more info, contact support(at)agentimage(dotted)com or call 1.800.492.6777.
Did you enjoy reading this article?
Sign up for more updates with our Agent Intelligence Newsletter!
We are committed to protecting your privacy.
Real Estate Websites for Agents
Learn which package works best for you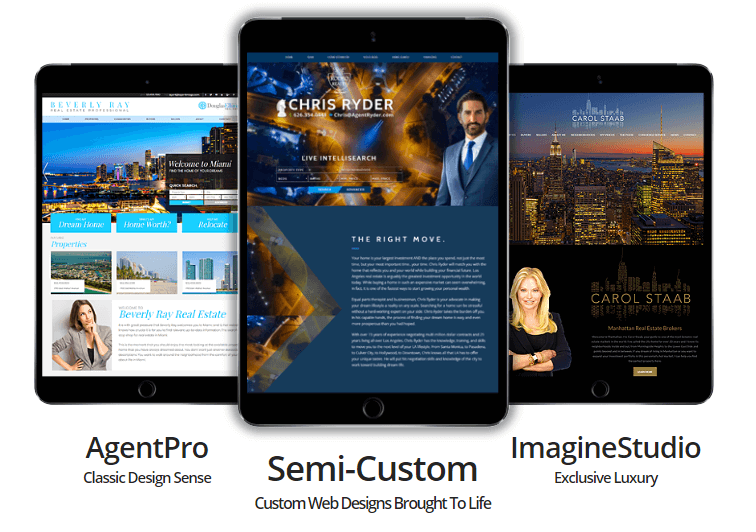 Learn More