Lead Customers to Your Website with QR Codes
Nowadays, leading people to your website is a convenient and high-tech affair thanks to the innovation of QR Codes. These two-dimensional bar codes that resemble abstract digital art, started in Japan and became popular due to the increasing use of smartphone technology. It's the quickest way of leading people to the Web, and all you need is a smartphone with camera and a QR code scanner app.
QR, which stands for quick response, provides fast information for people on the go due to the ease with which more data can be accessed. QR codes are great for tech savvy smartphone users who prefer texting instead of talking on the phone. When a QR code is scanned, a URL is revealed like a magic surprise. The mobile phone will then open that URL using its browser and ultimately lead users to a website page. There is no need to write vital details down; a simple scan captures the desired information.
There are three major steps to get started on using QR codes in your marketing:
Download a QR code reader on your smart phone. (This is to test your QR codes and also scan other QR codes out there.)
Create QR codes using an online generator.
Apply QR codes to your marketing.
1. Download a QR Code Reader
According to Realtor® Magazine's article on QR codes, you can start your search for free QR code reader apps for your smartphone (by smartphone type) at these places:
Once you've downloaded your reader, test it out by scanning this image:

2. Create Your QR Codes
We recommend creating your codes with the BeQRious QR code generator. There are options to create basic codes, codes for social media and codes with images. Save your codes to your computer with the PDF option for print purposes and the GIF option for web purposes.
3. Apply QR Codes to Your Marketing
Although it is still an emerging technology, QR codes are starting to get noticed and appreciated as an effective marketing tool. You can place QR codes on:
Flyers, business cards and print ads. Link to specific pages on your website like the listings section. Create codes for each listing to drive traffic to your site. Then boost your listing pages with photos, video links and detailed information.
Social networking sites. QR codes can also be shared on sites like Facebook and Twitter. Simply upload a photo of your QR code and caption it with something like, "Check out my new listing with your QR reader." Be sure your privacy settings are adjusted for maximum exposure, or send to lists or groups set up in your Facebook or Twitter accounts.
Sign riders. By adding QR codes to your signs, prospects can simply approach them and scan for more listing info. Make sure the code is at least 10"x10" so people can easily scan from a distance.
The options are endless. You also can post QR codes on car decals, t-shirts, mugs, calendars and more.
Since QR codes can be used to store a website address, phone number, email or specific text, they are a powerful tool that can act as a liaison for your website. Research has shown that listings marketed with QR codes can acquire more traffic. QR codes were also heavily seen at the recent NAR Expo in New Orleans to promote various real estate vendors and companies. How are you going to incorporate this new way to market?
For more info and tips on using QR Codes, contact support(at)agentimage(dotted)com or call 1.800.492.6777.
Did you enjoy reading this article?
Sign up for more updates with our Agent Intelligence Newsletter!
We are committed to protecting your privacy.
Real Estate Websites for Agents
Learn which package works best for you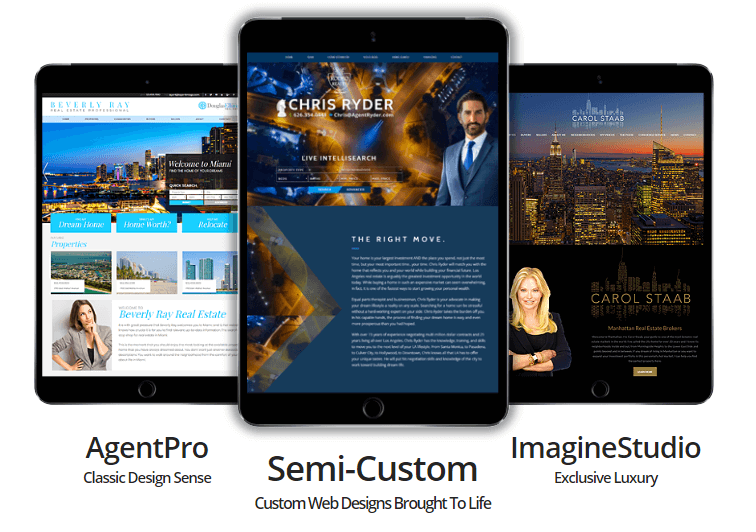 Learn More