Master Your Agent Brand with the New AgentPro Website Designs
Competition in the real estate market has never been fiercer. How can brokers generate more views to their website and generate quality leads that convert? One thing that will certainly help is simply having a better website than the competition. The question then is, what makes a better website?
To start, the website has to be aesthetically pleasing, with a good layout and quality images. But it also needs to address the questions that buyers and sellers are asking; it needs to provide them with pertinent information and it needs to do it in the smoothest, most intuitive way it can.
This is where Agent Image's line of AgentPro website designs come in.
Fully equipped with important features such as updateable featured properties, virtual tour compatibility, community pages, customizable content pages, resource pages, and the ability to add Multiple Listing Service (MLS), AgentPro website designs are specifically engineered to help real estate agents and firms stand out from the rest of the crowd.
Not only are they designed to be eye-catching and beautiful, they are also designed to showcase the client's expertise and experience, as well as share important real estate information to site visitors.
AgentPro designs are also designed for easy IDX integration, which means that the websites, once brought online, can show visitors not just an agent's current listing, but also properties on an MLS that an agent belongs to.
Recognizing that the online world is shifting rapidly toward much more mobile use, the designs are engineered to be mobile-responsive. No matter which device a visitor uses to view your pages, they'll look great and offer fantastic user experience.
Professionally designed and full-featured, AgentPro designs are perfect for realtors and other real estate professionals who want a practical yet upmarket solution for their marketing. Here are some of the newest AgentPro designs available.
Legacy
An image-driven design, Legacy's homepage utilizes panels which can host eye-catching photographs, graphical information of properties, or any call to action that a client requires.
Navigation is smooth, seamless and intuitive, making it extremely user-friendly.
Legacy is about dynamic and bold visuals with built-in functionality. Visitors are immediately presented with a visual of a dream home. Tastefully embedded within this panel is a property search bar which is transparent, so it does not break the image of the dream home yet still provides a very useful property search function right at the beginning of any visitor's search.
Realtors and other real estate professionals who want to connect to a wider audience will be delighted to know that Legacy is ready for social media integration, with the site layout allocating space for both Facebook and Instagram on its homepage.
The layout's color palette can also be customized to reflect the realtor's company or personal branding, strengthening their message across different marketing strategies.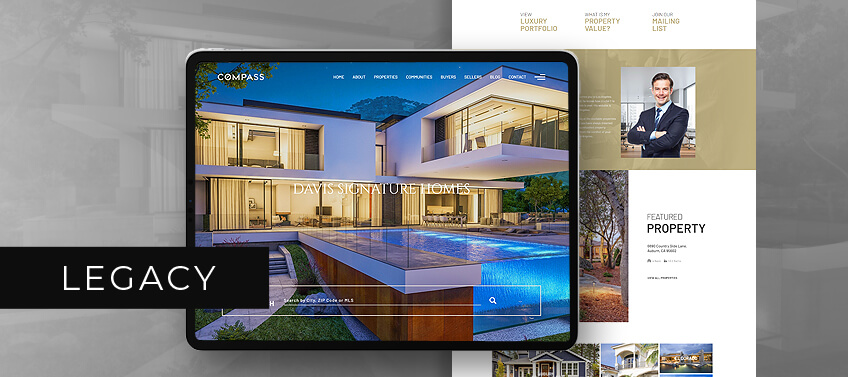 Element
The Element design puts emphasis on imagery, with its homepage displaying big and bold photos of the listings. This use of imagery carries over to the individual pages of the listings as well with a scrolling gallery of the property's interiors and exteriors.
Element also makes good use of negative space all throughout the site, which helps give its pages a bright, clean, and uncluttered look. The particular sections such as a property quick search is well defined and easily found within the homepage.
Like Legacy, it features listings along with the most sought after information straight from the homepage, with the option to click to dig deeper into the detail of the property. This provides a new and natural navigation experience from more traditional methods of going through the different search options. Of course visitors can still search by opening tabs such as properties or communities; but should a featured property catch their eye, they can find out more about it immediately. It's a great way to present featured homes to prospective leads.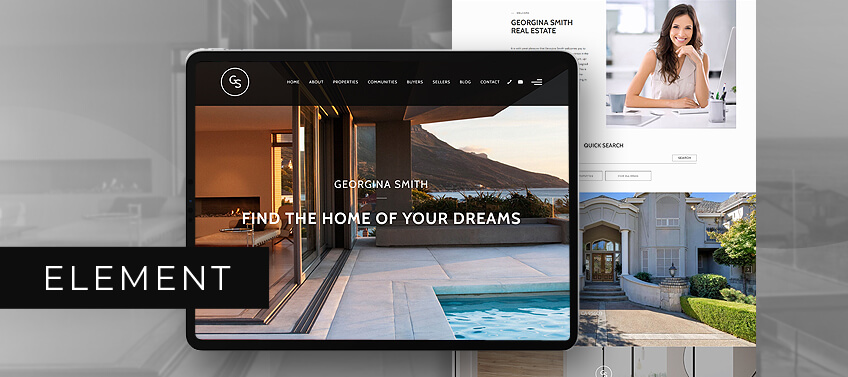 Amante II
Amante II maximizes visual impact by presenting featured listings immediately upon the visitor opening the homepage. Unobtrusive yet clear information about pricing can be placed at the bottom of the image.
The property search bar is placed directly beneath the presentation of listed properties and requires a minimal scroll to use. Compact yet clear, it presents multiple options when defining search criteria such as property type, bedrooms, bathrooms, and max and min prices.
Amante puts a premium on other useful types of information, with the site allocating space on its homepage to feature blogs or articles for its visitors.
The design also has call-to-action buttons embedded on its homepage, which visitors can use to check their property's value, find new properties to buy, and get assistance for a stress-free move.
As with all AgentPro designs, Amante's color scheme can be customized according to the client's preferences.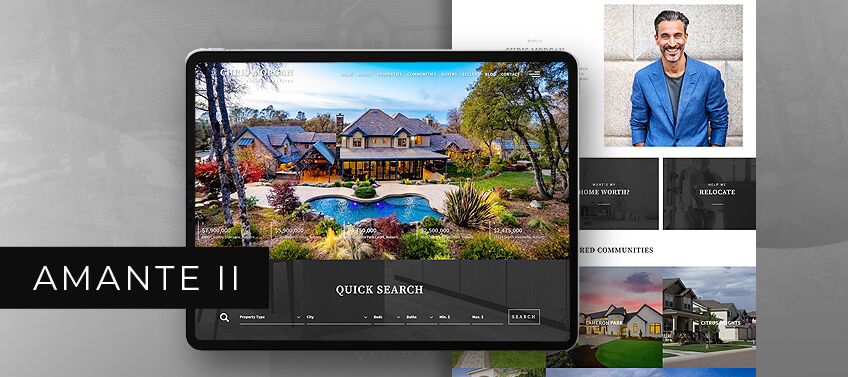 Iconic
Iconic boasts several elements that distinguish it from other websites. Notably there is a sidebar menu for accessing social media pages. This can be used to reach out and expand a realtor's community, keep that community updated with direct real-time feeds, and strengthen brand awareness.
Select listings are also highlighted on Iconic's homepage—complete with the properties' basic information. Clicking on the basic information expands the panel to provide further details and takes the prospective lead to the property's page to view a gallery and where they can find out more about the property.
With a user-focused design, Iconic's design is polished, clean, and remarkably easy to navigate.
Whichever design you choose, you get a website that is not only beautiful, but also powerful, intuitive and seamless. To stand out from the rest, give your visitors a new, upmarket experience that truly represents the professional and dynamic nature of your brand.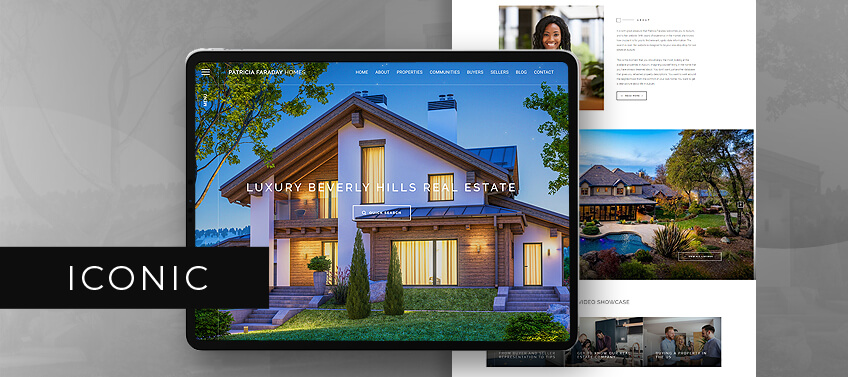 Agent Image
A premier web consulting and design studio, Agent Image is a leading business-to-business provider of quality products to realtors, brokers, agents and other real estate professionals.
These products include website designs for agents and brokerages that encompass a wide range of price points fit for any budget. The three most popular websites include AgentPro, Semi-Custom, and ImagineStudio, which are all crafted to shine a light on the realtors' fields of expertise, boost their presence online, and ultimately, give real estate professionals their hard-earned money's worth.
As the name suggests, designs from the Semi-Custom allow real estate professionals to customize their homepage's design layout in order to better communicate their story and brand to their respective clients.
The luxury real estate website designs from the ImagineStudio, on the other hand, are one-of-a-kind creations with custom-crafted homepage and inner page design, all of which are created with the goal of giving you and your viewers the ultimate personalized experience.

Ready to take your real estate website to the next level? Contact our team of website consultants today at 800.979.5799 or visit our website to schedule a free demo on how Agent Image can help improve your real estate business.
Did you enjoy reading this article?
Sign up for more updates with our Agent Intelligence Newsletter!
We are committed to protecting your privacy.
Real Estate Websites for Agents
Learn which package works best for you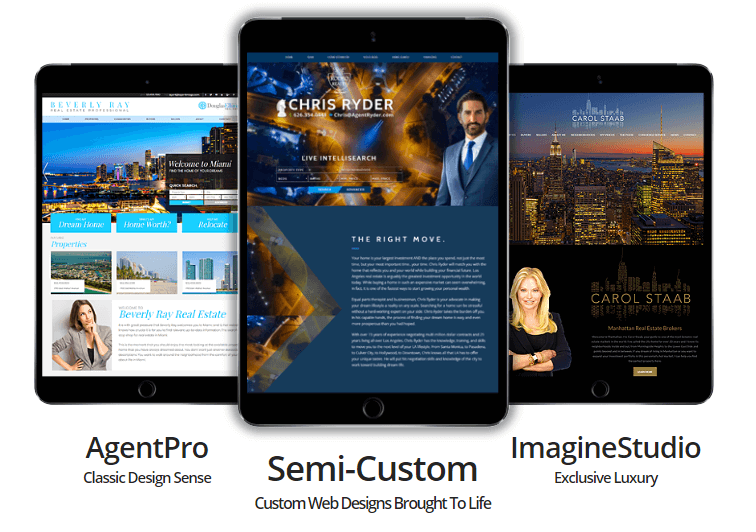 Learn More