Must-Have Homepage Design Ideas for Your Real Estate Website
As a real estate agent, you know the importance of curb appeal and first impressions. But did you know that the same principle applies to your website's homepage, too?
Most people today search for real estate agents online, meaning their first touch-point with you will likely be your homepage. Will it entice them or drive them away? To make the most crucial part of your site more effective, read our in-depth blog.
Why does good homepage design matter?
Gone are the days when having a website was enough. Today, people expect sites — and especially their homepages — to deliver an excellent browsing experience. On top of that, Google, the world's biggest search engine, has made user experience a ranking factor. Here are key reasons why your website homepage should be optimized: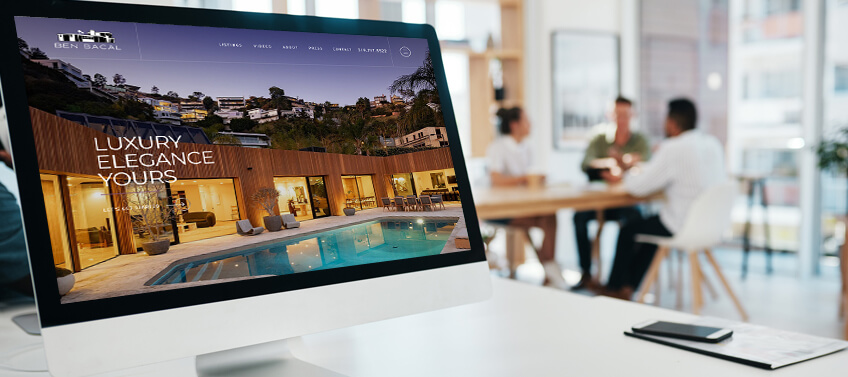 Good design establishes trust — As we've said before, first impressions matter. If you want people to choose you as their agent, your homepage has to look polished and credible. After all, they are entrusting you to help them buy or sell their most valuable asset. A poorly laid out homepage inspires little trust and reflects on your taste and expertise. Remember that your website is an extension of your service, so make sure it's an accurate reflection of you and your brand.

Good design builds your brand — With thousands of agents in your market, your website's homepage design can help you stand out. Serving as your business storefront that you can fully control and curate, you can use the website homepage to tell your brand story and highlight your credentials or achievements. You can also design the homepage so that it gives people a clear view of the properties you specialize in and the lifestyle that they promise.

Good design promotes easy navigation — Today's internet users have ever-shortening attention spans; if they can't find what they're looking for on your site immediately, they won't hesitate to leave. If your website was a book, your homepage acts as the table of contents, providing people with an overview of what you can offer. Moreover, it also makes it easy to visit other parts of your site such as neighborhood profiles and resources for buyers or sellers. Now more than ever, the user is king — and your homepage should acknowledge this fact.

Good design generates leads — Of course, the ultimate goal of any website is to create more leads. If your homepage is visually appealing, easy to navigate, and informative, people are more likely to book a call with you. If the user experience is pleasant, they can also safely assume that working with you will be similarly pleasant as well. A good homepage design is both accessible and inviting, including features that make it easier for site visitors to get in touch by filling out an inquiry form or making a call within seconds.
How can you make your homepage better?
Now that you understand why your homepage should be hard-working, the real challenge begins: how do you make yours better? The design ideas below can help elevate your homepage and make it a bonafide lead magnet:
Have a video banner — When it comes to real estate, seeing is believing. So don't just showcase photos of the homes you're selling: capture them on video so prospects can better appreciate their true grandeur. Another advantage of leveraging videos on your site? Pictures can be easily manipulated to make a house more impressive than it really is. Visual trickery is harder with videos, however, so what people see is truly what they get. Featuring great video content is a selling point in itself. You can create a video banner to highlight featured homes or use it to introduce both yourself and your expertise.

Be generous with details — A house is a huge investment and buyers want all the information they can get before buying one. When you add listings to your homepage, make sure it has all relevant facts that a prospective client will look for. These include details such as the number of bedrooms and bathrooms, and square footage. If you have a virtual tour of the property or a well written description, be sure to incorporate it as well. By making information available on your website, browsers are more likely to click through and return time and time again because of the value you can provide upfront.

Use calls-to-action — All great real estate website designs use calls-to-action in a strategic way. These buttons are sprinkled throughout a website and tell users what you want them to do next, whether that's getting in touch with you or signing up for your newsletter. Be sure to make yours stand out by choosing bold colors and captivating copy. Be direct with your message. Focused and action-driven phrases are more likely to generate conversions.

Highlight your press mentions — Trust is the currency that all real estate agents trade on and it's important for your site to establish your credibility. A great way of doing so is by adding a dedicated press section to your homepage. This is the place to put all your media mentions, be it an interview with the local newspaper or a feature on a major magazine. Such coverage creates massive publicity that highlights your expertise. It tells people that you're not just any agent — you're an agent whose opinion matters and is worth their time and attention.

Have a chatbot — You can't man your website 24/7 but technology can on your behalf. Case in point: chatbots! These virtual assistants can answer frequently asked questions, recommend properties, and even schedule viewings. You can also customize the program according to your specific needs and your daily routine. As a result, you have more time to do other crucial tasks, like taking client calls, closing deals, and marketing your business. With the help of this tool, you can reduce client acquisition costs and land more deals without working harder.

Include social media links — You want site visitors to follow you on social media as well. Luckily, most content management platforms allow you to include quick links to your Facebook, Instagram, and Twitter accounts. These are often placed at the bottom or top of the website, and make it easy for people to keep up with your social posts. This feature will help grow your social media presence as well, which in turn boosts your profile and improves your searchability online.

Provide client testimonials — There's no better advertisement than good word-of-mouth. And who better to promote your services than your very own satisfied clients? Testimonials elevate your credibility as they give prospects a first-hand account of working with you. You can manually reach out to past clients to request for reviews, or you can use platforms like RealSatisfied to streamline the process. You can then create a dedicated section on your homepage where all of your positive reviews can be found.

Create neighborhood profiles — People don't just buy a home, they buy into a neighborhood. After all, where they live determines the kind of lifestyle they'll have. So beyond just listing properties on your homepage, have a section for featured communities as well. Be sure to give in-depth information about these locales, including their lifestyle, attractions, schools, and transportation options — all the things that will persuade buyers to move there. You can even create a downloadable community guide as a "freebie" to further entice prospects.

Include an interactive map — Adding an interactive element to your homepage will engage browsers and make them stay longer. A great idea is an interactive map that allows people to see listings as pins; hovering over these pins reveals further details about that home. Such a feature not only facilitates engagement but also contextualizes listings as people can clearly see whether a home is near a park, a school or a main highway.

Offer a home valuation tool — The best websites offer something useful to users. By adding a home valuation tool to your website, a seller simply needs to input their address to get a ballpark estimate. Offering free services like this builds their affinity with you and makes them more likely to tap you as their agent. Even if they're not quite ready to sell, you've captured their email address which allows you to send them market updates in the future. Now that's a win-win situation!

Make it easy to contact you — If your website does its job properly, users will be compelled to get in touch with you. But online-savvy folks are impatient, so your website must make it easy for them to reach you. The solution? Install a click-to-call button on your website. This nifty tool makes it possible to contact you or your office with a single tap of a finger, drastically reducing attrition. Most website themes and templates allow this feature so be sure to take advantage of it.
There's no underestimating the role your homepage plays in lead generation. We hope that the features above will help you spruce up your website and step up your online presence.
Need to revamp your real estate website for 2022? Let the experts at Agent Image handle the task. In our 22 years of experience, we've worked with the who's who of real estate, helping them create beautiful and effective sites. We would be thrilled to work our magic on yours as well.
If you want to turn your homepage and website into a lead generation machine, call 1-800-979-5799 for a free consultation!
Did you enjoy reading this article?
Sign up for more updates with our Agent Intelligence Newsletter!
We are committed to protecting your privacy.
Real Estate Websites for Agents
Learn which package works best for you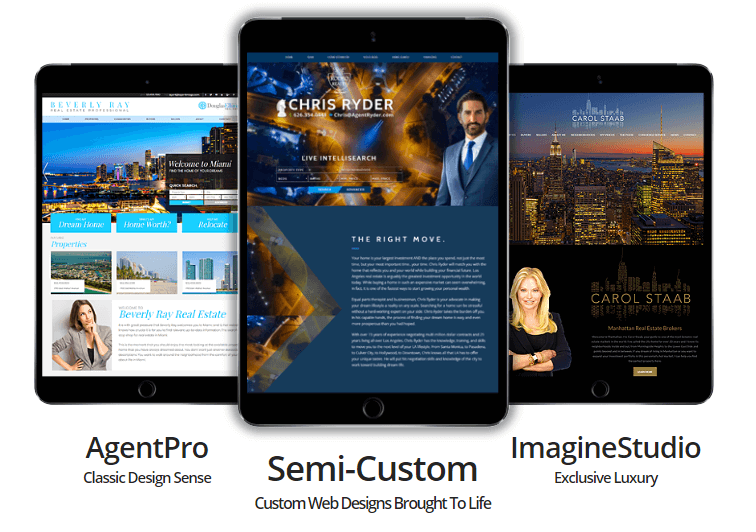 Learn More