Online Marketing Advice for Brokers
Brokers and real estate professionals can do a lot when it comes to promoting their business website. To turn one-time visitors into potential clients, it is important to maintain brand awareness so that they can easily recommend your website to others who might be in need of your services.
Offer something of value.
A way to stand out is to have a professional-looking website. A resource website that people can come back to time and time again.
Giving your visitors as much market information as you can not only provides them with a complete rundown of your business but also provides an avenue for trust.
Promote brand retention.
As a broker, you are responsible for having cohesive and consistent branding across brokerage and agent web sites.
If you own single property sites or if your agents have individual sites as well, make sure the branding design and message is consistent.
Make everything user-friendly.
Your website is your primary marketing tool to converting a client. Customers will browse your site only if the interface is easily navigable.
Managing a website is mostly trial-and-error. Web statistics like Google Analytics can give you specific details on your site's strength and weaknesses.
For example, monitor how far your web visitors scroll down through your site or which links they frequently access. By doing this, you can arrange your home page to cater to your visitors' needs.
Showcase client reviews.
There's nothing more convincing than an honest testimonial from a happy client. If you have received commendations or good feedback from previous transactions, ask your clients if you can showcase a snippet on your website.
Get your site listed.
Search for the hottest real estate directories and list your site there. There are a lot of free directories, real estate forums and social sites out there where you can promote your business.
Connect with other real estate businesses online. Offer your insight on other blogs, and ask them to do the same for yours. This will help further spread the word about your business.
Did you enjoy reading this article?
Sign up for more updates with our Agent Intelligence Newsletter!
We are committed to protecting your privacy.
Real Estate Websites for Agents
Learn which package works best for you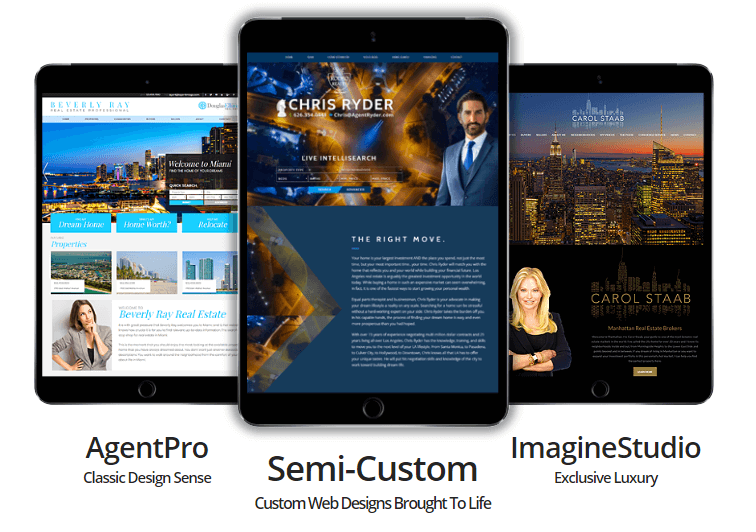 Learn More