Outsmart the Competition with These 10 Real Estate Marketing Strategies
Ready to make waves in real estate? It all begins with the right strategy.
Capture more leads and stand out from the competition with these tried and tested real estate marketing strategies.
Create a kick-ass website

Any real estate company worth its salt will have a strong online presence, whether through social media, online business directories, or an official site. Not only does it make it easier for prospective clients to find you, it also creates the impression that your company is legitimate.

The majority of clients start their search online when investigating agents and real estate services. Setting up a website lets you show prospects what your real estate brand has to offer. Beef up your site with active listings and quality content that's relevant to your audience.

A professional-looking, SEO-friendly website allows you to integrate advanced IDX into your page and guide leads through the conversion funnel, which is essential to the success of every real estate brand. You can also set your website apart by adding a unique real estate feature, such as a mortgage calculator, virtual staging, virtual tours, appointment setting, concierge services, and so on.

Get on Zillow

It's hard to overstate Zillow's marketing potential – the real estate site has 188 million monthly viewers, putting your brand in front of millions of prospects.

According to Statista, it's the leading real estate website in the United States, followed by Trulia and Yahoo! Homes. The website also found that buyers cited real estate websites as the most important source of information when making a home purchase in 2018, outperforming agents.

Setting up a profile lets you share your listings, gather online reviews, build your credibility as an agent, and make it easier for prospects to find you.

Zillow's online and mobile search tools, including its smartphone app, lets users search for property and view estimated property values for free.

An annual industry report states that 186 homes are viewed each second on Zillow's mobile app, with a total of 420 millions homes viewed per month on mobile alone.

You can make the site work for you by displaying Zillow testimonials from previous clients on your site, as well as including a link to your reviews page in emails and newsletters. Positive reviews bolster your credibility as a real estate company and encourage prospective clients to work with you.

Zillow also recently introduced Facebook Tabs, which allows you to integrate listings into your social media profile in a non-intrusive manner. The Reviews and Rating Tab, in particular, allows you to feature client testimonials on your FB page.

Start blogging

Starting a blog and posting relevant, carefully researched content can help you build authority in the real estate industry. It lets you discuss what you know and share your experiences as a Realtor with prospective clients.

A blog also serves as a touch point for prospects – posting regularly and having readers to subscribe to your blog gives you more opportunities to get them to convert.

Optimized content also has the potential to appear in online search results. Agent Image uses search engine optimization (SEO) tools like Google Analytics to find high intent keywords and phrases that your target clients using whenever they search online.

Show prospects the way

When creating a website, most agents forget to incorporate the user's journey and conversion funnel when conceptualizing the overall design. Making sure that you have intuitive navigation menus, clear calls to action, and a step-by-step conversion funnel in place can do wonders for your real estate brand.

Most prospects will browse through a website, make specific judgements about what you have on display, and possibly engage with your content before actually placing an inquiry. Users should be able to navigate easily and find what they need at certain stages in the buying or selling process. It's important to think about design cues like buttons, icons, logos, and search bars to make your site more user-friendly.

Having a well-designed conversion funnel has been shown to increase conversion rates, filtering out non-targeted individuals and retaining the ones who are likely to book your services. It also allows you to predict sales volume, showing you how many prospects make it to the final stage of the sales process, and helping you identify problematic areas on your website.

When laying down the design structure for your website, consider how visitors might travel through your site pages, putting a conversion funnel, or a predetermined path, in place.

Send those emails

An email marketing strategy is still one of the most effective ways to create a buzz around your brand with potential clients. According to a Benchmark survey, 63% of email users responded and engaged with real estate email marketing campaigns, while 22% planned to do so in the future.

Email marketing works by building a direct line of communication between you and your prospects, giving you the opportunity to build trust and move them along the conversion funnel.

The key to making email marketing work for you is to nurture a personal bond with prospects by providing value through newsletters and other communications that contain relevant information on current real estate events, updates on your service areas, local statistics, insight on local real estate laws and regulations, and more.

There are several ways to accomplish this:

Drip emails – For this, you can use an email autoresponder series, or a sequence of emails that automatically get sent to leads. After a prospect sends their contact information through the site, send them an initial email, which serves as an introduction to your brand and services.

Later emails can be sent at intervals, usually several days apart, containing information on new listings, neighborhood developments, and market analyses.

Newsletters – Sending monthly newsletters containing featured listings, company events, background information on your brand brand, and developments in the industry can help keep your real estate brand top-of-mind for prospective clients.

Behavior-triggered emails – These emails are sent to your leads whenever they take a specific action on your site, such as viewing a particular listing. This allows you to follow up on your lead and provide additional details about the listing, along with an invitation to attend the open house. The goal is to give them a gentle nudge towards making an offer or signing up for your services.

Get on Instagram

Instagram has over one billion monthly active users, 71% of whom are under the age of 35, making it a powerful marketing platform for Realtors who want to catch the attention of millennial buyers. It's also an image-driven app, allowing real estate professionals to showcase their listings minus heavy blocks of text. What's more is that Instagram ads have an organic quality to them, appearing in users' feeds without being intrusive.

Real estate experts also encourage agents to take advantage of the platform's features including IG stories, IG TV highlights, and hashtags. This allows you to have engagement with potential clients and reach them much faster than traditional marketing.

Use drone photography

If you have yet to adopt drone photography for your company's marketing efforts, now's the time to explore it – studies show that buyers are 85% more likely to commit to a product or service that is accompanied by a video.

Drone photography is the practice of capturing quality photos and video footage using drones, or air vehicles. It allows professional real estate photographers and videographers to go beyond the limitations of standard cameras, as it can capture certain angles that they wouldn't be able to capture from the ground.

Use drone photography to create a sense of place. Aerial shots give a good view of the surrounding areas, helping buyers decide if the property is right for them.

Give your prospects something to talk about

Experiential marketing goes beyond emails and Facebook posts by inviting prospective buyers to interact with your real estate brand offline.

Pique clients' interest by organizing real estate events that are relevant to their needs. These include wine tasting events at open houses, tours of the neighborhood or city you serve, loan application workshops, interior design Q&As, and more.

It doesn't have to be a glamorous event either – leads will still appreciate smaller and more intimate events. Just invite them over for coffee and talk to them about their biggest concerns as buyers and sellers.

Use virtual staging

According to the National Association of Realtors (NAR) 2019 Profile of Home Staging, 40% of agents said that staging had an impact on how buyers viewed a home, while 83% said that staging made it easier for buyers to imagine the space as their future home.

Virtual staging is a convenient and cost-effective way of presenting the property to buyers. It allows them to get an idea of what the home might look like when they add certain pieces of furniture – all from the comfort of their living room. Think of it as virtual home decor a la The Sims, but for prospective buyers.

Real estate agents can purchase virtual staging solutions from service providers and add this feature to their sites.

All you need to do is send the provider photos of each room. From there, you can choose from a variety of predesigned furniture and styling options, and the provider will take care of the rest. This helps buyers get realistic depictions of each room on the property.

Virtual Staging Plans found that 81% of buyers agree that virtual staging helps them visualize the home, enabling them to discern what they can and can't do with the space. 45% of them also love being able to design a home according to their preferences.

Do A/B testing

A/B testing is an effective way to determine whether you're getting the most out of your web design. It involves using variations of a page's components, including color themes, layout, and sales link placement, and monitoring which variations are most successful at converting or capturing leads' attention.

In short, it's about figuring out what works for your site and what doesn't. You can use A/B testing software to create and test variations of your web pages.

The following web page elements should be tested regularly:

Navigation – Ensure user-friendliness by split-testing links, which can be done by switching up the order of the pages in the navigation bar, adding additional pages, and even changing the wording of the links on a page.

Copy – Split-testing copy involves variations in tone, word count, and font size and color. Try different kinds of messaging to see which one leads respond to the most. Start with headlines and subject lines, since these are the most prominent copy on each page.

Call to action (CTA) – Test your copy, messaging, font, background color, accompanying graphics, and CTA placement to ensure effectiveness.

Forms – It's generally advisable to minimize the number of information fields in your contact form, and to be selective about the kind of information you request. Quick Sprout found that halving the number of form fields from six to three can increase conversion rate by as much as 66% on average. They also found that asking for specific contact information, such as phone number and street address, reduces conversions by 5% and 4%, respectively.

Testimonials – As previously mentioned, it helps to display positive testimonials on your page. It's also necessary to split-test them to see if they're effective. WikiJob found that testimonials tend to be more effective when they're attributed to named sources.
Not sure where to start? Get in touch with Agent Image today to roll out your real estate marketing strategies. Our websites don't just look good – they're also designed to convert. Schedule your free consultation today by calling 1.800.979.5799.
Did you enjoy reading this article?
Sign up for more updates with our Agent Intelligence Newsletter!
We are committed to protecting your privacy.
Real Estate Websites for Agents
Learn which package works best for you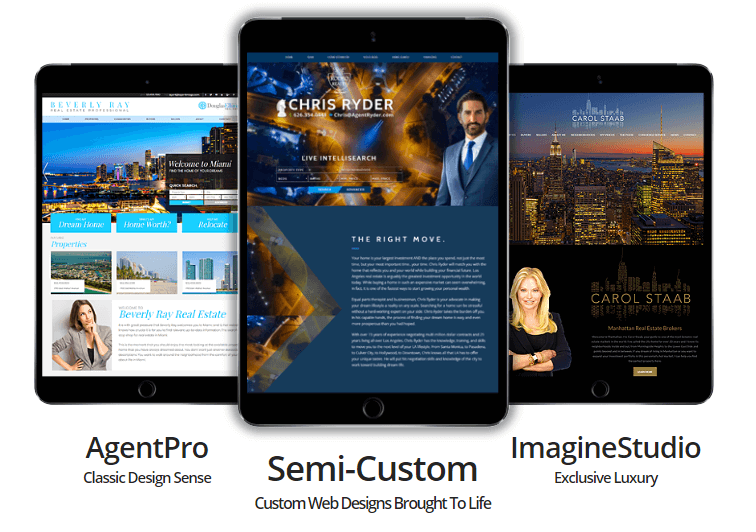 Learn More