Real Estate Apps to Note in 2015
Good real estate agents are invariably always on the go. And they're usually short of time.
So any new app or other tool that helps them stay organised, be more effective or lets them monitor client responses is always more than welcome.
Some such apps that will be particularly helpful in 2015 include:
Mailtracker. Ideal for testing the effectiveness of your DM campaign or the receptiveness of your emails. The analytics of this app allow you to see when someone has opened your emails, how long they viewed it, the recipient's location and their own device details.
Genius scan. Effectively a portable scanner, this app is a great help when you need to send photos of signboards, copies of sales or lease agreements or other contracts when you are out and about. You can scan and export documents as JPEG or multi-page PDF files from your mobile device.
Pro-HDR. This helps turn the photos that you take with the camera on your mobile device into high resolution (up to 12 megapixel) shots; considering that listing quality photos are one of the key marketing aids for any broker, Pro-HDR can be invaluable.
Waze. Time is often money in the real estate industry and Waze helps you save valuable time by letting you know where there are traffic jams, road closures or even accidents. You can get real-time traffic data directly on your mobile phone or laptop.
Storehouse. Getting the right visual message across to a prospective purchaser is essential. Storehouse delivers the ability to combine photos, videos and text into a great article which can be shared with the Storehouse community—and, in turn, potential homebuyers.
Commute time widget. A great help for prospective buyers to work out the commute time from a property to their home, office or even school for their children; this app can be embedded into your site as a useful aid to selling.
Carrot. At last an app for the less organised or maybe that should be for the busiest amongst us. This talking app not only keeps a "to-do list" tracked, but it has its own way of rewarding you for getting things done – but be warned, it also berates you for not doing them!
The aim of all of these apps is to help you work smarter (not harder!) and they are ideal for brokers and agents seeking to maximise their marketing and productivity efforts.
Get some or all of them and have a great selling 2015!
Did you enjoy reading this article?
Sign up for more updates with our Agent Intelligence Newsletter!
We are committed to protecting your privacy.
Real Estate Websites for Agents
Learn which package works best for you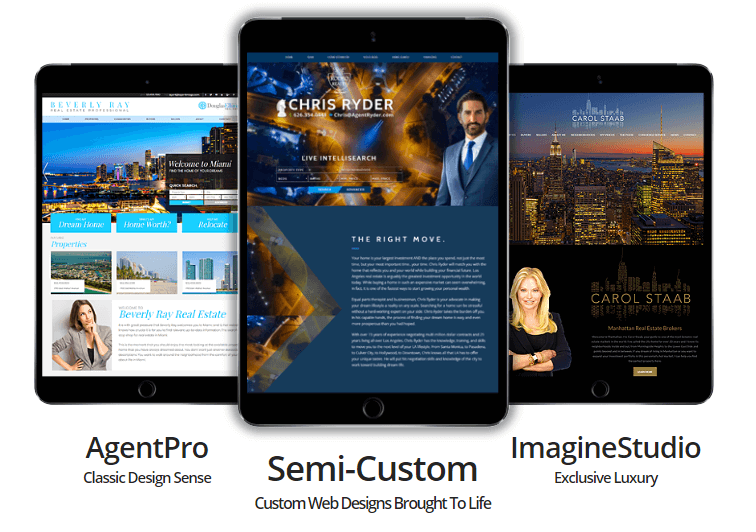 Learn More