Real Estate Branding 101: How the Best Make it Work
What makes a branding strategy work?
The recipe for successful real estate branding requires three things:
It is the combination of a unique identity, brought alive by the right creative elements, and delivered with an on-point message. All of these working together ensures your intended market will know, recognize, and remember your brand.
This deceptively simple formula has resulted in some of the most effective and successful real estate branding efforts online (and off). The following agents and brokers has turned themselves into masters of the art of branding.
And here's how they did it.
Branding and identity: Making "you" stand out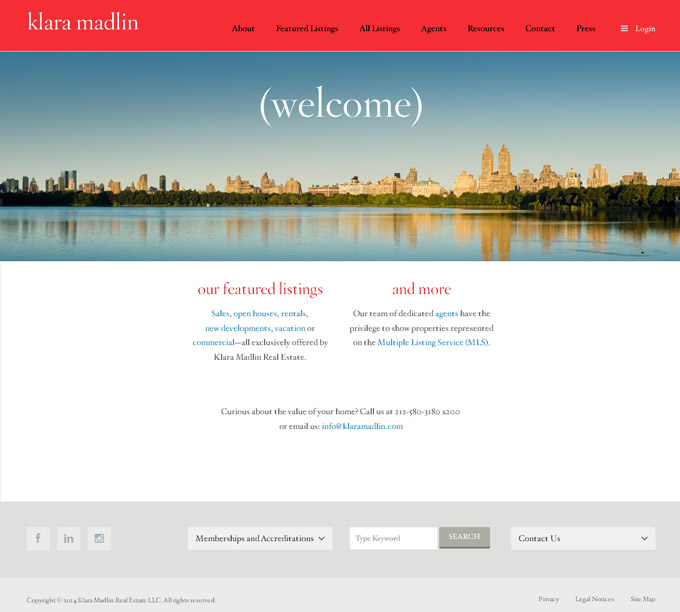 The New York-based realtors of Klara Madlin based their branding on their market. They often deal with clients who are normal, "everyday New Yorkers." And their branding is just as clear and forthright.
They wanted their brand to resonate with the average New Yorker. No frills. No fuss. Just excellent and straightforward real estate service.
Their slogan "Real estate for real people" anchors this. Their site is uncluttered with a strong use of the color red. From their website, brochures business cards, and ad campaigns it all leaves a lasting impression.
Clients want to know who they are doing business with. And a clear image of who you are as a professional makes you all the more credible.
Sacramento based realtor, Jon Hesse of the Accelerated Realty Group takes this to a different level.
By having a dynamic image of himself as part of his logo and investing time and effort to create an eye-catching infographic, he succeeds in emphasizing his identity. With just one look, clients know his strengths, his experiences, and what Jon can bring to the table.
A distinct identity is a must in the real estate industry. And a great way to stand out from your peers is to become a thought leader.
Consider Thorne and Fauquier and their RE/MAX sponsored "Mobile Agent TV" webisode series at mobileagenttv.com.
Their branding strategy positions them as experts in the field. On the show they tackle emerging technologies, marketing tips, and sales advice. They also get to interview and interact with the best and brightest in the industry.
Through their branding, they present themselves as reputable figures in the real estate market.
Branding beyond logos: Be seen, remembered, and thought about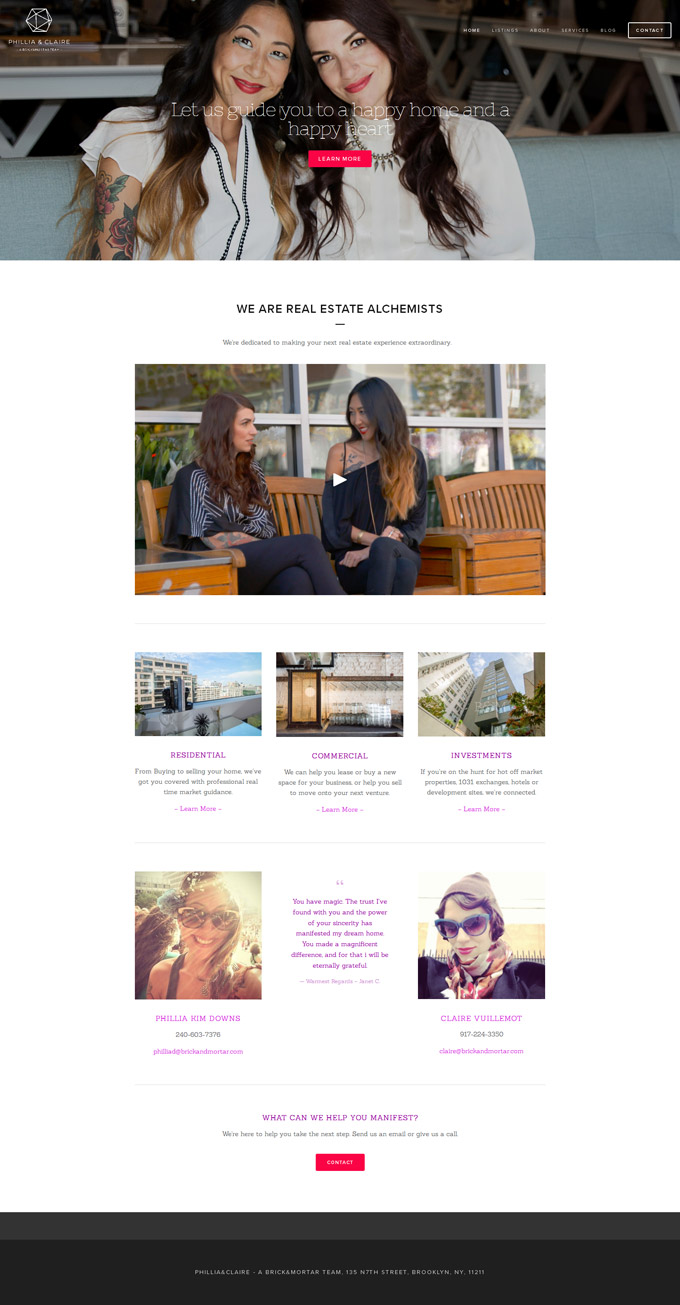 A real estate firm's unique identity needs effective creative execution to stand out from its competitors.
This means going beyond the usual good layout, logo, and design route. A good logo is just a starting point. But an effective creative execution succeeds when it broadens awareness and generates interest in your business.
Take for example what Phillia Downs and Claire Vuillemot achieved with their branding efforts.
Armed with an already distinctive logo – an icosahedron – the Phillia & Claire team distinguishes itself further by using unique images throughout the site – no stock images here! – that underscore what they're all about, which is "buying and selling with heart and style."
This is echoed in their copy as well. There's nothing standard about it. They don't just say that they'll help you buy or sell a home, they want to "guide you to a happy home and a happy heart."
Branding prominence works best when the creative elements are already memorable to begin with.
A memorable logo is also part of Living Room Realty's livingroomre.com creative branding success, but it is just one of the many things that they get right.
"Where's Your Living Room?" – this is what this Portland, OR firm asks when you land on their site. It's not a question any other real estate firm out there is asking, something that automatically sets them apart. Even better, by showing images of different people in their "living room" (outdoors, in the studio, in the kitchen, on the front porch), they manage to show you that, yes, they understand that you're unique and that they'll respect your uniqueness.
Avenues of attention: Effective ways to send your message
All branding efforts rely on an on-point message to deliver success.
Today, there are a variety of mediators choose from.
Whether it's the fast-paced and real-time speed of social media and the internet, offline channels such as roving advertisements, to the traditional methods such as commercials on radio, television, and print, the messenger should be just as good as the message it delivers.
Talking directly to your market is always a good way to connect with possible buyers and sellers. And some of the most convenient and effective ways are sending out mailers, starting an email campaign, and going on social media.
Mastering the art of real estate branding is essential to your success.
It doesn't end with having a great logo and slogan, being communication savvy, and launching a beautiful website. That's just the beginning.
For your brand to succeed, perseverance is the key ingredient because finding the perfect strategy takes many repetitions – and you'll want to keep refining and revising it as the market changes.
Did you enjoy reading this article?
Sign up for more updates with our Agent Intelligence Newsletter!
We are committed to protecting your privacy.
Real Estate Websites for Agents
Learn which package works best for you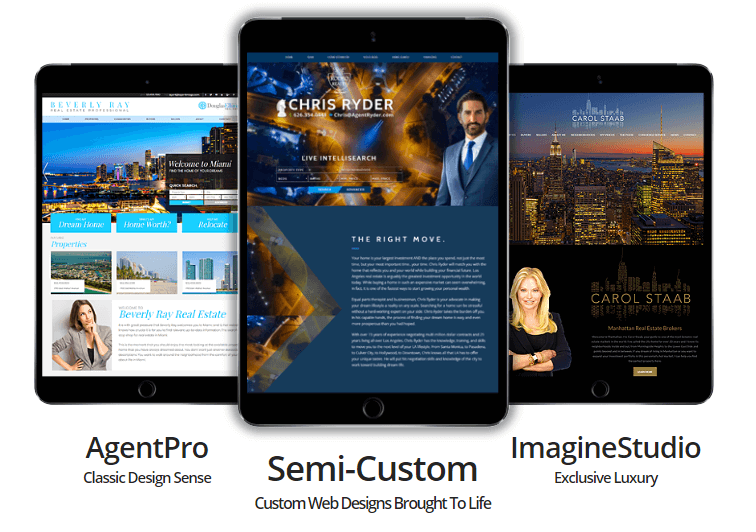 Learn More