Real Estate Quiz: Do I Really Need a Website Makeover?
Nothing is more discouraging than having a website that's not helping you bring in more business. How do you know if your real estate website needs a makeover? Take this quiz to find out.
Does your website have a blog?

With thousands and thousand of real estate sites out there, niche marketing is crucial now more than ever.
Frequent blogging is the perfect strategy to show that you are the expert in your field.
Blog about topics that are not usually covered by your competitors. Use short, attention-grabbing titles and make sure the supporting content will be useful to your readers.
Your real estate blog will drive traffic to your website as your blog posts will feature keywords that will be used by search engines, making it easier for people to access your website.
As soon as you publish your posts, make sure to share it via social media in order to reach more people.

Does your website feature client testimonials?

People like to hear what other people are saying about you and your services. They are more likely to go with a company that has positive feedback from actual clients.
Dedicate a page in your site for reviews and testimonials. Reach out to past and present clients to see if they can give you a short review that you can publish on your site.

Is it easy for your visitor to go through your website?

There's a test that they call a "Grandmother Test," where you ask a first time visitor to browse through your website to see if the process is user friendly and the site is easy to navigate.
Your navigation links should be structured in a familiar way and lets people find what they're looking for in 1-3 clicks.
Have all inner pages accessible via the main top navigation and side navigation that is displayed by default on each page.
Your website should also display and function consistently across popular browsers.

Are you doing real estate videos?

People are more likely to watch videos rather than read a big chunk of text. Adding professionally crafted property videos to your website to help entice your potential buyers.
Search engines also love ranking videos in search results.
You can upload your videos in YouTube or Vimeo and embed them in a dedicated Video page on your site or in your listing pages.

Is your website mobile ready?

People spend most of their browsing time via their smartphones and tablets. This is the reason why your real estate website should display and function properly on mobile and tablet screens.
Make sure your contact information is displayed properly and allows for 1-click calling or email.

Are you using old technologies on your site?

Do you still have flash animation or outdated slideshows on your site?
Are your MLS listing pages not attractive?
Do some of your pages don't display or function as it should on mobile screens?
Are you having a hard time uploading new content and pages for your site?

Are you providing valuable content?

Don't become one of those sites that have canned content that are just copied (or rephrased) from other resource sites.
Unique, well-crafted content will always have a positive impact on your site visitors. Use photos, infographics and videos to your advantage.
Turn your site into a one-stop resource site for real estate information in your niche area.
Publish community and neighborhood info pages, how-to guides, buyer/seller guides, investor guides, financing and mortgage guides, blog posts, market update reports and more.

Is your website generating the right business?

Do you think your homepage is attractive enough at first glance?
Are you using the right lead capture forms?
If you're marketing luxury homes, is your website appealing enough to your target market?
Is your website design a consistent representation of who you are as a real estate specialist?
If you've answered "Yes" to all questions above then you're doing pretty well. If half of your answers are a "No", then it's time to get back in the game and give your website a makeover.
Did you enjoy reading this article?
Sign up for more updates with our Agent Intelligence Newsletter!
We are committed to protecting your privacy.
Real Estate Websites for Agents
Learn which package works best for you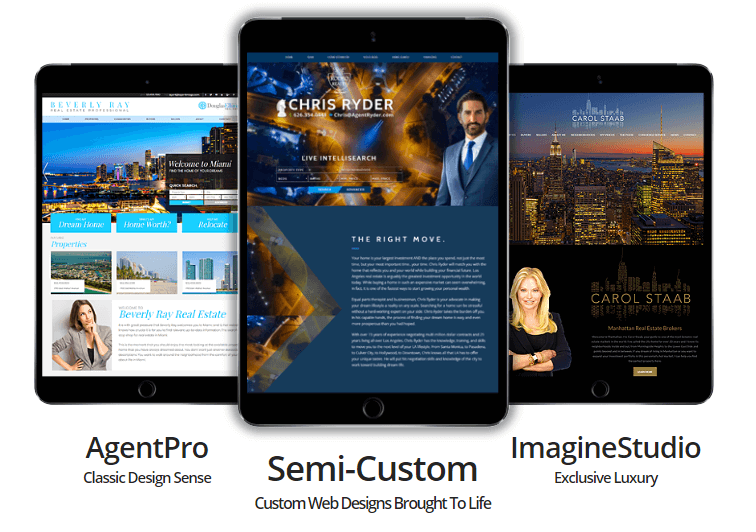 Learn More