How Your Real Estate Site Design Helps Target Your Niche Market
You sell luxury homes. There are people out there who are specifically looking for luxury properties. Your ability to reach them depends on how you present yourself and your company as a specialist in luxury real estate. It is a known fact that the way that you design your website – from the layout to the type of content you provide – affects your ability to reach a certain type of audience.
In order to use real estate web design to target specific demographics, you have to reach these groups on multiple levels. You can tailor fit your marketing campaigns to target groups like the millennial generation, retirees, military, 55+ active adults, first-time homebuyers, luxury homebuyers and others. Some groups even overlap. For instance you may find a client that has a military background, falls into the millennial age group, and is a first-time homebuyer.
TARGETING YOUR NICHE
First Time Homebuyers
The majority of first time homebuyers fall into the millennial age group between the ages of 24 and 39.
If you want to design a website that appeals to this target demographic you should make sure that your website is mobile-friendly. More than 90% of millennials shop online for REALTORS® based on their websites.
Check out this mobile friendly web design created for MD Properties.
Luxury Home Buyers
This group of buyers is looking for luxury, class, and style. They are often business professionals, celebrities, politicians, millionaires.
Your real estate website should exude professionalism as well as a clean, elegant design. Using high quality aerial shots of sprawling estates can be helpful in attracting luxury home buyers.
Take a look at the site of Brandon Romero and Litta Lee.
Vacation Home Seekers
Vacation home seekers, like luxury home buyers, are typically affluent individuals or families.
Make sure to add detailed community/neighborhood pages and interactive maps to help put your site head and shoulders above the others.
Community videos, blog posts showcasing the area's local lifestyle and best attractions will appeal to this audience.
Look at the stunning visuals that welcome visitors at Portman Realty.
Retirees
There are many factors that should inform the way in which you target retirees. It is not easy to generalize this diverse group of 55+ adults.
Some are retiring on a healthy nest egg; others have sold their homes to downsize and are looking for a more quiet lifestyle away from the city.
Showcasing the best active adult communities in the area is a good way to start.
Investors
It may be a good idea to create a completely separate section of pages specifically for investors. They will want to search based on different categories than a homebuyer or seller would. Plus they want to see your portfolio and your record of success first and foremost.
If you mainly serve investors, put that information up front. If you work with investors as well as traditional buyers and sellers, make the investor tab separate from your listings page.
Sellers
Many real estate professionals cater to both buyers and sellers. Crafting a site to specifically target sellers should show your success at closing deals.
Testimonials, gallery of sold homes, seller guides and an overview of how sellers can list with you are all things that sellers in particular would want.
Check out how Ammons & Co and List It With Chris target their home seller audiences.
The bottom line is that you want your website to help you draw in more traffic by being a comprehensive resource site to whatever property type you are selling. More importantly, you want qualified leads that have a high potential of being converted into clients. Here are a few tips:
Do Your Research
Research the lifestyle and language of your target market. What is the average income in that age group? How many homes sold in that area last year? What are the property features that they are looking for?
Research your competitors. See how many agents in your area are targeting the same group and how they are doing it.
This research will guide you in the final design that you will have for your website — including logo/branding colors, photo selections, font, layout.
Collect and Analyze Your Online Stats
If you set up your website and social media pages to track visitor statistics, you can use that data to create a more targeted online campaign.
Facebook Insights, Google Analytics, and Twitter Analytics all offer their own unique data collection tools.
By analyzing your visitor behaviors and patterns you can greatly improve your strategies to attract more qualified leads.
Make the Right Style Choices
Colors, font types and sizes, page layout, web content, images, and more all have an effect on the way that your brand is received and how effective your website is when it comes to attracting the right leads.
This decision is much easier once you have researched your target demographic and collected data on user behavior.
For example, many luxury real estate sites use a clean and minimalist background (similar to luxury magazines) that will be the perfect backdrop to their hi-res property photos. Even the tone of voice of the text content is created to appeal to their audience.
Talk to a professional web strategist to help you understand the best approach when it comes to your site design.
Tailor Your Content
Your site must be a genuine resource site. Don't just fill your pages with fluff pieces with keywords and random call to action buttons. People won't stay long if you do.
For example, your site visitors might not buy a home now but if they remember your site as a comprehensive resource for real estate in that city, they will come back or refer your site to people they know.
Stay away from complicated, technical language when your content is directed at buyers or sellers. Conversational or natural language works best.
Share this article!
If you or someone you know is planning to redesign their real estate website, don't forget to share or tweet this blog post. We are here to answer any online marketing questions you may have.
Did you enjoy reading this article?
Sign up for more updates with our Agent Intelligence Newsletter!
We are committed to protecting your privacy.
Real Estate Websites for Agents
Learn which package works best for you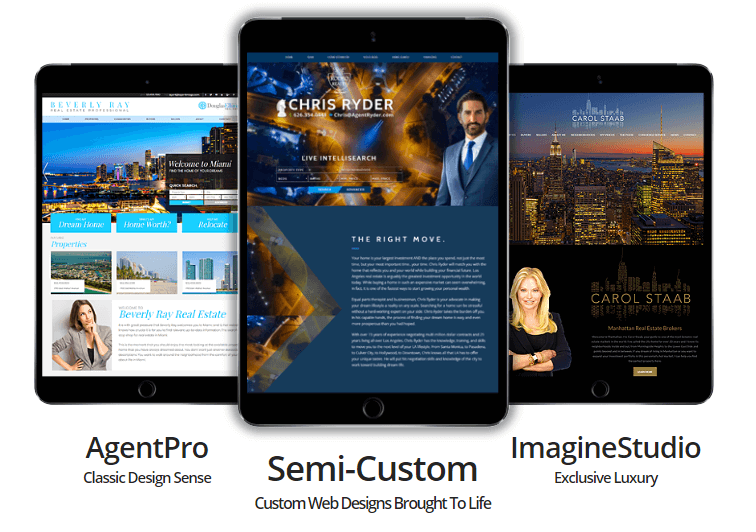 Learn More