Real Estate Website Design Ideas to Improve Visual Appeal
Making a strong first impression goes a long way in building an effective, recognizable, and lasting brand. Choose the best visual elements for your website and watch your online presence rise from ordinary to extraordinary.
Curious how visual appeal can impact your business website? Take a look at these standout real estate website design ideas:
1. A look at the locale
Capture the essence of your community in nutshell. Highlight the beauty of your location with panoramic recreation and lifestyle photos. All it takes is an eye-catching splash image to get your target audience curious about what your location has to offer and, more importantly, about what opportunities are available there for them to grab.

2. Zoom in on the details
Every place has a unique character and charm, and sometimes you need to look closer to appreciate these finer points. Use your real estate agent website to showcase what's unique about your locale. Zoom in on details that can sometimes tell more stories than the bigger picture.

3. Capture cityscapes
For city-based real estate professionals, images of a sprawling urban landscape convey a confidence and professionalism. Add this approach to your real estate website design ideas to highlight real estate deals in residential, commercial, and corporate workplace properties in the heart of a bustling metropolis.

4. The pick of the season
Show off the best colors of your locale by choosing season-specific images for your real estate website. Select the time of year when the foliage is in full, when blooms are blushing, and colors are bursting to best frame your home exterior photos.

5. The art of architecture
Your real estate website is a perfect canvas for the art of architecture. Set a fitting, sophisticated mood for current and potential clients by using property photos that highlight the striking features of home exteriors with the right lighting.

6. Work your angles
Get smart and artful with how you present property images on your websites. Capture dramatic lines with professional photographs taken from strategic vantage points. Not only does this make for compelling visuals, the artful lines and angles can also be used to draw attention to key features of your real estate website.

7. Add a personal touch
When you work with residential real estate customers, it's important to add "heart" to your agent website. Convey warmth with photos of happy families in cozy, endearing living spaces. Inspire your website viewers by showcasing candid smiles. There is better to bring a real estate website to life than the joy of home ownership.

8. Awesome aerial shots
With high-quality drone-powered photography and videography so accessible these days, real estate have an exceptional visual tool at their disposal. Use these now-ubiquitous imaging technologies to command attention with sweeping bird's-eye views of your city's landscapes.

9. Showcase striking sunsets
Stunning, romantic, and timeless, sunset photographs are irresistible to the eyes. If you do business with real estate with breathtaking coastal, mountainside, cityscape sunset views, use this to your advantage and capture exceptional photos of the event. The jewel tones and vivid colors will surely boost site's wow factor.

See these real estate website ideas at work in the following Agent Image website showcases. Click here for our AgentPro, Semi-Custom, and ImagineStudio portfolios now!
Want to attract new clients while keeping current, loyal customers impressed? Contact Agent Image today and ask for a free and comprehensive website design consultation.
Did you enjoy reading this article?
Sign up for more updates with our Agent Intelligence Newsletter!
We are committed to protecting your privacy.
Real Estate Websites for Agents
Learn which package works best for you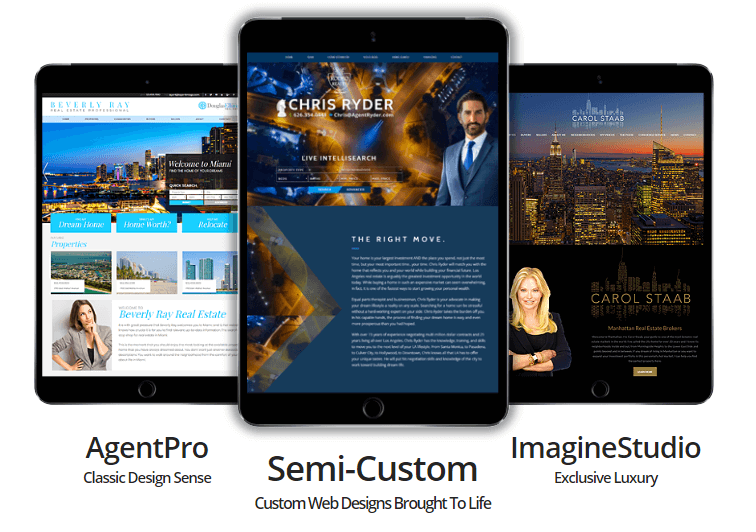 Learn More