The Role of Client Reviews on Your Real Estate Website
Client reviews on your real estate website are proving to be an indispensable asset that can heavily influence the decision making process of your potential clients. In reality, people need first-hand assurances from others that what they are about to invest their money on is no fly by night business. A well-written client testimonial can work wonders in establishing the credibility of your real estate service and will help earn you new business. That said, here are some tips that can guide you in showcasing your testimonials effectively:
Existing Clients – Start by contacting happy clients who have been satisfied with your service and are willing to give you a good review. It is perfectly acceptable to approach them for this. Ask them what they really liked about your service and why they chose to work with you, then select the best quotes from their answers to go on your testimonials page.
Identify Them – It's understandable for others to question if a testimonial is genuine, so it's important to have an element of authenticity. For each testimonial, get client permission to include their name, and if possible, a photo. This assures potential clients that the reviews are honest and genuine. It goes without saying that you must have their full permission before using their name and photograph on your website.
Showcase Specific Experiences – Avoid going for generic sounding reviews. Just about anyone can describe your service with superlatives, so instead, feature a testimonial that describes a specific aspect of your service and how that client benefited from it. Having satisfied clients talk about you or your company's strengths is the highest form of praise.
Keep it Short – Potential clients know what they want to hear from testimonials so it pays to limit it to four lines of text at most. Excessively long reviews tend to get skipped. If you have a fabulous but wordy compliment from a client, break it down by picking key sentences and leaving out irrelevant comments.
Consider Video Reviews – When done properly, using video for your client testimonials enhances credibility. Seeing real footage of happy clients is a lot more powerful than text since video testimonials capture real emotions in a more detailed fashion. You can hire a videographer to tape the client's testimonial at their location (consider Agent Image TV if you'd like to take this approach). Or another idea, if you own a Flip Video cam, you could mail the camera to the client (insured, of course), have them tape themselves giving the testimonial, and then have them mail the Flip Video camera back in postage paid packaging. You can also brand your flip to promote your business by adding your photo or logo.
(Update: Agent Image TV is no longer offering video services. If you are looking for real estate website and marketing services, please visit www.agentimage.com.)
More is Better – Although most companies have a dedicated testimonials page on their website, you could maximize the impact by incorporating them with content on your main pages. That way, visitors to your site will always be exposed to various quotes from satisfied customers heaping praise of your services regardless of which page they are viewing.
Well-written client testimonials that are strategically placed on your web pages can make a difference for a client choosing between you and another realtor who doesn't share customer reviews. If you need help in integrating your success stories on your real estate website, you may contact us at [email protected] or call 1.800.492.6777 x 560.
Did you enjoy reading this article?
Sign up for more updates with our Agent Intelligence Newsletter!
We are committed to protecting your privacy.
Real Estate Websites for Agents
Learn which package works best for you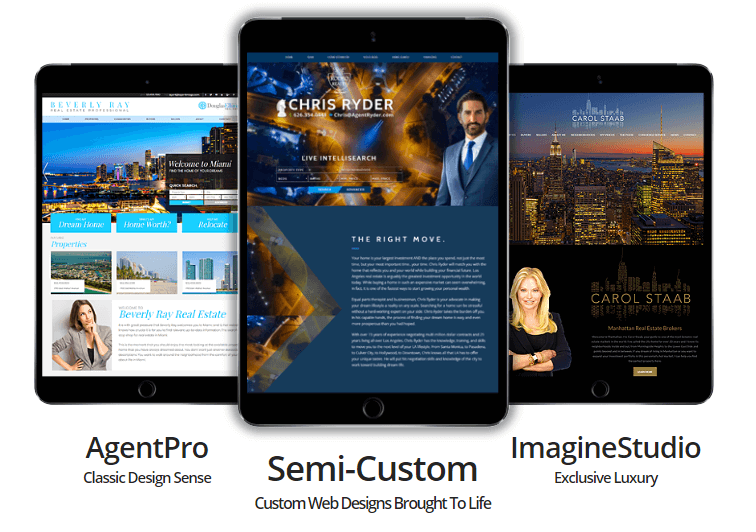 Learn More