These 6 Types of Blog Posts Turn Readers into Customers
Every online marketer will tell you that blogging is essential to building up your online presence, your brand, and your authority and relevance in the local market. Yet many real estate professionals simply do not know how to create blogs that are memorable and informative, sharable on social media, and that spur readers to interact and communicate with the agent.
There are several winning formulas to creating the types of blog posts that turn readers into customers. No matter which strategy you choose, you should always keep in mind that your primary goal is to:
Attract Unique Visitors
Increase Subscribers
Get More Shares
Create Repeat Visitors
Grow Your Authority
Provide Useful, Relevant Information
and Convert Followers into Clients
With that being said, we've curated a list of the top 6 blog posts types and how they can turn your readers into clients (and therefore, closings)!
#1: Lists
These are among the most effective blog post styles; list style articles or "listicles." A study of BuzzFeed's viral video website found that top 10 lists saw the most interest and were often backed by big name corporate sponsors. The study also found that using an odd numbered list as opposed to even numbers was more popular with BuzzFeed audiences.
Listicles that were more personable and addressed the audience in the second person often resulted in more reads. As with all website content, the most important factor is to provide valuable or interesting information. Make your lists little known facts or surprising facts about the real estate market in your area.
#2: Video
Statistics show that videos get more shares on social media. But did you know that by incorporating video into your blogs, you will have the same effect? There are a number of different video blog posts that garner attention that can lead to more subscribers or even go viral. Some videos include:
Real Estate Tours
Webinars
Podcasts
Client Testimonials
Neighborhood Tours
Agent Profiles
You can even go one step further and create a fun or humorous video interviewing residents of the area. Ask them off-the-wall questions or about the best team in the area. Think of creative things that will get funny responses and that visitors to your website will get a kick out of.
#3: Celebrity Residents
You don't want to be the TMZ of real estate. Many top entertainers live in secluded areas in the small outskirts of big cities for a reason; to escape the celebrity hounds. But if you represent properties where you know that there are some big name celebrity residents, a blog post about that wouldn't hurt.
Think about Hyde Park where the Obama's live or where Michael Jordan lives just outside of Chicago. Many professional athletes have restaurants or fitness centers in their hometowns and their team cities. A blog post that shows your properties are even attractive to some of the wealthiest residents of your service areas can add to your credibility and stature in your market.
#4: How-To's
People love going to websites that give quick "How To…" guides. Especially if they think of you as a trusted and reliable source, they will click on your more informative how-to articles as well as your fun and upbeat ones. For real estate how-to blogs, think about the type of how-to's that are relevant to your audience, back your facts up with statistics, and reference leaders in the industry when possible. Create how-to's about:
How To Sell Your Home
How To Buy A Vacation Home
How To DIY Minor Home Repairs
How to Buy with an FHA Loan
How To Save Money on Remodeling, etc.
#5: Expert Guest Blogs
Whenever Huffington Post or the New York Times posts an op-ed piece penned by a celebrity, it tends to get broad media attention. You can create that same kind of buzz for your real estate website by using expert guest blogs. Maybe you won't have the types of comical rants that Bill Maher brings to his guest posts, but you can provide invaluable information from leading real estate professionals that visitors to your site want.
Using guest bloggers to create interesting content is one of the strategies used by one of the top analysts of online marketing KISSmetrics to grow from an unknown blog to an overnight sensation with nearly half a million visitors. All of their content came from celebrity guest bloggers.
Why not partner with a local lender who wants to blog about lending standards? Maybe you can get an occasional guest post from a city councilman or local business leader? How about the appraiser or pest-control vendor in your area? It can not only improve your brand and provide useful information to your visitors, it will also likely be shared by the guest contributor, thus increasing traffic to your site.
#6: Giveaways
As a real estate agent, you don't really have a product to give away like Pepsi or Verizon. But that doesn't mean you have nothing to give away. Think about giving away a copy of your free e-book or a free consultation with a subscription to your site. All they have to do is give you their name and e-mail address and they have access to your free PDF download or podcast. Use an action button to make access easier from the same page.
Maybe you've developed a homebuyer checklist? A form that helps sellers prepare for closing? These can be used as "giveaways" that reward signup.
Building a Winning Formula
There are even more strategies for building a winning formula that create the types of blogs that turn readers into customers. Fortunately, our team of experts at Agent Image can explain all of the incredible services we offer. Your first consultation is free. Connect today to get started.
Did you enjoy reading this article?
Sign up for more updates with our Agent Intelligence Newsletter!
We are committed to protecting your privacy.
Real Estate Websites for Agents
Learn which package works best for you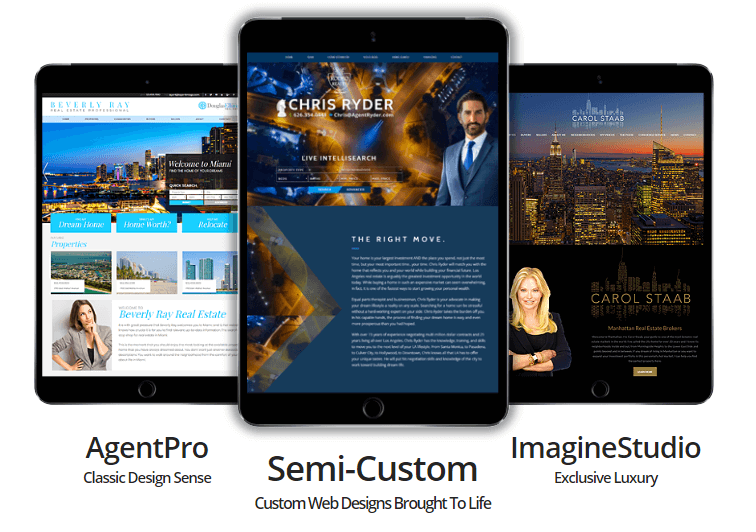 Learn More