Tips, Tools and Apps for Real Estate Agents
The recent tablet and smart phone craze has made real estate agents realize how impossible it is not to be equipped with a mobile device and be connected to the digital world. Here 7 tips to help you do more in less time and the tools that'll help you achieve that.
Sanebox: Keep your emails organized.

Sanebox manages and classifies your mail into what's important and what isn't by using algorithms.

Evernote: Make note tracking enjoyable and easy to remember.

You can jot down notes, store documents, record audio and take photos.
Your files are stored in a cloud, so you can access them in any computer or mobile device.
You can use it for both business and personal items by placing your notes in different "notebooks".

Action Method: Organize your to-do lists.

This online app helps you coordinate your to-do lists as well as track and delegate your tasks.
Action Method has three color codes: Orange, Blue and Grey.
Use this to classify tasks that need and should be done that day, tasks that should be done by that day but can be pushed back a day, and tasks you'd ideally like to get done by that day but can be set aside tentatively.

TripIt: Make traveling a breeze.

If you're a real estate professional who travels a lot, this app is for you.
Forward your confirmation emails to their service and it automatically creates your travel itinerary.

YouMail: Have your voicemails transcribed automatically.

YouMail transcribes your voicemail messages and sends them to you via email or text.
One particular feature YouMail users appreciate is Call Receipts where callers immediately get a response and be addressed by their first name when their call isn't picked up. This makes the caller feel important and appreciated.

HootSuite: Put your social networks into one place.

HootSuite lets you manage your social network accounts in one place.
One useful feature is setting the date and time when updates or statuses get published. You won't have any problem with sharing overkill.

Pinterest: An eye-candy way to share home photos and designs.

Pinterest has recently launched its business page feature; and one of their new tools is website verification where the website on your profile will have a checkmark beside it.
Having this assures users that they're on the official Pinterest page of your real estate business.
Pinterest has also rolled out buttons and widgets for your website so your Pinterest profile can be easily accessed.

Mobile-friendly real estate tools:

Transform your old website to a mobile-friendly one and partner it with your own real estate mobile app.
Find out how by filling out our free consultation form to send an online inquiry or visit our Mobile Website Design page.
Did you enjoy reading this article?
Sign up for more updates with our Agent Intelligence Newsletter!
We are committed to protecting your privacy.
Real Estate Websites for Agents
Learn which package works best for you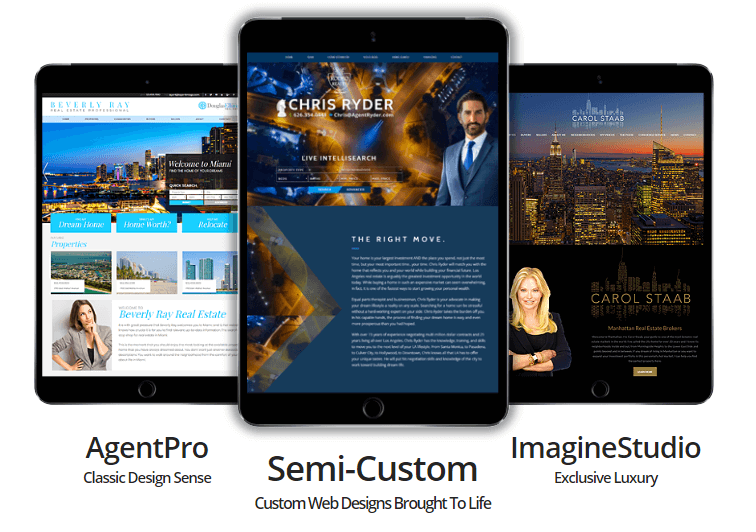 Learn More