Useful iPad and iPhone Apps for Real Estate Agents
If you're a real estate agent, then you're probably on the go most of the time and your mobile devices are doubtless essential tools of your trade. Maximize your iPhone and iPad use with these helpful apps, some of which are even free.
Free Real Estate Search Apps
The Zillow Real Estate Search app, the REALTOR.com Real Estate Search app, and the Trulia Real Estate Search app are some of the best free real estate search applications out there. Zillow's version for iPhone includes a GPS and its iPad version is visually impressive. As for REALTOR.com's app, it boasts access to the largest and most frequently updated database of homes online, while Trulia's is as easy to use as ever.
LoopNet Commercial Real Estate Search. This is the first commercial real estate search app and features include a location finder, driving directions, and property records (for the iPad version).
Free Foreclosure Search Apps
Are foreclosures your market? Access the latest foreclosure listings through your iPhone and iPad with USHUD.com's Foreclosure Search app and the Complete Foreclosures app. Both are free and are hooked into a comprehensive database of government and bank-owned properties.
Property Evaluator. If you deal with real estate investment properties, this app will prove to be an essential tool. It helps you with your due diligence and comes up with performance projections based on whatever specific property details you enter.
TVM Mortgage Calculator. There are more than a few paid mortgage calculator apps out there, but this will give you the best bang for your buck (or, rather, your $0.99). Lets you calculate not only monthly mortgage payments, but also gives figures on the mortgage insurance, property tax, and homeowner's insurance. It's upgradable as well.
Zillow Mortgage Marketplace. This free app from Zillow includes a variety of mortgage calculators and real-time mortgage rates updates. You can help your clients find out on the spot how much home they can afford, whether refinancing is a good idea for them, and so on.
Real Estate Investor. The Real Estate Investor app for iPad is especially useful for real estate agents whose primary clients are real estate investors. The app calculates an array of values, from investment returns to vacancy loss to total net operating income. The first version features 45 formulas, expect more in the future.
Explore the App Store for more real estate apps and look out for more tech tips on our next Agent Intelligence issues. Got questions? Email us at [email protected]
Did you enjoy reading this article?
Sign up for more updates with our Agent Intelligence Newsletter!
We are committed to protecting your privacy.
Real Estate Websites for Agents
Learn which package works best for you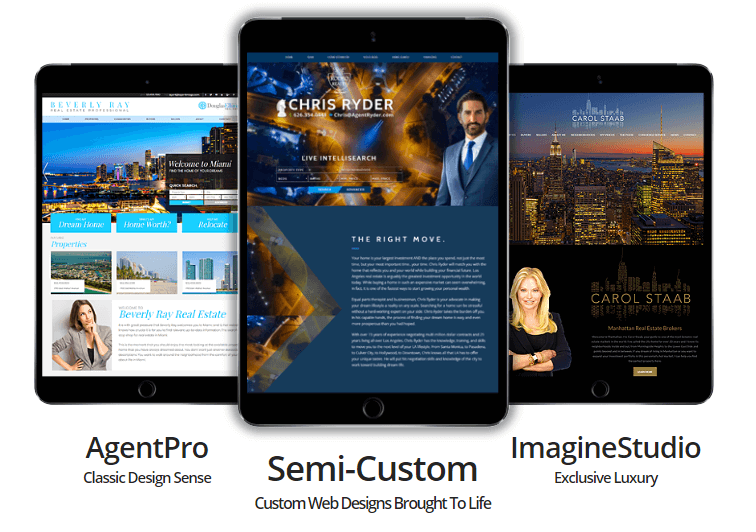 Learn More