Vlogging for a Better Website
Experienced agents and brokers will tell you that video blogging, or vlogging, is a must-have feature for any high-value property listing on your website. Prospective clients feel a certain comfort and assurance when presented with a video of a talking head, which is infinitely more powerful than a press release or regular blog post. And the good news is, setting up your own vlog isn't as complicated as you might think.
Herman Chan, an associate broker with Prudential, is an Internet sensation as a result of his video blog entitled Habitat for Hermanity. With over 11,000 followers on Twitter, Chan wanted to stand out and be remembered among the thousands of online real estate professionals by mixing humor and relevant market data in his video blogs.
"Buyers and sellers can get information on real estate anywhere online," explained Chan. "Video blogging is your opportunity to stand out." To create an effective video blog, Chan recommends limiting videos to 1-2 minutes each, and exuding confidence and positive energy. After all, the three main pros of vlogging are transparency, authenticity and credibility.
Historically, research has also shown that the number of websites visited by prospective clients decreases drastically before a purchase or sale is made – from five to two, to be exact. Provided your videos or video blog is well-made and strategically placed in your website, it will help buyers connect with a home in a more personal way. Keep in mind that the most effective property vlogs are the ones that offer a virtual tour or walk-through of a house that customers normally wouldn't have access to.
If you're looking to start vlogging today, get yourself a video cam, lighting equipment and assistant to help you shoot. Or if you need assistance to get you started, Agent Image offers unique services for all your video requirements. Through AgentImage.tv, agents and brokers are provided with easy and affordable ways to add video to their websites. Their team of professional editors, narrators, sound and video experts make it easy for you to tell your story or walk-through your listing. Pricing for a 30-second video starts at only $499, and includes linking videos to your online property listings and embedding videos on your site. Turnaround time averages just 7-10 business days and includes a free video advertising network for agents and properties to get national and international exposure.
(Update: Agent Image TV is no longer offering video services. If you are looking for real estate website and marketing services, please visit www.agentimage.com.)
Don't miss out. Adding video to your website is simple, gets you more hits and appearances in search results. It's also a great way of "personalizing" your site and giving your customers a face to match with your online name.
For more info, contact support(at)agentimage(dotted)com or call 1.800.492.6777.
Did you enjoy reading this article?
Sign up for more updates with our Agent Intelligence Newsletter!
We are committed to protecting your privacy.
Real Estate Websites for Agents
Learn which package works best for you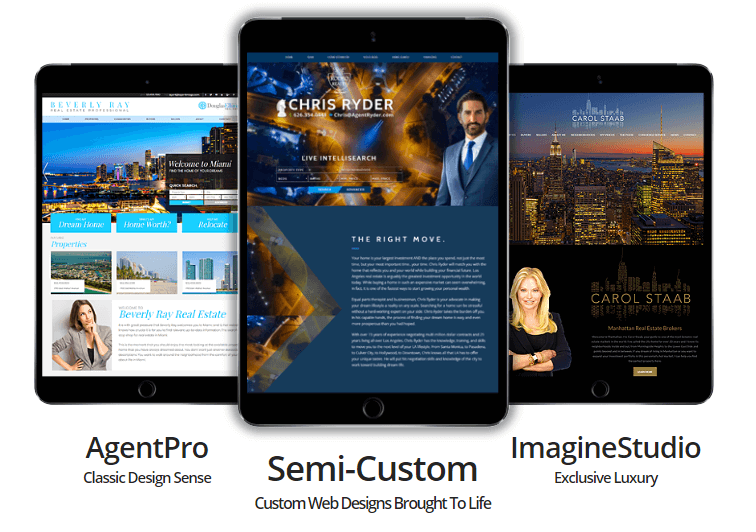 Learn More