What Clients Love to See on Your Real Estate Website
In 2020, Realtors everywhere were quick to respond to the challenges posted by the pandemic. By effectively harnessing the power of technology, they succeeded in keeping real estate not only active but thriving.
Even as everyone is looking forward to the post-pandemic era with the rollout of vaccines, it's widely believed that the internet will continue to play a major role in real estate transactions.
To succeed and thrive in this new normal, it's important to take stock of how well you have been utilizing technology in your real estate business.
The first stop is your website — your business's online face. With people now turning to the internet for almost everything, your website is an important marketing tool that can make you stand out from the rest of the pack.
When buyers visit your website, make sure they find reasons to choose you over your competitors. This means making your website highly user friendly and stacked with features that buyers will find useful.
What do buyers want to see on your real estate website?
Most buyers go to a real estate website to look for homes in an area they're interested in. They want to know price points, home sizes, neighborhood guides, and other information that can help them with one of the most important decisions they'll make in life.
An effective website is one that will make it easy for clients to find the information they seek. With that in mind, here's a list of features your website must have to attract buyers and convince them you're the right Realtor for them.
Home Search Function

While there may be a number of listings that you want to feature, they may not fit the bill of what many buyers are looking for. Provide an option for buyers to widen their search by integrating an IDX feature.

The IDX search function allows visitors to do an MLS search directly on your website. This will give them a reason to stay longer, and if they find a property they like, they may get in touch with you to initiate contact with the seller.

You can also make it easier for buyers to find prospective properties that meet their criteria through filtered search options, such as by neighborhood, by price range, by square footage, and others.

High Quality Photos and Videos

Over 90% of buyers start their home search on the internet. This is where you have to create an immediate impact, and the best way to do that is through captivating visuals.

Your listing photos must be of the right size and quality to help buyers visualize the home. If buyers like what they see in these images, they're likely to take the next step and contact you to learn more. Conversely, low quality pictures can be seen as a reflection of the kind of service you provide and give visitors a reason to move on.

All other images on your website should also be of top quality. You want to be able to tell your story and establish your branding from the get go. High resolution, appealing photos are the most effective means of doing that.

Easy Navigation

Consumers today have access to a wealth of information on the internet. This is why you must put a premium on user experience. If visitors have to go through hoops to find the information they need, they can easily decide to move on to the next website.

Intuitive navigation provides a good user experience that will encourage visitors to explore your site further. Have easy to find tabs and navigation keys that will make it easy for visitors to go from one page to another and find what they need.

Ensure your visitors can find what they are looking for on your website with ease. An easy solution is to have a burger menu, a minimal three-line icon that doesn't interfere with the website design and commonly seen on mobile devices. This can serve as a quick reference to help your visitors find their way around your website.

Having anchored links is another way of easily navigating through your page which will allow users to flow through your website sections. Pinned call to action buttons follow the user consistently throughout their site exploration. Consider using a sticky menu that stays put even as visitors scroll down your website.

There is also the option of adding buttons like a back to top button, next button, and scroll down button that will help users navigate through your website. It's important to correlate your website content to the actions they need to take next.

Home Buyer Guides

In looking for a new home, buyers will look for more than just information about properties. They will also want to learn about the neighborhoods in the area and see if they are a good fit to their lifestyle.

Provide information that's useful to most buyers, such as shopping centers, restaurants, transportation options, safety statistics, and so on. Highlight the area's desirable features like community amenities and highly rated schools.

A separate section for neighborhood guides will make it easy for buyers to find what they're looking for. Interactive maps linking to neig hborhood info pages are also a great feature as they can help buyers review locations and accessibility. You might also consider offering neighborhood guides as exclusive content that may be accessed only by those who subscribe to your website or newsletter.

Buyers will love the idea that they can rely on you as a local expert who knows the ins and outs of real estate. Have comprehensive guides that showcase your specialization or added expertise. For example, a step by step home buying guide can be very helpful to first time homebuyers. If you have a financial background, perhaps you can highlight this with a guide to finding the right mortgage. If design is your strong suit, you might want to feature a home staging guide.

Market Information

A home is a major investment, so it's understandable that buyers will want to look at relevant information that can affect profitability. By including market data on your website, you're establishing yourself as an honest, transparent real estate agent who can guide your clients in making informed decisions.

Useful market information includes home value trends, the number of days a listing stays on the market, housing inventory, any new development that can impact home prices, and so on. Buyers will also want to know how competitive a market is so they can strategize accordingly.

Fresh Content

Let buyers know that you're active in your market and that you're available anytime to serve their needs. One way to do this is by posting fresh content on your website. Have a blog section and keep it updated with topics that are relevant in your market, such as the latest restaurants in the area, a new attraction, upcoming community events, or recent market trends.

Another way of keeping your content fresh is to include up-to-date client testimonials. Posting your positive engagement and recent sales with clients can motivate new visitors to browse through your website and learn more about your business.

Online Chat

Consistent connection with your visitors is essential for your website. One way of engaging with them is by having an online chat feature that will welcome visitors, respond to inquiries, schedule a meeting, and make your website more interactive. This will leave a better impression especially for users that want to receive instant response to their inquiries.

In case visitors don't need an immediate response on an inquiry, simply having a contact form encourages better conversation about the next steps they want to make on your website. By using a short contact form, this will help you gather meaningful and relevant information that can best address the users' needs and keep an ongoing connection with them.
Enhance your online presence with a beautiful and powerful website
In the pandemic era and beyond, a strong online presence is needed more than ever. Make sure your website stands out with features that resonate with your market and give prospective clients confidence in your skills and expertise.
With over 21 years of experience, we at Agent Image know what works and what doesn't. We can take your website to the next level and help you stand out on the market.
Call us today at 1-800-979-5799 for a free consultation.
Did you enjoy reading this article?
Sign up for more updates with our Agent Intelligence Newsletter!
We are committed to protecting your privacy.
Real Estate Websites for Agents
Learn which package works best for you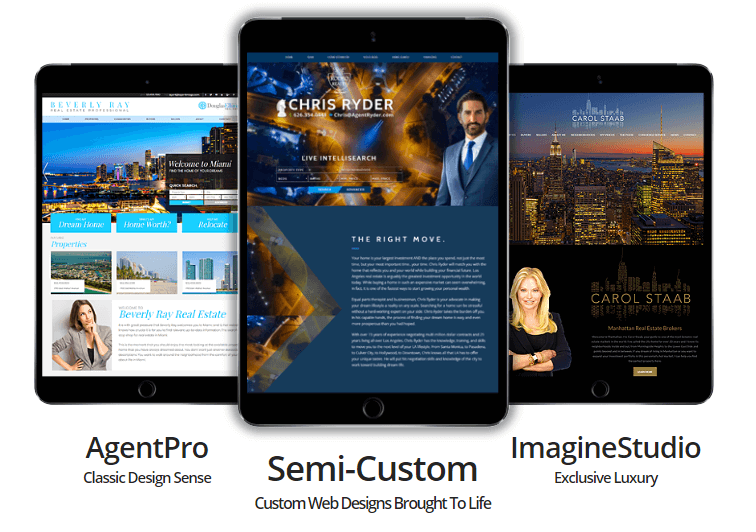 Learn More