Working with a Social Media Specialist
In an age where leveraging marketing efforts through social media is the norm, a well-thought out strategy can help you figure out what platform works best for your real estate company.
Trial and error isn't enough when getting on the social media bandwagon. When utilized correctly, social media is an effective way to achieve brand recognition, brand loyalty, drive conversions, reach out, get feedback and provide support and information to existing and potential clients. These are only some of the reasons why it has become such an essential marketing and communication channel. Our social media marketing specialists act as a key member to your networking efforts and can help you with the following points:
Using the right social sites. There are a lot of social platforms to choose from, but given your area specialty, level of expertise, and target audience, you'll want to use only the most suitable ones for your business. We can guide you in wading through the gamut of networking sites, forums and online communities and identify which ones will work best for you.
Results tracking. How do you know if your efforts at social media marketing are generating sales leads? We can help you analyze actual ROI and identify which areas you need to improve on.
Effective marketing strategy. Nonstop tweets, video blogging or status updates are all good, but overkill is not necessary. We can help you regulate your social media activity as well as which information is relevant for your distinct market goals.
Optimizing your real estate blog. We can also make sure that you are using all the tools available to direct traffic to your real estate blog or website. We work to make sure that your agent site is the hub for your business, and that visitors of your social profiles will be effectively directed to your business website.
Using appropriate keywords. Your social media specialist is qualified in analytics, adwords and other online marketing campaigns to help you manage and optimize important areas of your social content.
As far as your company is concerned, the role of social media is to support your business goals and complement your marketing efforts, so it's only logical to arm yourself with a good strategy. Without a clear idea of what your marketing goals are, your efforts at using social media will be diffused rather than focused on getting your brand the exposure it needs.
At Agent Image, we understand the importance of customizing social media platforms for your real estate business. Whether you need help customizing your Facebook fan page, creating video content or distributing your updates across various social channels, we can help you jump start a more interactive relationship with your potential clients through social media. You may call us at 1.800.635.1231 for a consultation.
(Update: Agent Image TV is no longer offering video services. If you are looking for real estate website and marketing services, please visit www.agentimage.com.)
Did you enjoy reading this article?
Sign up for more updates with our Agent Intelligence Newsletter!
We are committed to protecting your privacy.
Real Estate Websites for Agents
Learn which package works best for you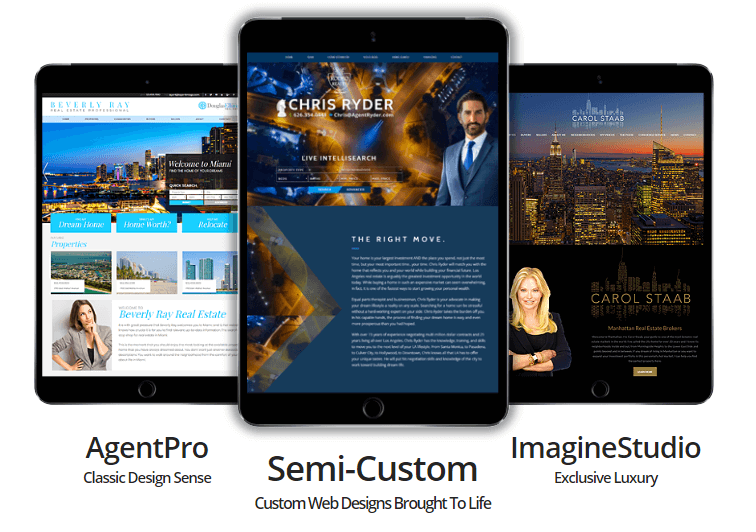 Learn More