10 Best Real Estate Websites for August 2021
A beautiful and functional real estate website lets you project an image of professionalism to potential clients, which is a must in a competitive and dynamic industry. It can also serve as a touch point for clients in search of reliable real estate services.
The leading real estate sites do more than offer access to listings – they offer a glimpse into the homes, communities, and lifestyles that potential clients would like to call their own. They also provide insight into the agent's competencies, accomplishments, and business philosophy.
Here are the 10 best real estate websites launched by Agent Image in August 2021.
Georgina Jacobson
Newport Beach, CA
Top Realtor Georgina Jacobson and her associates have unparalleled experience in custom homes in the high-end market. As local experts, they offer insider information on the Orange County Coasts' finest communities.
Her website, GeorginaJacobson.com, uses a restrained palette to keep the focus on listings, services, and other relevant information. The video header showcases these communities, creating a sense of place and enticing prospective buyers to view properties.
What makes the website stand out: The website has a Property Organizer feature that lets users manage saved searches and properties for easy reference. Users only need to sign up with their email address.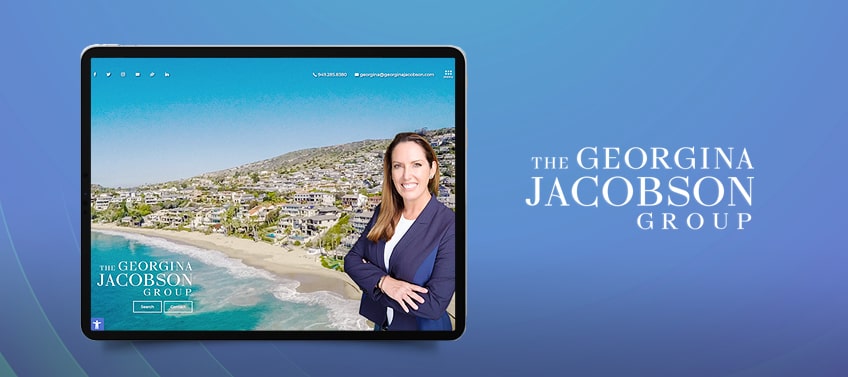 Andrew Lemke
Los Cabos, Mexico
Luxury real estate expert Andrew Lemke and his team gives visitors a glimpse of paradise at AndrewLemke.com. As the #1 Selling Advisor in Los Cabos, Lemke has closed over $750 million in sales to date.
His website makes use of high-quality, travel-style photos that capture the beauty and excitement of living in Los Cabos. The "Explore" section acquaints international buyers with the many towns and communities that make up the area.
What makes the website stand out: The website offers a Luxury Market Report containing relevant information on median home prices, available inventory, and more.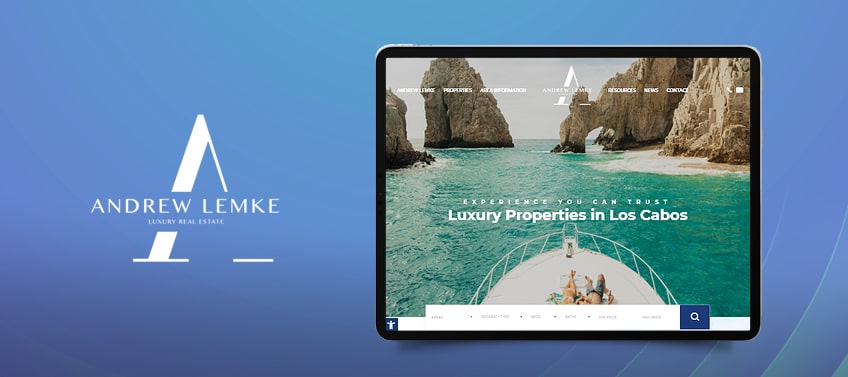 The Watson Group
Bellevue, WA
The Watson Group is the leading luxury real estate group in Puget Sound. With over 24 years of combined experience, their experts are known for customer service and high-touch communication.
Their website, Watson-Group.com, uses black and white images that convey the natural beauty of the Seattle Metro Area. The sidebar menu provides access to the groups equestrian and sports and entertainment divisions for easy navigation.
What makes the website stand out: The Compass Concierge feature provides a cost estimate for home improvements and staging for sellers who want to get their homes ready to sell.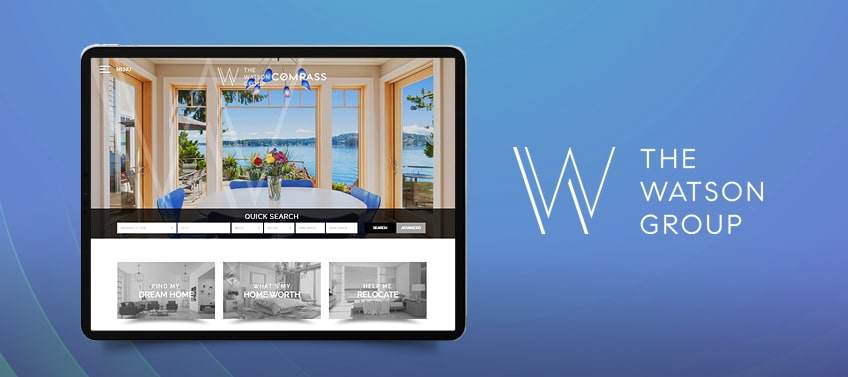 Marshall Mower
Honolulu, HI
Luxury real estate expert Marshall Mower is among Hawaii's top 50 Realtors. With over 30 years of experience, Marshall has mentored numerous Hawaii Realtors as a way of giving back to the industry.
His website, LuxuryHawaiiRealEstate.com, makes effective use of aerial shots that offer panoramic views of Honolulu and the surrounding areas. The horizontal menu bar at the top of the page enables users to scroll down while still having quick access to other site pages.
What makes the website stand out: The testimonials page helps reinforce Marshall's reputation as a top Realtor with a proven track record of successful transactions.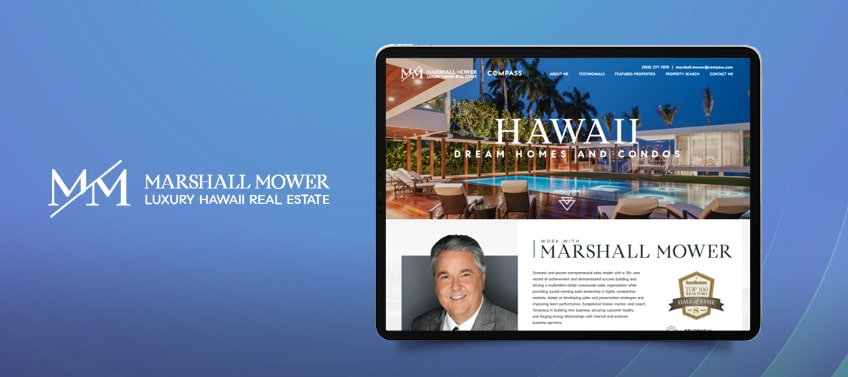 J. Gomez & Associates
Miami, FL
J.Gomez and his partners are known throughout the Sunshine State for their impeccable service and expertise. Top agent and former tennis pro Gomez has an expansive network of real estate professionals that has proven advantageous to his clients.
His website, JGomezGroup.com, establishes a human connection from the get-go with Gomez greeting visitors in the image header. The left sidebar menu simplifies navigation for guests in search of information.
What makes the website stand out: The New Developments Listings Report gives guests a preview of what's to come in the Florida housing market in addition to active listings.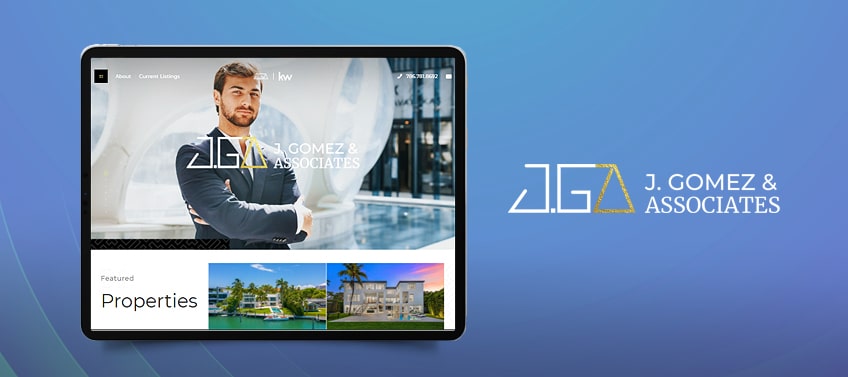 Style House Tampa Bay
Tampa, FL
Top real estate influencer and HGTV House Hunters star Tami J. Pierce is known throughout the Tampa Bay Area for her knowledge on new developments. With more than 20 years of experience in the new build industry, she delivers top-notch service and expertise.
Her website, StyleHouseAtTampaBay.com, takes a playful approach to web design with bold colors and backgrounds. The design also makes excellent use of images to show a more eclectic side of the Tampa Bay Area.
What makes the website stand out: The Featured Videos section puts Tami front and center with outtakes from the famous HGTV show and clips of Tampa Bay's natural scenery.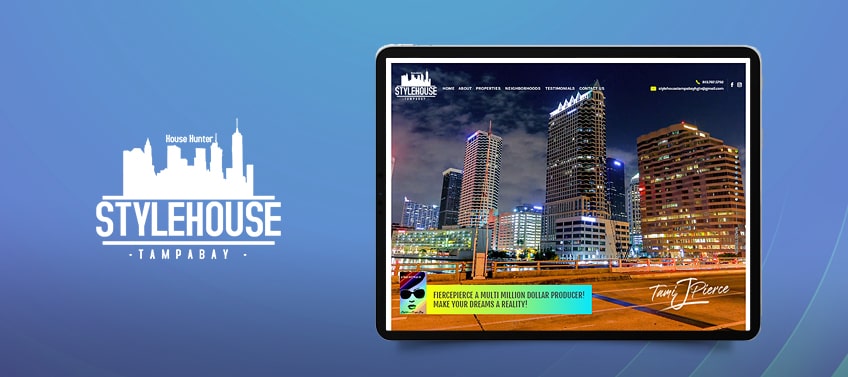 Jason Mitchell
Scottsdale, AZ
The Jason Mitchell Group is the #1 real estate referral team in the United States and ranks among the top 5 for production with more than $3 billion in sales. Jason Mitchel has been recognized as Arizona's "Most Influential Millennial" as well as the state's top producing agent for three consecutive years.
Their website, TheJasonMitchellGroup.com, features a simple and straight-forward design that makes navigation a breeze. The restrained palette and succinct copy make for a user-friendly experience.
What makes the website stand out: The website lets visitors create their own customized search portal that grants access to new listings and market data.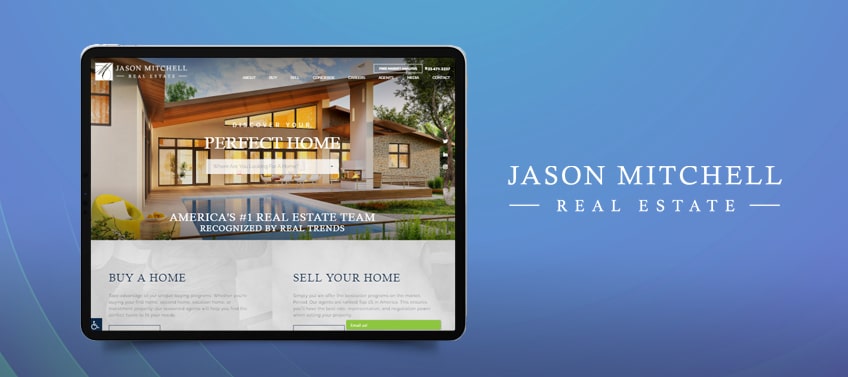 Ken Robertson
Laguna Beach, CA
Ken Robertson is a rarity among South Orange County real estate agents. He takes an advisory approach to real estate transactions, deploying masterful strategies that benefit buyers, sellers, and investors. This makes him one of the most in-demand real estate experts in the area.
His website, KenRobertsonMBA.com, highlights the natural beauty of Laguna Beach with a stunning image header. The white and teal color scheme is easy on the eyes and reflects the coastal vibe of South Orange County's finest communities.
What makes the website stand out: An interactive map lets site visitors navigate their chosen communities with ease and accuracy.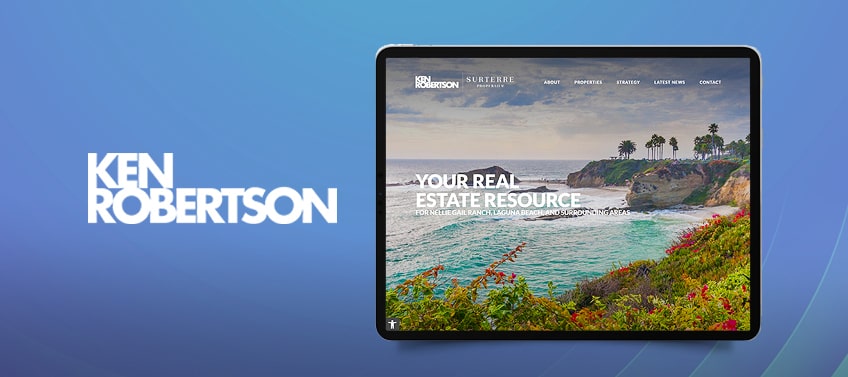 Nili Hudson
Los Angeles, CA
Nili Hudson ranks among the top 1% of all agents in the U.S. with over 30 years of real estate experience. Her personalized and boutique-style approach to real estate puts clients at ease.
Her website, NiliHudson.com, emphasizes her business philosophy: "Living well is everything" with sharp copy interspersed with images of properties surrounded by greenery and nature. This conveys that Nili is just as concerned with improving clients' quality of life as she is with providing top-notch service.
What makes the website stand out: The website offers supplemental resources on bridge loan services and moving checklists to help clients gather relevant information.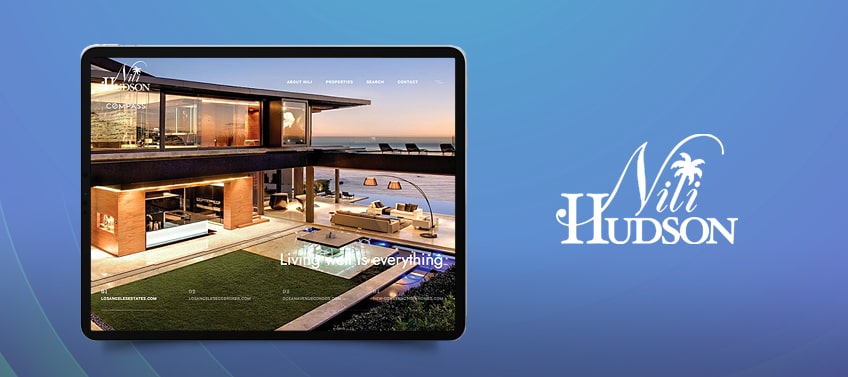 Brittany Love
Albuquerque, NM
Brittany Love is a top Realtor specializing in New Mexico and Florida real estate. As a top real producer and Certified International Property Specialist, she ranks among the top 1% of luxury agents in New Mexico.
Her website, BrittanyLove.com, invites visitors to "List with Love". The clever copy combined with crisp images of luxury real estate and natural scenery leave an indelible impression on site visitors.
What makes the website stand out: The website gives site visitors the option to become a shareholder with Exp Realty.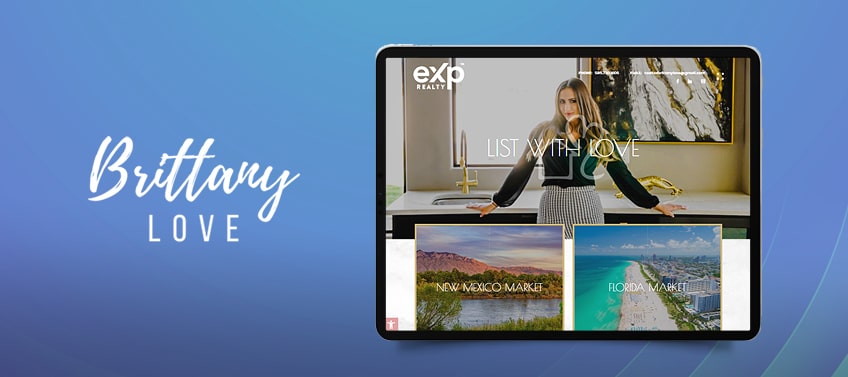 A professionally designed real estate website lets you tell your brand story to potential clients. Here at Agent Image, we have a dedicated team of developers and designers who are constantly looking for new and exciting ways to help you build your online presence.
Create your own real estate website or update an existing one when you work with Agent Image today! Contact us for a free consultation or call the team at 800.979.5799.
Did you enjoy reading this article?
Sign up for more updates with our Agent Intelligence Newsletter!
We are committed to protecting your privacy.
Real Estate Websites for Agents
Learn which package works best for you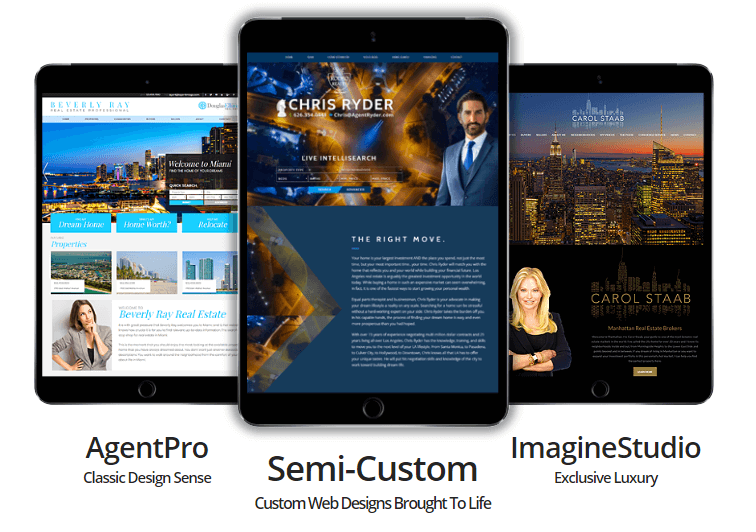 Learn More